Places for sunbathing and sunshading
We break down the best sunny and shady spots in all five boroughs, for the Donatella Versace (or Robert Pattinson) in you.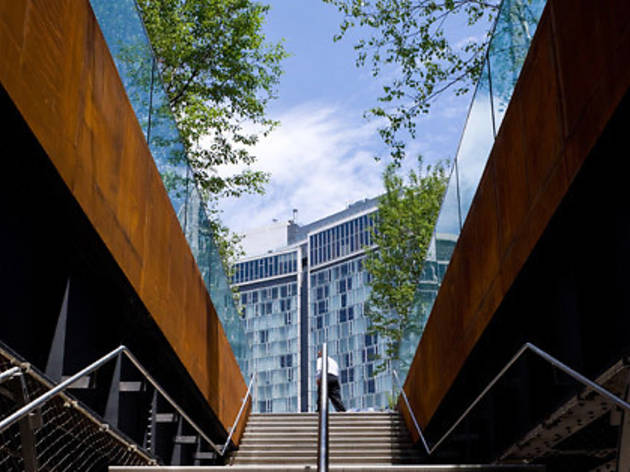 1/9
The Highline; Photograph by Joel Sternfeld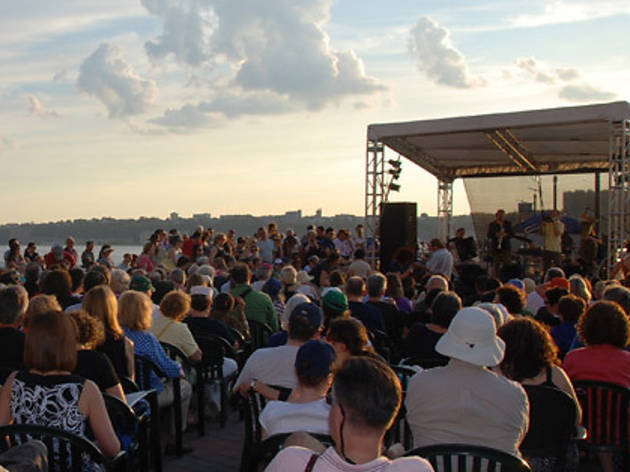 2/9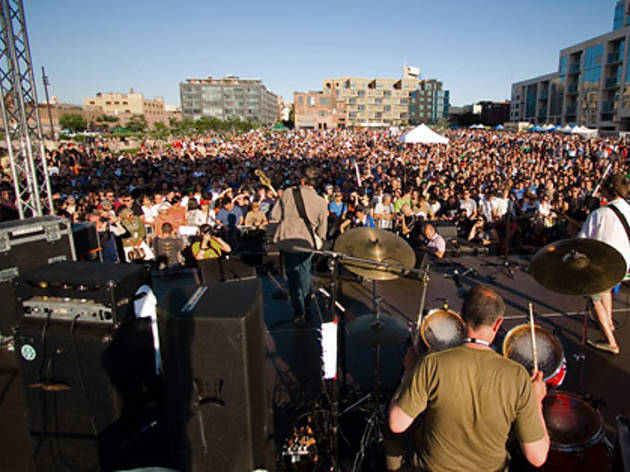 3/9
Jelly NYC Pool Parties at East River Park; Photograph by Kyle Dean Reinford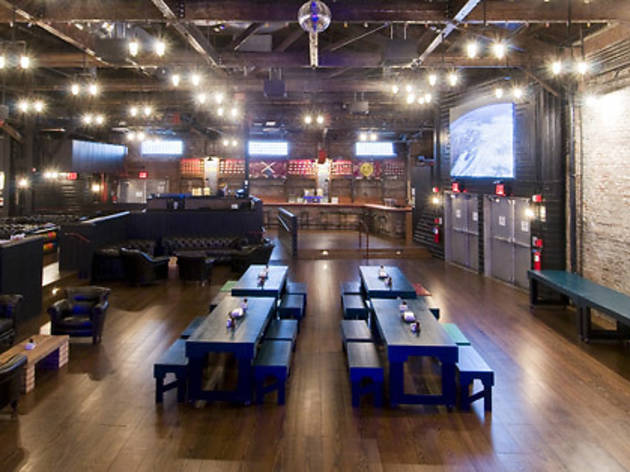 4/9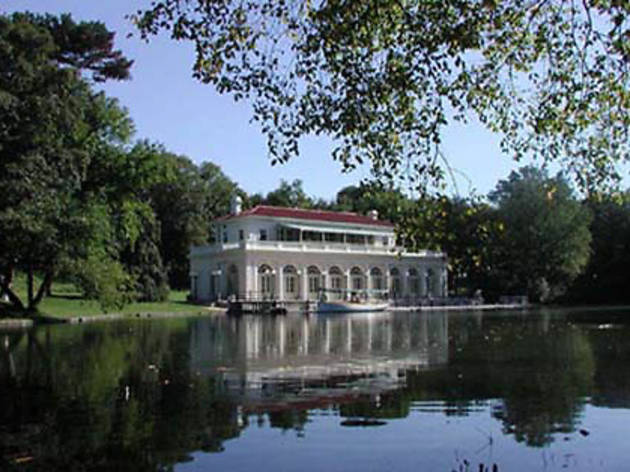 5/9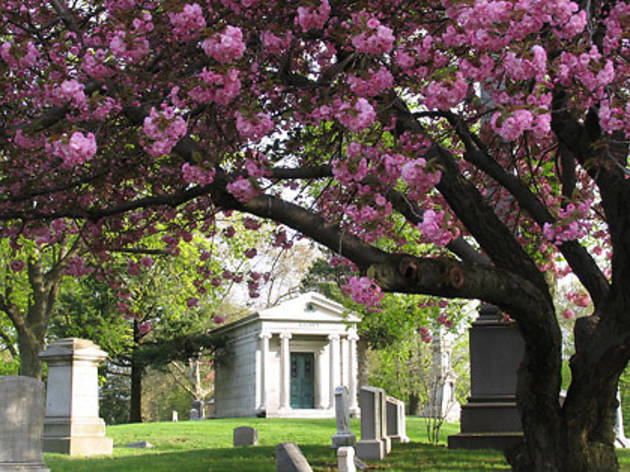 6/9
Green-Wood Cemetery; Photograph by Aaron Brashear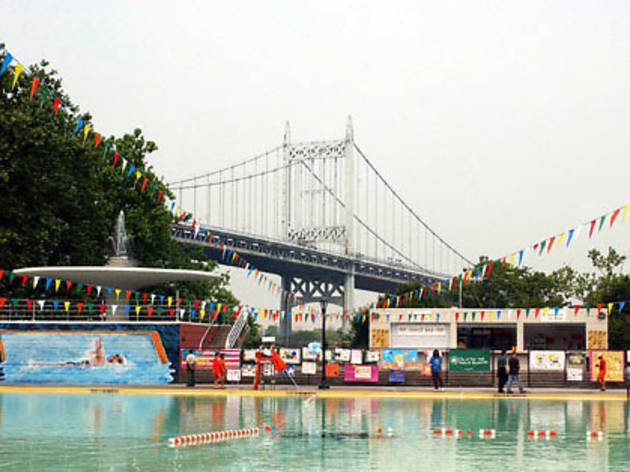 7/9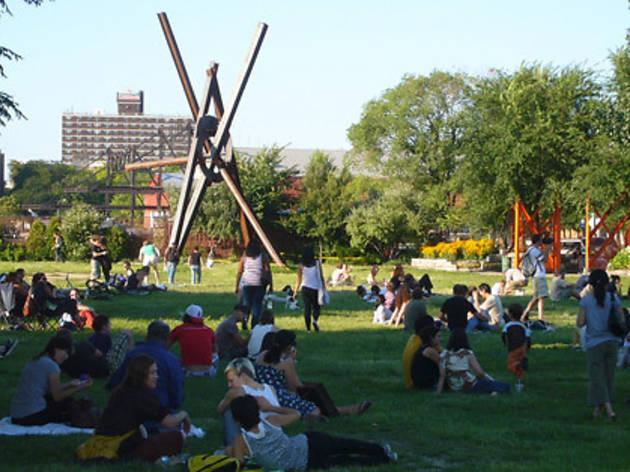 8/9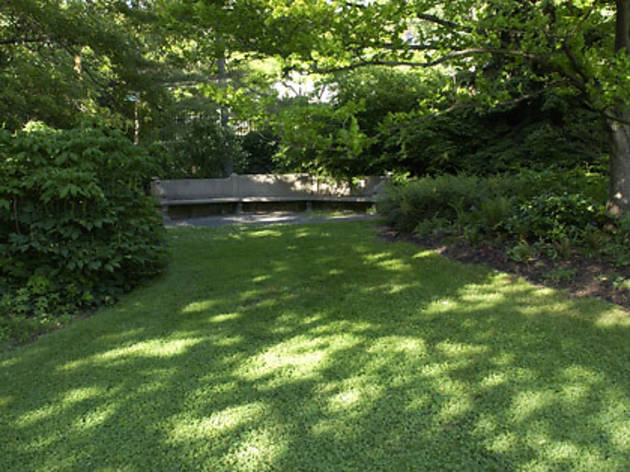 9/9
Wave Hill; Photograph by Benjamin Swett
Manhattan | Brooklyn | Queens | Bronx | Staten Island
Manhattan
Sunbathing: The Highline (Gansevoort St to 20th St between Tenth and Eleventh Aves; 212-500-6035, thehighline.org)The city's latest green hot spot has some of the best sunbathing in town. Try your luck at snagging one of the wooden lounge chairs around 15th Street, offering an expansive view of the Hudson. From your coveted seat, you can watch the crowd traverse the elevated park. (Warning: the crowd also watches you.)
Postsun spot: Exit at the Gansevoort stairwell to hit up a few boutiques, then sample a cold appetizer—like the chilled white gazpacho, with almonds, pickles, grapes and croutons ($8)—at the newly opened the Standard Grill (848 Washington St at 13th St; 212-645-4646, standardhotels.com/new-york-city) on the ground floor of the Standard Hotel.
Sunshading: The West 79th Street Boat Basin Caf (W 79th St at the Hudson River; 212-496-5542, boatbasincafe.com)Sip frozen drinks while admiring the Hudson and marina—not to mention the scores of young, pretty people around you—from your spot under the caf's covered rotunda. Nestled in Riverside Park, this outdoor restaurant is known for its BBQ classics. Boat Basin Caf general manager Michael Burri recommends the huckleberry lemonade ($7) and hamburgers (around $9).
Postshade spot: Amble over to Riverside Park (Pier 1 at 70th St, 212- 408-0219) to take in the free Summer on the Hudson: Acoustic Sundays concert series as the sun sets on the river. Jazz at Lincoln Center hosts pianist Jonathan Batiste Sunday 2 at 7pm.
Manhattan alternatives
Sunbathing: Battery Park (State St at Battery Pl; 212-344-3491, thebattery.org)
Its striking waterfront location makes it the perfect spot for getting some color while taking in the Statue of Liberty.
Sunshading: Bryant Park (Sixth Ave at 40th St; 212-768-4242, bryantpark.org)
Need a breather from midtown's hustle and bustle? Spend your lunch break people-watching from a tree-shaded bench.

View Sunbathing & sunshading in a larger map
Manhattan | Brooklyn | Queens | Bronx | Staten Island
Manhattan | Brooklyn | Queens | Bronx | Staten Island
Brooklyn
Sunbathing: Jelly NYC Pool Parties at East River Park (90 Kent Ave at North 9th St, Williamsburg; thepoolparties.com; 2--8pm, free)
Last year's wildly popular McCarren Park Pool Parties free concert series has a new home and a killer summer lineup. This Sunday 2, the billings include sets by Dan Deacon and Deerhunter. "Kiddie pools replaced the Slip 'N Slides, but they were deemed too dangerous without a lifeguard on duty. So we just have a guy with a hose spraying people down," says Jelly employee Chris Goldstein.
Postsun spot: Jelly hosts official after-parties at Brooklyn Bowl (61 Wythe Ave at North 11th St; 718-963-3369, brooklynbowl.com; 8pm). "They have couches, air-conditioning, and jalepeo poppers," says Goldstein. "I think that pretty much sealed the deal." Not to mention $3 beers and $12 pitchers, and DJs Gavin Royce and Stephen Pandolfi. And there's always the bowling, too.
Sunshading: Empire--Fulton Ferry State Park (26 New Dock St at Water St, Dumbo; 718-858-4708)
Nestled between the Manhattan and Brooklyn Bridges, this nine-acre waterfront park along the East River boasts a magnificent view of lower Manhattan and passing ships. Stroll across the Brooklyn Bridge or riverfront boardwalk, or relax at a picnic table near the huge lawn.
Postshade spot: On Thursday nights at sunset through August 27, the adjacent Brooklyn Bridge Park (brooklynbridgepark.org) screens its free Movies with a View series. See the Hitchcock classic To Catch a Thief on July 30, with some Thai coconut curry ($8) from Rice, sold on location.
Brooklyn alternatives
Sunbathing: Prospect Park (Prospect Park West at Union St, Park Slope; 718-965-8951, prospectpark.org)
Bring a blanket and lay out in the Long Meadow, or check out Nethermead if you're looking for a quieter spot. In more of a hiking mood? Walk along the ravine's trails.
Sunshading: Green-Wood Cemetery (500 25th St at Fifth Ave, Sunset Park; 718-768-7300, green-wood.com)
Brush up on your NYC who's who with a quiet stroll through this National Historic Landmark. With almost 600,000 graves, the cemetery houses Morse-code creator Samuel F.B. Morse, composer Leonard Bernstein, the infamously corrupt New York politician William "Boss" Tweed, New York Tribune founder Horace Greeley and more than 3,000 Civil War veterans.
Manhattan | Brooklyn | Queens | Bronx | Staten Island
Manhattan | Brooklyn | Queens | Bronx | Staten Island
Queens
Sunbathing: Astoria Park (23rd Dr at 19th St, 718-626-8623, Astoria)
Slap on some sunscreen and then chose your position—whether it's lying along the river or between a couple of trees—in this 66-acre park. From its location just under the Triborough Bridge, it offers sweeping views of Manhattan. If the heat gets to you, take a dip in AP's giant pool (19th St between Ditmars Blvd and Hoyt Ave, 718-626-8623; free)—the city's oldest and largest.
Postsun spot: Only about ten blocks away, stake out an oversize picnic table at the Bohemian Hall & Beer Garden (2919 24th Ave at 29th St; 718-274-4925, bohemianhall.com) and order a few rounds of Pilsner Urquell and potato dumplings.
Sunshading: Socrates Sculpture Park (32-01 Vernon Blvd at Broadway, Long Island City; 718-956-1819, socratessculpturepark.org)
Tranquil Socrates Sculpture Park is a haven for LIC residents. "This solitary feeling is something you just can't get anywhere else," says local Tiffany Jones, who comes to the SSP five days a week to take in the artwork that dots the grassy field. Situate yourself on the rocks at the edge of the park for a great view of the East River, overlooking Roosevelt Island and upper Manhattan, or stick to the park's tree-lined perimeter to tour the outdoor museum.
Postshade spot: Strike a pose on Saturday mornings during a free, hour-long Kripalu Yoga class (9:30--10:30am, 11am--noon; through Sept 19), which combines body postures, breathing techniques, relaxation and meditation. Bring your own mat or towel.
Manhattan | Brooklyn | Queens | Bronx | Staten Island
Manhattan | Brooklyn | Queens | Bronx | Staten Island
Bronx
Sunbathing: Wave Hill (Independence Ave at 249th St; 718-549-3200, wavehill.org; $3--$6, Saturdays free 9am--noon)
This 28-acre former estate is a public garden and cultural center that overlooks the Hudson River and Palisades. Pop a squat on the spacious lawn—you'll be surrounded by colorful blooms in a mix of bright hues wherever you sit. Walk to the Aquatic Garden to see the fish, or explore ten acres of woodland trails.
Postsun spot: "Our mission is to connect people with nature," says Jennifer McGregor, Wave Hill's director of the arts. Tour "The Muhheakantuck in Focus," beginning Saturday 1. The Muhheakantuck is the original name for the Hudson River, and the exhibition focuses on its history through painting, sculpture, drawing, video and installations.
Sunshading: Riverdale Park (W 245th St at Palisades Ave, 212-639-9675)
Despite its urban locale, Riverdale Park feels like it's miles away from any city, thanks to its 50 acres of thick woods, a scenic vista of the Palisades and the Fordham gneiss, which at a billion years old is the most ancient rock formation in New York City. The shaded path is flanked by blooms of woodland wildflowers like jack-in-the-pulpit, bloodroot and blue violet. Bring your binoculars to the Raoul Wallenberg Forest—which is just across the street from Riverdale Park—to catch a glimpse of one of the 27 species of birds, including screech owls and woodpeckers, that call the park home.
Postshade spot: If a day in the park stirs up your appetite, head to nearby Riverdale restaurant Jake's Steakhouse (6031 Broadway at 243rd St; 718-581-0182, jakessteakhouse.com) for a hearty meal.
Manhattan | Brooklyn | Queens | Bronx | Staten Island
Manhattan | Brooklyn | Queens | Bronx | Staten Island
Staten Island
Sunbathing: Great Kills Park and Beach at Gateway National Recreation Area (Buffalo St and Hylan Blvd, 718-980-6130)
A whopping 580 acres of open space awaits you at Great Kills Park, but there's enough here to keep you occupied for a full day and then some. Spread your towel out on the sand at Great Kills Beach and prepare to be sun-kissed.
Postsun spot: Kick a soccer ball around on the sports field, fish at the marina or follow a park ranger from the National Park Service along one of the many trails.
Sunshading: Clove Lakes Park (1150 Clove Rd between Cheshire Pl and Park Dr, 718-390-8000)
Lakes and ponds are scattered throughout this piece of protected Forever Wild land, one of 51 green spaces preserved by the NYC Department of Parks and Recreation. Take one of the many trails to the northwest section of the park, where Staten Island's largest living thing, a 300-year-old tulip tree, stands at 107 feet tall. Several baseball diamonds, a soccer field, a basketball court, playgrounds and a football field are also spread throughout CLP.
Postshade spot: Rent a row or paddle boat at the Clove Lakes Park's Lake Club (1150 Clove Rd between Cheshire Pl and Park Dr; 718-442-3600, lake-club.com) daily from 11am to 5pm ($10 per hour). If you'd rather admire the boats than row one yourself, the Lake Club Restaurant is located directly opposite the rowboat rentals.
Manhattan | Brooklyn | Queens | Bronx | Staten Island
Sponsored listing
Gente Ristorante Italiano
This casual Italian restaurant is located in Midtown.
Venue says: "We'll do the work, you do the enjoying. Come dine with us for an authentic Italian meal right here in NYC!"