Heads up! We're working hard to be accurate – but these are unusual times, so please always check before heading out.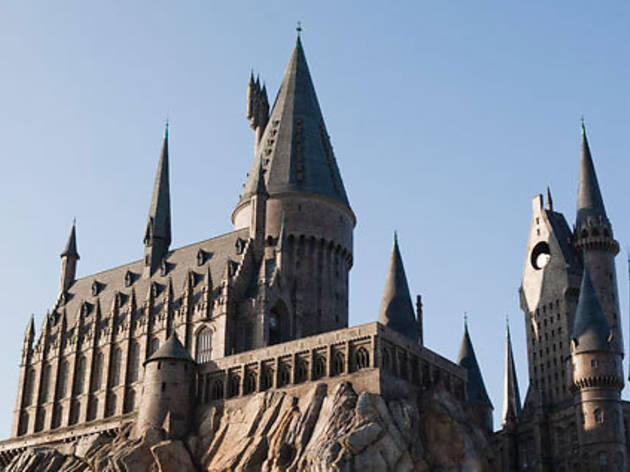 1/3
Hogwarts School of Witchcraft and Wizardry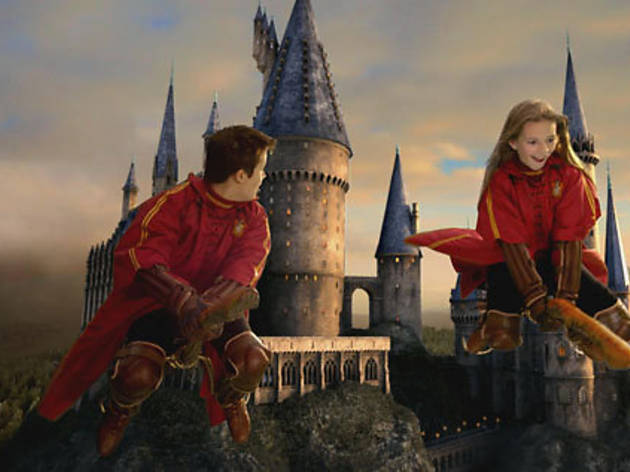 2/3
Hogwarts School of Witchcraft and Wizardry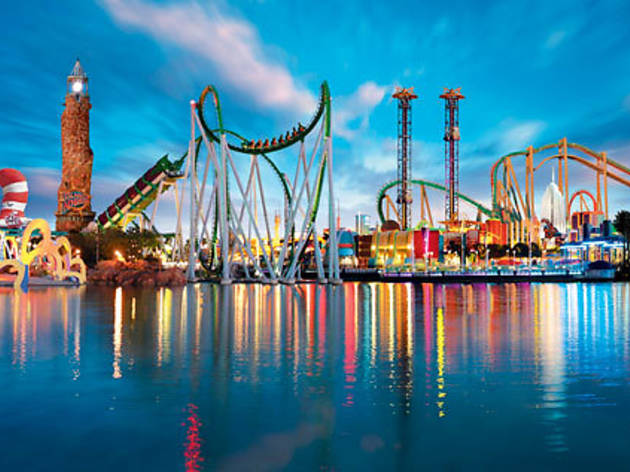 3/3
Pop-culture holidays
Ditch your Muggle limitations and become a wizard for a weekend.
Orlando, Florida (3 hours from NYC)
Do this

A dozen years after Harry Potter and the Sorcerer's Stone arrived on U.S. shelves, nine years after the first movie hit theaters and three years after Universal Orlando announced it had secured the rights to bring Harry and his magical world of boy wizardry to life, it's finally happening: The Wizarding World of Harry Potter(universalorlando.com/harrypotter) opens at Universal's Islands of Adventure on June 18. There's a lot to do in the 20-acre attraction; since breakfast is included in your package, you might as well start with a bite to eat at popular Hogwarts hangout Three Broomsticks, located in the re-creation of Hogsmeade Village. The rustic, pub-style restaurant serves British classics like shepherd's pie, and will finally give Potterheads the chance to taste a cold glass of Butterbeer for themselves (a beverage which Rowling has said she imagines to taste like "less-sickly butterscotch"). Shopping and eating are the predominant activities in Hogsmeade. Here, you can buy screaming yo-yos at Zonko's Joke Shop, indulge in chocolaty Cauldron Cakes at Honeydukes or give your feet a rest at Owl Post, a working post office (send some postcards home to envious friends; they'll bear a Hogsmeade postmark).
But this experience wouldn't be true to Harry's story without a few twists and turns. Get in on the action and grab a seat on any of three big roller coasters. The family-friendly Flight of the Hippogriff simulates a ride on the mythical creature with the head of an eagle and the tail of a horse, while the more extreme Dragon Challenge marks the park's only dueling inverted roller coaster ride—choose which of the two coasters you wish to hop aboard and see which one makes it to the finish first.
Much like J.K. Rowling's novels, the heart of the Wizarding World is at Hogwarts School of Witchcraft and Wizardry, where filmmaking, special effects, robotics and pure imagination collide (picture IMAX on steroids) to create the immersion ride Harry Potter and the Forbidden Journey. Your hour-long trek through Hogwarts castle will bring you face-to-face with the series' most beloved characters and places, including a welcome in headmaster Dumbledore's office, an introduction to Harry, Ron and Hermione (their on-screen versions, at least) in a Defense Against the Dark Arts classroom, and a visit to the Room of Requirement, where you'll take a seat and let the 360-degree experience unfold around you. "We have created an entirely new way to place our guests into the heart of a compelling story," says Mark Woodbury, president of Universal Creative.
Stay here

Even Muggles can see the savings in booking your trip directly through Universal (universalorlando.com/harrypotter): Packages start at $285 per person and include four nights at partner hotels like Quality Inn International(7600 International Dr, 407-996-1600), which is just five minutes away via free shuttle to and from the park. You'll also get early park admission, a commemorative ticket and a three-day pass to both Universal theme parks (Islands of Adventure and Universal Studios). Though June is sure to be overflowing with Potter fanatics, packages were still available as of press time.
Boston, MA (4 hours from NYC)
Do this

Lace up a pair of comfy shoes and get ready to traverse this immensely walkable city, beginning with a stroll through America's oldest public park, the Boston Common(enter at Tremont St and Boylston St). The Great Elm Tree, located on the westerly side of the park, was a favorite spot for public hangings during the 17th and 18th centuries, and a plaque marks the place where the tree stood until 1876. Exit the Common onto Beacon Street and proceed into Beacon Hill, an affluent neighborhood with a grisly past. Here you'll find the former home of Dr. George Parkman (8 Walnut St), one of Boston's wealthiest men whose dismembered body parts were found in and under the laboratory of Harvard Medical College professor John Webster, who owed money to Parkman, in 1849. Webster's trial, conviction and subsequent hanging sparked a media storm, and some still debate his guilt (an audio walking tour of the crime is downloadable at parkmanmurder.com for $4.99). All this talk about death has probably made you hungry, so stroll over to The Paramount(44 Charles St; 617-720-1152, paramountboston.com), which has been dishing out grub since 1937. Long lines form for its cafeteria-style breakfast (served daily until 4:30pm) that includes no fewer than six types of pancakes ($5--$8.50). Directly above the restaurant is where the Boston Strangler's last "official" victim, Mary Sullivan, was found murdered in her apartment on January 4, 1964. "To this day, the identity of Sullivan's killer remains entirely unclear," says Dr. Jack Levin, a professor of criminology at Northeastern University. "Albert DeSalvo was originally thought to have murdered all 13 Strangler victims. Upon exhumation of Sullivan's body, however, none of DeSalvo's DNA was found, and the mystery continues." One thing is certain: DeSalvo spent time in the old Charles Street Jail, and so can you, by way of its transformation into The Liberty Hotel(215 Charles St; 617-224-4000, libertyhotel.com), which allows you to "live like the felons do—but with better room service," jokes Veronika McDonald King, program manager for walking-tour company Boston by Foot Inc. (bostonbyfoot.org). Sip a house cocktail like the Green Mile (a gin martini, $13) or a Jailbait (a pomegranate mojito, $12) as famous mug shots look down at you in the Liberty's Alibi Bar & Lounge(857-241-1144, alibiboston.com). "After having a drink or two, ask the concierge to let you look at one of the jail cells, which have been turned into luxurious guest rooms," suggests Levin. Just don't end up in the drunk tank.
Stay here

Underneath Boston's blue-blood overcoat, things aren't always what they seem. Case in point: Harvey Parker, founder of the polished Omni Parker House(60 School St; 617-227-8600, omnihotels.com, $180-$239), is one former guest who refuses to leave: Since 1941, he's materialized in various rooms. We're all for personalized attention, but considering that Parker passed away in 1884, we'll skip the turndown service. Employees have also reported the elevator's penchant for traveling to the third floor—whether or not the button has been pushed—a location where not one, but three ghosts are suspected to be permanent residents (including the spirit of Henry Wadsworth Longfellow). Guess they can't get enough of the Parker House rolls and Boston cream pie, both of which were first served at this spooky inn.
Seaside Heights, New Jersey (2 hours from NYC)
Do this

Time to take those Ed Hardy T-shirts off mothballs and restock your Aqua Net supply as the eight Jersey Shore housemates (yes, even Angelina) head back to Seaside for round two of MTV's often-mocked, berhit reality series. But if you want to catch this merry band of mischief-makers in action (they'll film in July and August), you've got to know where to find them. Surprisingly, the best vantage point is not from a bar stool, jail cell or tanning bed. According to the show's executive producer, SallyAnn Salsano, it's from the Sky Ride at Casino Pier(800 Ocean Terr; 732-793-6488, casinopiernj.com; $5). The ski-lift-esque ride offers a birds-eye view of the Shore Store, the T-shirt shop that employed the cast during season one (Salsano says it's a "safe bet" they'll be back there this summer), as well as of the house where tons of the good stuff went down. "You can see the top deck where they hung out, the jacuzzi and everything," says Salsano. Ronnie cautioned that no self-respecting man should ever fall in love at the Jersey Shore, and you can reenact the highs and lows of his summer of love with your Sammie stand-in on Funtown Pier's looping roller coaster (1930 Boardwalk; 732-830-7437, funtownpier.com). Of course, any fan knows that much of a guido or guidette's day should be spent laboring at the gym, tanning salon and laundromat. Perform the GTL trio yourself at Anytime Fitness(5 Ortley Plz; 732-854-7052, anytimefitness.com) and The Scrub Board(220 Blvd, 732-793-9681). We know this is positively shocking, but there is no tanning salon in Seaside Heights proper, so hit the beach or head one town over to Simply Sun(635 Bay Ave, Toms River; 732-818-7786). As the sun sets and the testosterone rises, there are generally three places you'll find the Jersey Shore crew: Bamboo Bar(201 Blvd; 732-830-3660, bamboobar.com), where on Saturdays ladies can sip $2 drinks under pink palm trees; Club Karma(401 Blvd; 732-793-0021, myspace.com/clubkarmanj), where DJ Pauly D has gotten his techno on; and, of course, The Beachcomber(100 Ocean Terrace; 732-793-0526, beachcomberbar.com), the infamous spot where Snooki got her clock cleaned by a Queens schoolteacher (the chair she sat in has been immortalized with a plaque). Owner Michael Carbone says the cast hung out here "nearly every day" last summer; buy them a drink, but don't stare at them too long—you might be sorry for it later.
Stay here

If you've got cash to burn, the obvious place to shack up is at the cast's shore house (1209 Ocean Terr, seaside-realty.com), which can be rented for $2,500 per night—duck phone included. For a cheaper option, try The White Pearl Hotel(201 Sumner Ave; 732-830-4242, thewhitepearlhotel.com; $200 per night), a typical beach motel where the kids have been known to crash.