Heads up! We're working hard to be accurate – but these are unusual times, so please always check before heading out.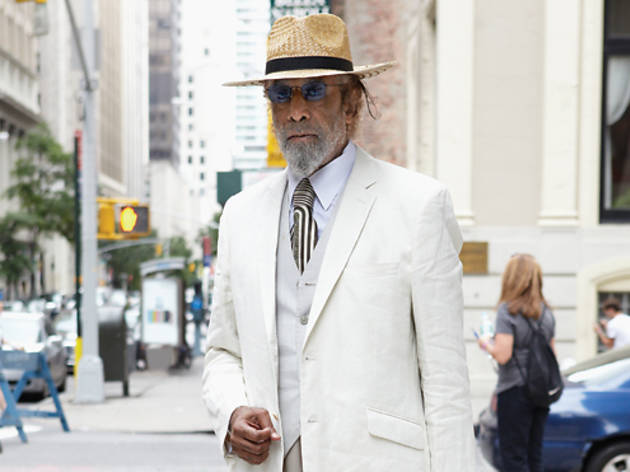 Public eye: Akbar Ahmadi
New York street interviews: Stories from the sidewalk as told by real New Yorkers about their lives in the city that never sleeps.
E 31st St at Madison Ave
Aren't you hot, all dressed up like that? No no no, Kate. I grew up dressing [nicely]. I love it. And when you're really into something, it's no burden. I'd be hotter if I wore a T-shirt, you dig?
I dig. See, I grew up with the cinema, and if you look at films from the '30s and '40s, everybody was dressed [up]. When I go to some neighborhoods now, the ladies see me and they say, "Oh, we don't see nobody dressed like that no more!"
May I ask how old you are? The thing is, I don't like telling my age. When you give your age, people feel like they can pigeonhole you, and it's been my experience that when they can't, it leaves room for more drama.
Fair enough. Do you find it's hard to get by in a post-9/11 world with a name like Akbar Ahmadi? I never noticed any real problems. It could be my personality, too. I'm really on the positive level. The center of all religions is the same: a belief in God and what did you do with the time you had on Earth? Life is a short set, and it should be explored deeply.
Amen. What do you do? I worked for ABC television as the administrator for the staff announcers. I did scheduling, payroll—it was a fantastic job. Retirement came much earlier than I expected, but I don't mind because now I have all the time in the world to read and enjoy the cinema.
Are you a film buff? I am. As I got older, I became enamored of Greta Garbo. I used to go to her neighborhood and walk, hoping I would see her. It got to the point that on the day I actually saw her, I almost didn't notice because I'd been looking so long I forgot I was even looking.
But you actually did find her, you stalker? [Laughs] Yes. She had on a fur coat and a brown knit cap. She walked right by me and our eyes met. I followed her for half an hour, across the street and a half block behind her. When she got to Fifth Avenue, near Saks, she disappeared. Evaporated. Everyone knew how much I liked her. She passed away in 1990—you would have thought I was related to her, so many people called me up.
More from Akbar
"I've resided in Brooklyn a few times, but I don't hang there. Manhattan is my base."
You might also like
See more New York stories from the sidewalk
See photos of New York street style
See more in Things to Do