Heads up! We're working hard to be accurate – but these are unusual times, so please always check before heading out.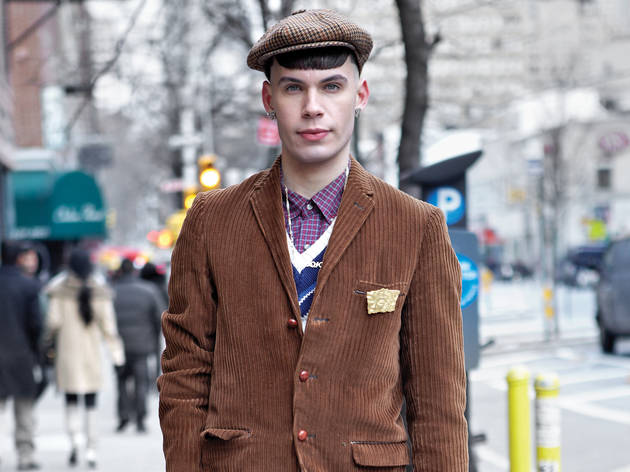 Public eye: Anthony Pedraza, 26
New York street interviews: Stories from the sidewalk as told by real New Yorkers about their lives in the city that never sleeps.
Eighth Ave between 21st and 22nd Sts
Are you always dressed to the nines? Pretty much.
Let me guess. You're in the business. Yes, I'm a wardrobe stylist. I do editorial, high-end, street—a little bit of everything. I've been working with a lot of musicians, too, styling them for shows and appearances.
Is it all meat dresses and blue hair? [Laughs] Sure, if that's your cup of tea! Pop musicians do have to stand out.
Where are you from? Bushwick. I'm a native New Yorker. It was classic growing up in the 'hood: fire hydrants, kids playing, everyone knew everybody. My best memories are from growing up in Brooklyn. Then, when I was 12, we went to the suburbs for a year or two.
And how was that? Now that I think about it, I felt more controversial in the suburbs. In Bushwick, everyone knew me since I was a kid, so nothing stood out aside from my being gay.
Were you out from a young age? Absolutely. I actually came out to get out of a science project.
Huh? I swear to God. I was just like, Damn, I didn't do my project! Shit, I'm going to get in trouble. So I was like, "Uh, Mom…I'm gay!" And she was like, "Omigod, hold me!" And then right after that I was like, "Oh, um, I didn't do my project.…" And she was like, "Oh, don't worry about that."
So she was cool with the gay thing? Omigod, my mom was such a fag hag. She was like, "Oh chile, I already knew. I was just waiting for you to say something." [Laughs] It was one of the best things, coming out at a young age, so whatever I went through in school I could talk about openly at home.
Did you feel mostly accepted in the 'burbs? You know what's funny? The thing that stood out to people the most, more than the gay thing, was that I was Puerto Rican. I was like, Damn, I knew you were gonna make fun of me for something, but I didn't know it was going to be because I ate rice and beans!
Jeez. What suburb did you move to, anyway? Honey, it was as suburban as it gets: Queens. [Laughs]
More from Anthony:
"My mom moved to Miami and I lived down there for, like, nine months. It was totally a culture shock."
You might also like
See more New York stories from the sidewalk
See photos of New York street style
See more in Things to Do