Public eye: Ariel Rosen-Brown, 25
New York street interviews: Stories from the sidewalk as told by real New Yorkers about their lives in the city that never sleeps.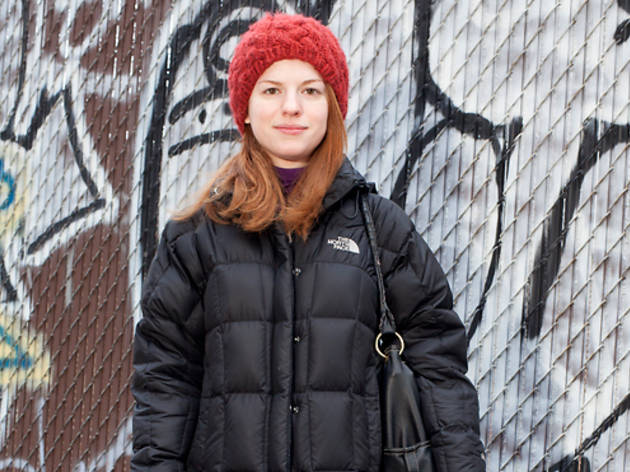 23rd St between 44th Dr and 44th Rd, Long Island City, Queens
What are you up to? I'm on my way to a rehearsal. It's for a 17th-century Restoration comedy called The Knight of the Burning Pestle—which is a euphemism for a syphilitic penis. [Laughs]
Dick jokes: popular for 400 years and counting. [Laughs] I know! I guess they never go out of style. In the play, a boisterous grocer and his wife in the audience interrupt and want to put on something more to their liking, so they make their apprentice the new main character.
Where does the STD come in? The grocer has a mortar and pestle, and the actors play a joke on him by suggesting the name.
I hope you get to handle the pestle. I do. I play the squire, and at one point it's in my apron, so you can imagine what that looks like. And I have these coconut shells that become a bra—it's very gender-confused.
Are you a full-time actor? I have two survival jobs: I'm a reader for a blind financial executive, and I work for Scholastic, doing filing or whatever's needed.
Ever consider defecting to the oh-so-booming businesses of publishing or finance? [Laughs] I'd consider it, but I'm pretty single-minded about acting.
Do redheads get typecast as fiery or hypersexed? Maybe. I haven't had enough experience to say if I have been, but maybe that's how I was—
—cast to carry a dildo around stage? Exactly. [Laughs] If anything, I get typecast as the Little Mermaid.
You've got the name and everything. Was that your dream come true as a kid? No, I hated the Little Mermaid. I was so self-absorbed I didn't like anyone else having my name and my hair.
How individualistic of you. Well, I was also kind of a tomboy.
So you weren't into the shell bra? That's funny—and now it bites me in the ass.
More from Ariel
"I'm really good at Tetris. I just discovered Barcade, and apparently they have Tetris tournaments there."
You might also like
See more New York stories from the sidewalk
See photos of New York street style
See more in Things to Do