Public eye: Augustus Devandry, 30
New York street interviews: Stories from the sidewalk as told by real New Yorkers about their lives in the city that never sleeps.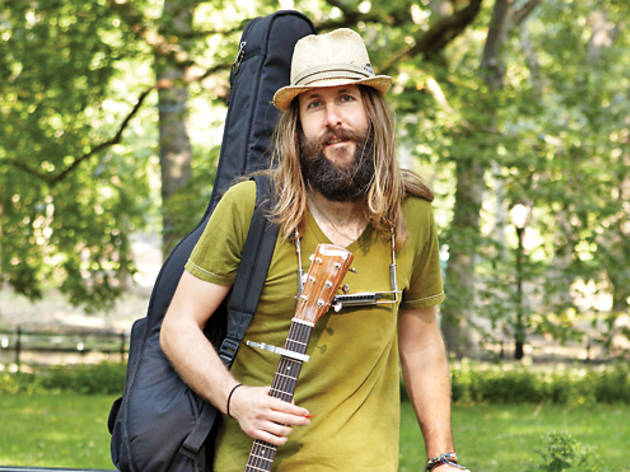 Central Park
Were you named after the Roman emperor? Ha, no. My dad's middle name is Gus. And I was born in August.
And you are august. Huh?
You know—distinguished. Uh. I'm not smart enough to know that. [Laughs] It's actually my middle name. When I started playing music and moved to San Francisco, I started shedding a lot of things from my past, including my first name. Augustus seemed like a strong name to live up to.
So you're not from here? No, I live in Oakland. I'm traveling around the country for two months. I'm in a band called the Hypnotist Collectors. We play a bunch in the Bay Area and we've gone on tour, but it turns out to be pretty expensive, so I'm on my own this trip. I've been traveling on buses, hopping freight trains...
Who are you, Butch Cassidy? [Laughs] People are doing it—travelers who want to hold onto that early American folklore. We were really careful, me and my friend Anthony. He's kind of like a survivor man—I trust him with my life.
Has it gone well? Yep. The first train we caught was carrying a carnival. We sat on a kiddie ride—dinosaurs that go in circles. It was a full moon and we travelled for nine hours to Virginia.
Does it still count as badass when you have GPS on your iPhone? I think so. My iPhone has a bad battery, so I could only turn it on for a minute at a time, anyway. [Laughs]
So now you're in New York. How are you finding it? Today is a really good day. I'm about to finish the Patti Smith autobiography, which is really great and takes place in Brooklyn and Manhattan. The other times I've been here was in high school with my parents, and then later with a friend when all we did was go to bars and spend way too much money. This time I'm actually doing what I want. Though I did try to go to the Met Museum and they wouldn't let me in with my guitar.
So inhospitable! No worries. I went to Strawberry Fields instead. I didn't really care for New York until this trip, come to think of it.
More from Augustus
"I feel like I stand out in New York. It took me awhile to feel comfortable with that."
You might also like
See more New York stories from the sidewalk
See photos of New York street style
See more in Things to Do
Sponsored listing
Tri Dim Shanghai
This Upper East Side restaurant offers a wide range of Shanghainese, dim sum and Szechuan dishes. You'll find plenty of classics among the starters, like scallion pancakes, Peking crispy duck roll, egg drop soup and steamed shrimp dumplings. As for entrees, traditionalists might go for the Szechuan-style twice-cooked pork or crispy whole sea bass. To try the beggar's chicken—a whole bird marinated in Chinese five spice, then wrapped in lotus leaves and slowly roasted—you must order a day ahead of time. Other specials, like the lion's head casserole of braised pork meatballs and cabbage, can be requested that same night. You'll probably need to order some fried rice or spicy dan-dan noodles to round out your meal, too.
Venue says: "We offer the best lunch deal in the city - $7.75 for soup or a spring roll along with an entree. Also join us for brunch on Sat or Sun 12-3"