Heads up! We're working hard to be accurate – but these are unusual times, so please always check before heading out.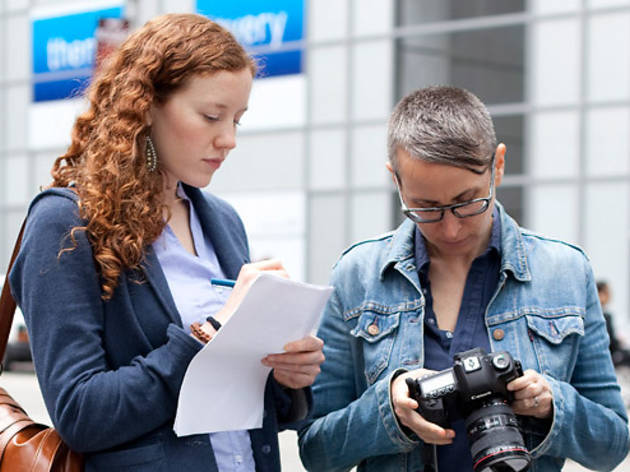 Public eye: Behind the scenes
New York street interviews: Stories from the sidewalk as told by real New Yorkers about their lives in the city that never sleeps.
This month, Public Eye photographer Allison Michael Orenstein won a coveted spot in the prestigious American Photography competition. Her photo of Maria Cay, taken in November 2011, was named by a panel of esteemed judges as one of the 453 best photos of the year. We took the opportunity to chat about what goes on during a Public Eye shoot.
Congratulations on your success. Oh no! I'm totally being interviewed by you; you're getting out your Barbara Walters voice. This is so weird. [Laughs]
No pressure—just be really interesting. So what do you remember about Maria? We were walking in Williamsburg and I saw her—I think I first noticed how amazing her hair was—and I was like, "Oh yes, you have to ask her."
Because I'm your minion. Yup. [Laughs] No, but really, it would be so scary otherwise. If I didn't have you talking to people, I don't think I could do it.
It doesn't always work. In fact, Maria tried to refuse at first. People usually say yes because it's for Time Out, but—
—Maria had no idea what Time Out is. Right. But we look like we mean business, don't we?
And we look nonthreatening. People always let us hold their stuff while we take their photos. Easiest way to rob a New Yorker. [Laughs] That'd be the best scam. I'd just need to run fast.
Now that we've given people a bad idea, new subject: What kind of photos do you shoot? Mainly portraits—I just shot Joe Bastianich for Vanity Fair and John Varvatos for Esquire—so Public Eye is right up my alley.
What do you aim to capture when you shoot a portrait? Just to, like, have this moment between me and the subject.
That's so romantic. It's not just about the person, it's about you two together. It's an exchange. Which is a hard exercise to do in ten minutes.
And yet here you are with an award. [Laughs] It's like my brain doesn't even function; I just intuitively find the right background and set up the shot. Sometimes it doesn't work, but most of the time it does.
More from Allison

"I tend to look for people who are wearing something eye-catching. We seem to shoot a lot of gay men in white pants."
See Orenstein's photo on the American Photography website
You might also like
See more New York stories from the sidewalk
See photos of New York street style
See more in Things to Do