Public eye: Benjamin Ayers, 25
New York street interviews: Stories from the sidewalk as told by real New Yorkers about their lives in the city that never sleeps.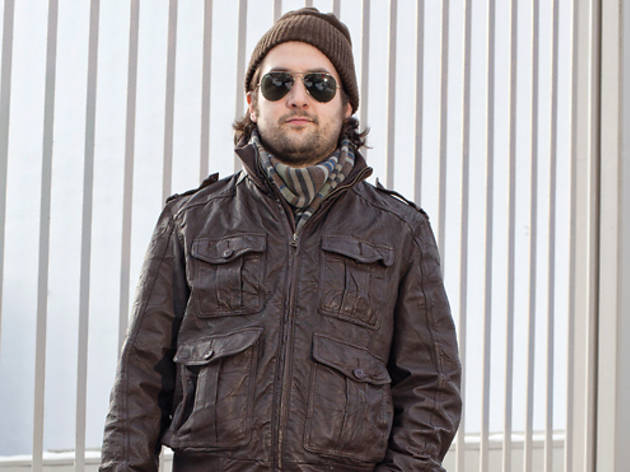 46th Ave at 21st St, Long Island City, Queens
What do you do? I just started a job as an art handler.
Dropped anything yet? No, I have steady hands.
Do you have to limit your coffee intake for that? No, just the beer intake. [Laughs] My father was a carpenter and I've been working with him since I was young. I'm handy, in some respects.
Are you an artist, too? Yeah. I have a studio in Bushwick. I make sculpture, paintings and drawings. I'm also a set designer for an Off-Off-Off Broadway company called the Glass Bandits, and I also work with Theater in a Van.
In a van? They perform in a giant bus, usually on Bedford Avenue.
Of course. What's your art like? I work a lot in wood and steel, and I do a lot of welding. Everything I make looks like you could have found it in a lost corner of a barn.
Sounds marketable—you could sell to Pottery Barn. [Laughs] It has a little more edge than Pottery Barn. But I wouldn't be opposed.
How does your practical-carpenter dad feel about his son as an artist? I think he likes the take I have on it. I'm a logical person. I've got a day job, but it still sounds great at a bar, telling people what I do.
You mean you get points with the ladies? Right: "What do you do?" "I'm an artist." [Laughs] No, I tend not to pull that. Most of my friends who use that line, their parents pay for their lofts. With a carpenter dad and a schoolteacher mom, it's more like...a buncha loans.
What is your target audience? Women aged 25 to 35. No, just kidding. I want the five smartest people in any room to know who I am. I don't really want to be famous, I just want my work to appreciate a little bit.
So how is the dating scene? It's fun. Everyone is really...cool. I just have a good time. The girls are here and I'm here.
That was really lame. You'd make a great politician. [Laughs] Thank you. I've been working on that my whole life.
More from Benjamin
"I grew up on a lake. I'm really into boats."
You might also like
See more New York stories from the sidewalk
See photos of New York street style
See more in Things to Do