Public eye: Brett Thompson, 29
New York street interviews: Stories from the sidewalk as told by real New Yorkers about their lives in the city that never sleeps.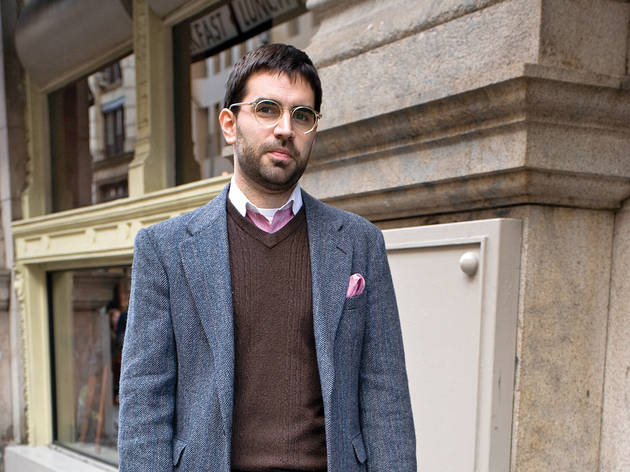 E 13th St between Broadway and University Pl
What are you up to? I'm about to have lunch with my wife and my son, who's six. Just a regular Sunday.
You're young for a dad of six years. It's true, I know. I feel young. Though I'm turning 30 in a few weeks.
Are you going to celebrate in a big way? Probably not. I just came back from a big vacation, so I don't think I'm going to do anything crazy. We were in Puerto Rico visiting my wife's family.
Is she Nuyorican? Yeah. Well, no, actually. She's real-deal Puerto Rican; she came to New York ten years ago. Me, I'm from New York. Well, I mean, I've been in Manhattan for 12 years, but I was raised in Rockland County, 20 miles north. So it depends on who you talk to if I'm a real New Yorker.
I think 12 years here qualifies you. Plus, the pocket square. Do you get flak for wearing a pocket square on a regular Sunday? No, I don't. I travel around the city for my job, so I'm always looking at clothing stores and thrift shops for things.
You wear it with confidence. I only feel awkward if I'm not wearing anything that stands out.
Spoken like a true modern dandy. I guess so, yeah. It all started when I came to the city for college and was suddenly exposed to so much more than I had been before.
What do you do? I'm a real-estate broker.
Enjoying the bubble that never pops? Well, I have experienced some poppage.
From a consumer's perspective, there's not much apparent poppage. Well, there was a short period of time when no one could get loans. But things do still go for a lot of money per square foot. Like, places are selling in Bushwick for over $400 per foot for a condo. This is in a neighborhood that a decade ago some people wouldn't dream of even setting foot in.
So where's the frontier these days? That's one of them. I think it'll continue to develop along the L line, as far as the DeKalb stop. Prospect Heights has changed a lot. And Ditmas Park. As for Manhattan...well...everything is already there.
More from Brett
"I live on Roosevelt Island. You can't beat it for a young kid."
You might also like
See more New York stories from the sidewalk
See photos of New York street style
See more in Things to Do
Sponsored listing
Tonic East
With four floors—one of which is a rooftop patio—Tonic East is equipped to handle any large party or event. The vast space, plus the 60-plus TVs scattered throughout the bar, makes it a popular spot for watching NFL, NHL and college football games. The extended happy hour—from 11am to 10pm Sunday through Wednesday and 11am to 8pm Thursday and Friday—doesn't hurt either. Order from the happy hour menu to score select cocktails for $6 and a few beers for $5, or spring for a full-price option with some of the premium beers on tap, like Dogfish Head 60-Minute IPA or Schofferhofer Grapefruit. Any good game watch requires munchies. The loaded tater tots with bacon, cheddar, sour cream and scallions ($10) or wings with buffalo, barbecue or sriracha sauce (ten for $12) might fit the bill.
Venue says: "Happy Hour Sunday-Wednesday 11am-10pm. Thursday-Friday 11am-8pm"