Public eye: Byron Addison, 35
New York street interviews: Stories from the sidewalk as told by real New Yorkers about their lives in the city that never sleeps.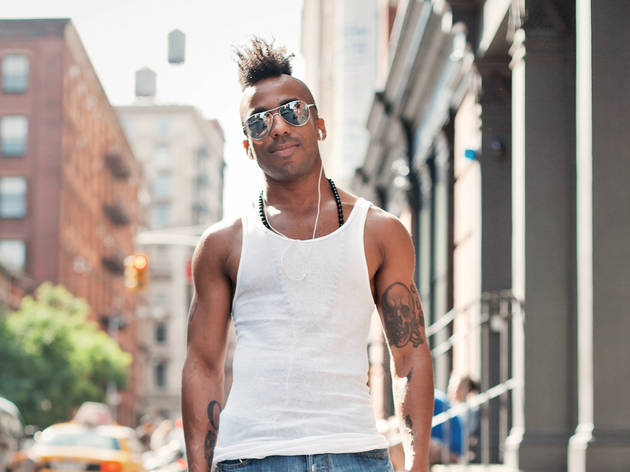 Prince St between Lafayette and Mulberry Sts
What are you up to? I'm on a break. I work at McNally Jackson bookstore.
Oh, I'd better ask you what you're reading, then. Oh no, I just work in the café. I don't read books.
Blasphemy. I read the paper. I'm a news junkie. I don't like reading fake stuff—I like reading about real things. I overwhelmingly follow politics.
It's as good as fiction these days. Oh yeah, it's been totally nuts. Especially just recently with the Supreme Court decision: John Roberts, a Bush nominee, siding with Obamacare. I think more than anything, he was thinking about his legacy. He wanted something big to come out of the Roberts court.
So it all comes down to self-interest. Yeah, I guess there was some self-interest involved. I was really amazed.
Speaking of self-interest, who goes to bookstores anymore? People who want to use the café? Actually, no, it's quite the other way around. Book people aren't like music people, who just care about the raw file and don't care about the album. Book people love the book. I mean, the Kindle came out a long time ago, but it hasn't destroyed the book industry the way the iPod killed the music industry.
So business is good? Man. I'm out here smoking and I hear people say: Oh, I looove this place, I love this bookstore. All the time. Book lovers are a very loyal group. They just keep coming back. Books are recession-proof. I've been here for six years.
Where are you from? I was born in Georgia and I moved up to Staten Island when I was five. I still live there.
How does it feel to be from the borough that everyone likes to be an asshole about? Well, it takes a lot to offend me. Personally, it's the commute that kills me. Especially at two in the morning, it's the worst. But I enjoy the solitude. It's just me and the sky and the grass, and I like that.
Just like Georgia? Uh, no one would say Staten Island is like Georgia—it's way too classy. But I'm sure most New Yorkers would agree with the sentiment.
More from Byron

"With the mohawk, I'm doing Angelo Moore of the band Fishbone. He's my hero."
You might also like
Last week's Public eye: Marcos Contreras, 32
See more New York stories from the sidewalk
See photos of New York street style
See more in Things to Do