Public eye: Carol Morrison, 43
New York street interviews: Stories from the sidewalk as told by real New Yorkers about their lives in the city that never sleeps.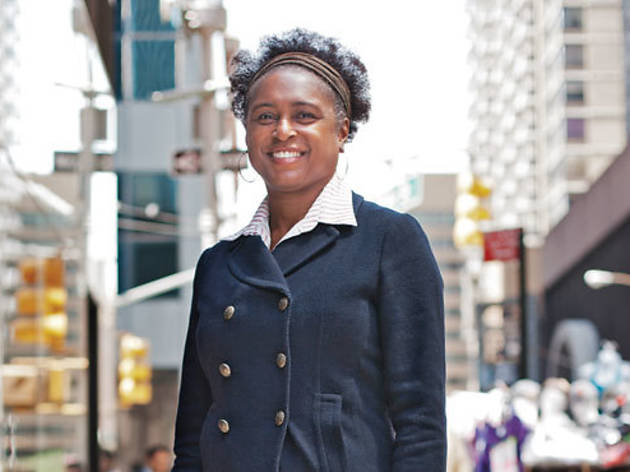 48th St between Seventh and Eighth Aves

What are you up to? I'm on my way to a Brazilian restaurant to have lunch.

Sounds like the makings of a comatose afternoon—are you going back to work? I am. I'm a corporate finance attorney—

—so every day is comatose? [Laughs] No, I actually really enjoy it. I work for a fairly large French bank, dealing primarily in commodities. And you know, everyone has different temperaments. For me, I really enjoy negotiating credit agreements and various documents versus other lawyers. I like dealing with complex financing structures; it's like a puzzle for me. I think I chose the right profession.

Sounds like it. Where are you from? Canada—I was born in Montreal, Quebec, and raised in Kitchener, Ontario. My family is from Jamaica and immigrated to Canada before I was born.

How would you be different if you'd grown up in Jamaica? I think about that all the time. I'm really happy my mom emigrated. She wasn't from the best part of Jamaica: She was from Trench Town

As in Bob Marley Trench Town? Yeah, he was actually just two blocks away from her. I've been there; it's a hard place to live, I think. A lot of crime. The island itself is beautiful, but that's just not one of the best parts of it. I may not have become a lawyer; it would have been harder to get my education, and I wouldn't have met such a diverse group of people as I have living in New York and Canada.

By the way, did you hear that Canada's recently printed currency smells like maple syrup? I'm not kidding. Purposefully? I did not hear that. I guess we're really trying to distinguish ourselves. It's shocking to me that it's on par with U.S. currency these days. It may even be higher.

Between that and your crack-smoking mayor, all of a sudden it's seeming like a less-appealing escape from the U.S. [Laughs] I know, the mayors! There are two of them—the Toronto mayor is accused of smoking crack, and the Montreal mayor was involved with some kind of bribe.

Are they trying to rival New York politicians? [Laughs] Apparently.
More from Carol
"I have a teenage daughter who is back from Spellman College in Atlanta."