Heads up! We're working hard to be accurate – but these are unusual times, so please always check before heading out.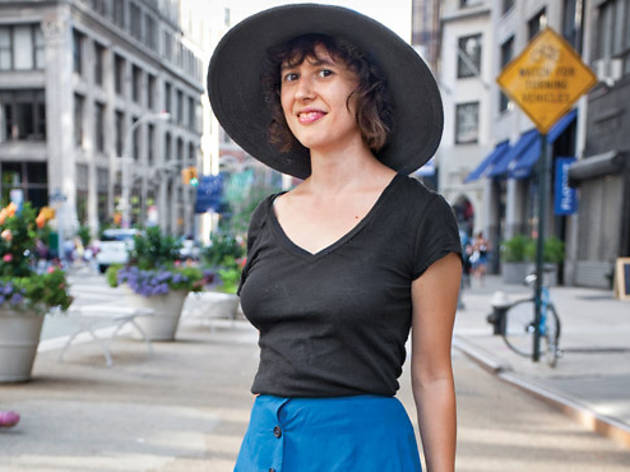 Public eye: Cassie Bartlett, 28
New York street interviews: Stories from the sidewalk as told by real New Yorkers about their lives in the city that never sleeps.
Broadway at 22nd St
What are you up to? Just wandering around with my boyfriend. It's his birthday today.
Are you under pressure to plan something really fun? Nah, he doesn't really care about his birthday.
Does he pull through for yours, though? Yes, actually. He's really good about it.
He should give seminars; that's a dying art. [Laughs] It is! This year he took me to a jazz show and dinner. You can't count on him for any other holiday, but birthdays, he pulls through.
What do you do? I'm a milliner.
How often do people think that means you make, like, rolled oats for a living? [Laughs] That's only happened once. But I do get a lot of blank stares. And then I'm like, "I'm a hat maker!" And I get more blank stares.
How much hat buying takes place during a recession? Well, I work for Victor Osborne, and sure, the recession has affected us. People are being very specific about the hats they buy now; we're getting a lot of custom orders for people who are serious about hats.
Hats for the 1 percent! I mean, our hats are luxury pieces, but they're still somewhat affordable. Our most expensive one is $250 off the floor.
Where are you from? West Virginia.
I shouldn't say this, but I forgot that state existed. [Laughs] Most people probably feel that way, but it's actually really beautiful. But the people are crazy. Every rumor you've ever heard about West Virginia is true.
Yikes. I'm trying to think of what rumors I've heard. Well, let's see. I've seen a lot of moonshine; people go there to disappear when they're wanted for murder; and the coal-mining industry is still a huge, corrupt deal there: It's cheaper for them to pay the fines than to keep up with health and safety regulations. And the state prefers it that way, because it's more money for them. But it's truly one of the most beautiful states I've ever been to.
A good place for a cheap vacation, maybe. Yes, absolutely. There are great cabins to rent if you like the outdoors.
And don't mind fugitive murderers. [Laughs] They won't bother you if you don't bother them.
More from Cassie

"I grew up watching old movies and listening to jazz music."
You might also like
See more New York stories from the sidewalk
See photos of New York street style
See more in Things to Do