Public eye: Chaz Howard, 30
New York street interviews: Stories from the sidewalk as told by real New Yorkers about their lives in the city that never sleeps.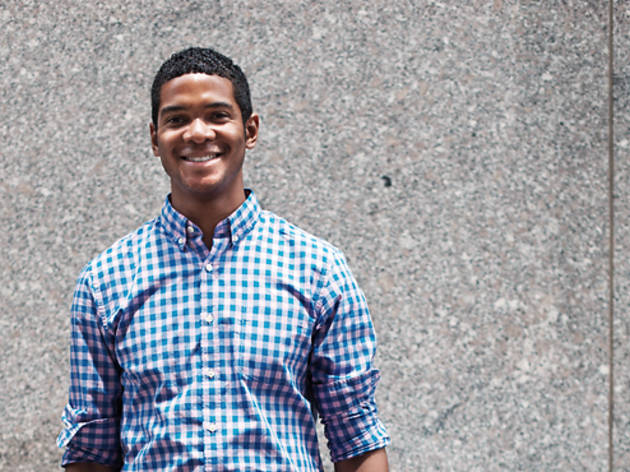 49th St between Fifth and Sixth Aves
Is Chaz short for Charles? No, actually. My father is Charles Jr. and my older brother is Charles III. My father wanted to name me Charles, too, even though my brother was going to name his son Charles IV.

That's some George Foreman shit. Basically. [Laughs] Luckily my mother was like, "No way, we're not doing that." So my name is just Chaz.

So let me guess: Your sister is named Charlize. Pretty much. The girls are Chelsea, Chari, Cassie and Cicily. My dad had seven kids with four different women.

Wow. What's your mom like? My mom is from Virginia. She likes to act like a Southern gal; my father grew up in Brownsville and likes to act like he's an old-school gangster, which he isn't. She was a teacher and he was a security guard. She likes to say he's lucky she gave him a chance.

Where are you from? I was born in Brooklyn, but when I turned nine my mom moved us to Jersey with my stepdad, who raised me, because I was getting in trouble.

You don't seem like a troublemaker. I'm very laid-back now. But when I was younger, it was fun to push people down the stairs and stuff. I think of that now and I can't believe I was doing that. I'm not sure what would have happened to me if I'd stayed in Brooklyn.

Blame the city, why don't you! What are you doing in midtown? My office is near here. I'm a Web designer. I also just started training for iMentor, a mentoring program for kids who don't have as many opportunities. I'm going to get matched up with a high-school student in the fall. That kind of thing looks great on your résumé. And it makes you feel good.

So whatever became of Charles Jr.? He got back together with my mom three years ago, after they were separated for 20 years. This time around, they actually got married—in Vegas. Charles is too old to be playing the streets now, and he's very fortunate he got another opportunity to be with the love of his life. My mom never had that kind of chemistry with my stepdad; I've never seen her laugh so much. This time it's for the long haul—happily ever after, I guess.
More from Chaz
"I tried modeling and acting but quit because I didn't want to wait tables."