Heads up! We're working hard to be accurate – but these are unusual times, so please always check before heading out.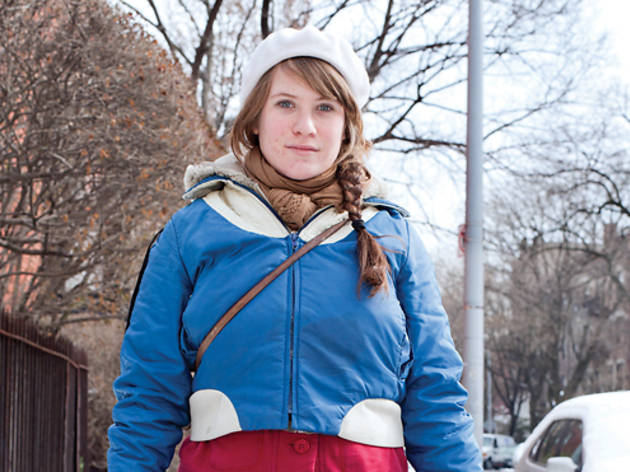 Public eye: Christina Theodoro, 24, and Missy
New York street interviews: Stories from the sidewalk as told by real New Yorkers about their lives in the city that never sleeps.
Prospect Pl between Carlton and Flatbush Aves, Prospect Heights, Brooklyn
I think Missy may be the first cat in "Public eye." Missy is getting fixed today! She was in heat, which is really unusual for a cat that young, apparently.
You've been leaving your kitty porn around, huh? [Laughs] Exactly. She's been flippin' through my animal calendars. When she was all, like, "Meooow," all heatlike, we were like, Ew, stop it! You're a baby!
Little does she know she's about to lose her vital organs. I know, poor thing. We had a really hard time getting her into the carrier this morning. But she'll thank us later.
Where are you from? I grew up in Greenwich Village. I lived in Philly for five years.
How did you develop a taste for Philly and Brooklyn, growing up in Manhattan? Well, it was the Village, which was really neighborhoodish. My parents were really down-to-earth and creative—they owned a restaurant down the block. Everything was within walking distance: school, house, work, friends... We recognized everyone on the street; we knew everyone in our building.
In other words, you weren't a Gossip Girl. Right. Those people are scary! I mean, I went to the church school for elementary—St. Luke in the Fields; I graduated high school in a class of 34.
As a native, do you ever feel overrun by all the high-achieving types who migrate to New York City? Oh, totally. I went to Philly because I'm an actor and a writer; I went to a conservatory program. I found that there are so many ways to fulfill my creative needs through theater, and none of it has to do with money or reaching certain success by a certain age. But then I came back here, and it's all about the schmoozing and the networking.
What kind of writing do you do? Playwriting. I'm just sitting alone in my living room with my cats writing a play. Nobody can tell me I'm doing anything wrong. [Laughs]
More from Christina
"I'm a cocktail server at a bar on Park Avenue. It's very corporate—you know, men with their mistresses, etc. I would never drink there."
You might also like
See more New York stories from the sidewalk
See photos of New York street style
See more in Things to Do