Heads up! We're working hard to be accurate – but these are unusual times, so please always check before heading out.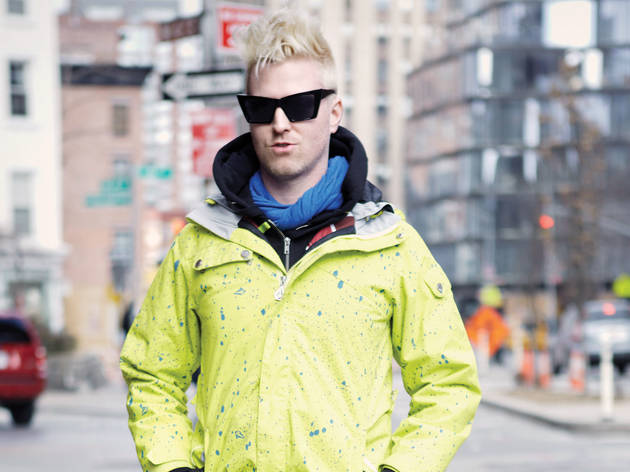 Public eye: Cody Ross
New York street interviews: Stories from the sidewalk as told by real New Yorkers about their lives in the city that never sleeps.
Eighth Ave at Jane St
How old are you? Thirtyish.
Thirtyish? Yea, don't I look it?
I dunno, I can only see half of your face. Well, the rest of it is even more youthful.
I see. What are you up to? We just finished brunch and we're headed home to Meatpacking.
How can you possibly bear to live there? Oh, it's really great. It's like, so very international. It's the place in New York where there is a renaissance unfolding. Architecturally, artistically...
And in terms of girls competing over just how little they can wear. I know, all those girls in skimpy clothes are gross. There are a lot of sleazy Eurotrash clubs. But check out the history—it's so rich. And whatever, it's a cultural haven. Milk is there, and Alexander McQueen, and Soho House. You should totally spend the weekend at Soho House sometime.
Next time I have several thousand dollars to spare. Yeah, you do blow through like $2,000 a night.
What do you do? I'm the creative director of a fashion label called Priestess NYC. It's kind of like an avant-garde unisex label that caters to the artistically inclined.
And fluorescently inclined? Yes. Day-Glo '80s is a powerful motif that I have been unable to abandon. The '80s and the '90s.
Whatever will you do when they go out of style? Oh, they're not ever going out of style. It's an era that lives on in infamy forever. You know why? It was such a positive, triumphant era. Culturally, politically, socially. And the fashion was so good.
Some might call that era superficial. Anyone anticapitalist and left wing might say that. But it was an era when a lot of demographics flourished and a lot of people made money. Oh, and you love '80s music, don't lie.
I do, you're right. Where are you from? I grew up in Texas. I lived in London for a while and in Shanghai for many years. Priestess has quite a robust presence there. So anyway, yeah, I've been in and out of New York for the last, whatever, two decades.
Since you were "ten." [Laughs] Exactly.
More from Cody
"How do you start a business? You borrow, you beg, you steal and then you just grow."
You might also like
See more New York stories from the sidewalk
See photos of New York street style
See more in Things to Do