Public eye: Elhadj Diallo, 23
New York street interviews: Stories from the sidewalk as told by real New Yorkers about their lives in the city that never sleeps.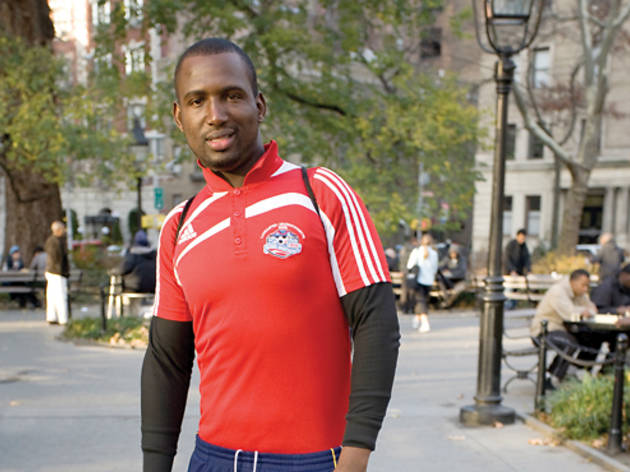 Washington Square Park
What are you up to? Oh, just relaxing. Things are stressful, a little bit. So I bought some pizza, came to the park and said, Let me just sit here and relax, you know?
And here we are interrupting. [Laughs] It's okay.
What are you relaxing from? Well, life. I just want to succeed in life, that's all. I don't smoke, I don't drink, I don't hang out that much. I just want to go to school and see if I can have a good life.
What does a good life look like? To me, it's if I achieve each goal. I'm from Africa—West Guinea. I want to see if I can get my GED and go to college. And then, you know, get married. When I was in Africa, my career was to be a doctor. But I'd like to be a model too—that's my passion.
A fashion model? Yes. Sport clothes, jeans—stuff like that.
I think you might need a few more inches on you to be a model. No no, I'm tall enough. It's been a long time since I measured myself, but people say I'm tall.
Be honest: You totally want to model so you can meet girls on the job. [Laughs] No no no, it's the fashion.
Is New York everything you expected it to be? Before I came, I was thinking: It's beautiful, the people are nice, friendly. And then I came and it's still the same. It's just that it's kind of hard, too. At the moment I'm studying to get my GED.
Guinea's got some political upheaval going on, huh? Yes. People are killing each other. It's kind of miserable. They let people starve, they take people in jail without giving them food. It's kind of hard, to be honest.
Did you feel unsafe there? Very unsafe, yeah, because I know that they kill a lot of people. Even my family, even my friends—they kill so many people. If you are for another political party and they find out, they say, "Okay no problem," and they take you far away and kill you.
That's terrifying. Do you think the people of Guinea might pull an Arab spring? Exactly. I think that could happen there. We don't have a president right now. We're trying to find a good one, but not yet. It's so hard right now; people are so afraid. But you never give up in life, right?
More from Elhadj
"I have my family back home; I'm worried about them."
You might also like
See more New York stories from the sidewalk
See photos of New York street style
See more in Things to Do
Sponsored listing
Forest Hills Station House
Hop off the LIRR at 71st Avenue to find this beer-and-bourbon-focused gastropub in the Queens nabe of the same name. Fifteen craft brews are on tap at the barn-wood bar, including Evil Twin Lil' B, Blue Point Toasted Lager and Left Hand Milk Stout. Bottles (Captain Lawrence Liquid Gold, Rodenbach Grand Cru) and cans (Sixpoint Resin, Oskar Blues G'Knight) are also on offer. Thirty-two bourbon and rye bottles line the wooden shelves behind the bar, for stirring into cocktails like a Woodford Reserve old-fashioned or the Boulevard (Templeton Rye, Campari and Carpano Antica). Upscale bar bites include fried chicken livers with roasted-garlic aioli; short rib–kimchi empanadas with sriracha mayo; and beer-battered meatballs with stout mustard. For dessert, look for a deep-fried Snickers with bacon-bourbon glaze—with a few slugs of the dark stuff in you, you'll forget the near comical gluttony ever happened.
Venue says: "16 Craft Beer Taps, 1 Cask Ale, 120+ Whiskeys, Craft Cocktails, & Gastropub Fare in a Chill Environment."