Heads up! We're working hard to be accurate – but these are unusual times, so please always check before heading out.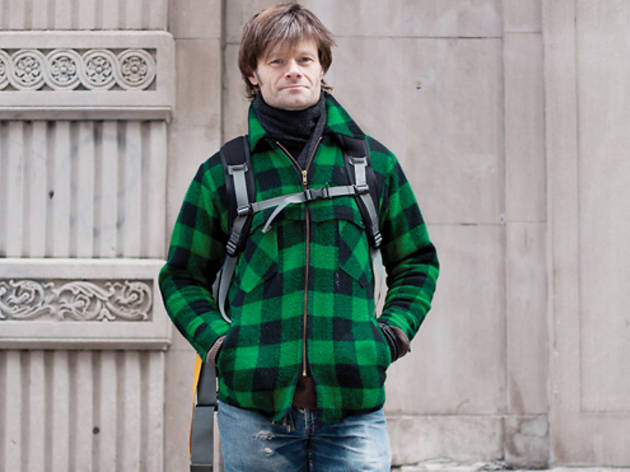 Public eye: Fintan O'Sullivan, 43
New York street interviews: Stories from the sidewalk as told by real New Yorkers about their lives in the city that never sleeps.
Fifth Ave between 17th and 18th Sts
What do you do? I'm a gardener at the New York Botanical Garden.
A gardener in New York. That's like being a fisherman in the desert. [Laughs] Yeah, it's a bit of an alien occupation here. There's green space around, but city people don't seem too connected to it.
Do you specialize in any type of gardening? Yes, I look after the orchids.
How do you get all those Orchid Show orchids to bloom at once? It's a bit of a secret.
At least you didn't say they were fake. Right. Though that would make it a lot easier to look after them. [Laughs]
Do you talk to them? Yes, often.
What do you tell them? I tell them they're looking good, or that they're not looking so hot at the moment and I hope in the future they'll be looking a little bit better.
I hope you're not so honest with your partner? [He's silent.]
So...do you wish the plants spoke back? Yeah, that would make it a lot easier. They're like babies: They have these subtle messages that you have to decipher.
Your name screams Irish, but your accent says Australian. Yeah, I'm Australian. I came to America to get married.
How did you meet your wife? Her best friend at college married my brother. She came out to see her friend and we met. We liked each other, but nothing was going to happen because she had a boyfriend.
And then? Then, ten years went by and I ended up in London. I was intending to see her in New York, and she got in touch first: She wrote and told me that she'd had a dream and I was in it. So I e-mailed her...and it went from there.
Wow. What were you doing in the dream? I was singing a Rolling Stones song—I can't remember the name of it. Seems like a hugely embarrassing thing for me to do, but that's what I was doing. [Laughs]
Had she really had a dream about you or was that just her way of flirting? You know, I don't know. I've never asked her. It's a nice story, so why bother?
More from Fintan
"Before I was a gardener, I was doing clerical work. It drove me insane being inside all the time."
You might also like
See more New York stories from the sidewalk
See photos of New York street style
See more in Things to Do