Public Eye: Gregory Spock, 28
New York street interviews: Stories from the sidewalk as told by real New Yorkers about their lives in the city that never sleeps.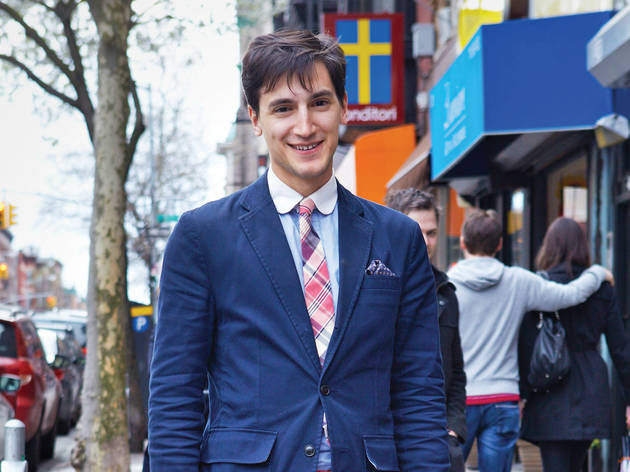 Seventh Ave between 4th and 5th Sts, Park Slope, Brooklyn
You look fresh off the boat from Nantucket. Ha, do I? I'm not. I'm on my way to the Brooklyn Botanic Garden with my family and my girlfriend.
Are you getting any flak for wearing salmon pants? I always dress like this. My great-grandfather was a tailor in Naples. He came to New York and opened a shop in Newark. I attribute my style sense to his passion for clothes.
What do you do? I'm a real estate agent and a professional opera singer. My girlfriend is an opera singer too.
Sounds like a lot of broken windows. [Laughs] We actually haven't done much together yet, but our families keep bugging us to.
Do opera singers ever try to put on weight to make their voices sound better? The weight issue has long been debated. There's a famous singer at the Met, Deborah Voigt, who had bariatric surgery and lost a ton of weight; people say it greatly affected her voice. Of course, there are singers of all sizes, and a healthy lifestyle is more important than being a certain size.
So is the idea that eventually you'll leave real estate behind for opera? Actually, real estate is another passion. The firm I work at links real estate to a philanthropic cause: We fund the construction of clean water wells in Africa through our rentals and sales.
That certainly runs counter to how most of us think of real estate. I know. The CEO, Jason Haber, was previously at Prudential Douglas Elliman, and he got a call from a gentleman who was being very secretive and who said his client would pay anything. He found out that it was Mu'ammar Gadhafi looking for an apartment in Manhattan. Haber told Gadhafi's people that he wouldn't rent him a place if he didn't send the Lockerbie bomber to prison.
Who knew rentals could be so political? Right? He got a lot of press. Anyway, that's how Jason Haber started Rubicon Property, and to date we have helped over 1,100 people in Central and Southern Africa.
You might also like
See more New York stories from the sidewalk
See photos of New York street style
See more in Things to Do