Heads up! We're working hard to be accurate – but these are unusual times, so please always check before heading out.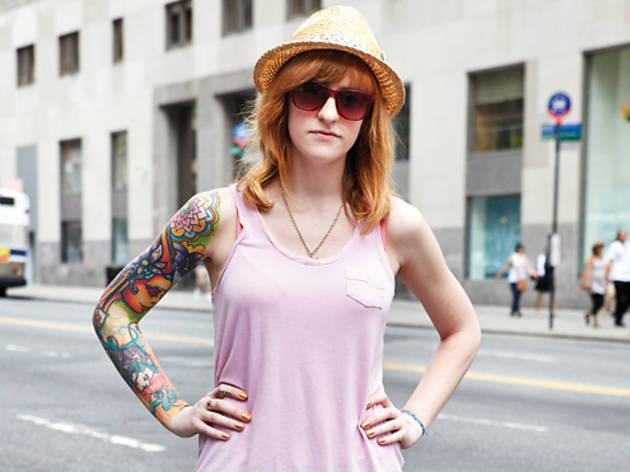 Public eye: Hilary Corts, 23
New York street interviews: Stories from the sidewalk as told by real New Yorkers about their lives in the city that never sleeps.
E 23rd St at Park Ave
What are you up to? I'm in the middle of a shift at work. I work at Gramercy Theatre as their house photographer. I also work at Irving Plaza as house photographer.
You shoot some big names? We get pretty special artists. Elvis Costello, Regina Spektor, Jay-Z...
How do you get a gig like that at 23? I started working in the box office. I have a lot of responsibilities spread out that tie together into one big mass of a job.
How's your hearing? I wear earplugs at every show, so my hearing is fine. My mom is really proud of me for that.
What happens to a rock & roll photographer when you get old? You turn into a weird, old rock & roll photographer. [Laughs]
Is it a drug-heavy scene these days? Not that I've noticed. There are certain shows where you know people are going to be smoking pot, but otherwise, not really.
Are you just saying that for your mom? No! My mom has her own story.
You mean she would understand? Well...no. She would scold me for it.
Are you guys close? We are close. I'm pretty much the spitting image of her. She has less tattoos than I do, but otherwise we are one and the same.
Less? Yeah, let's see. She has three. She has the one that she got when she was 53, which was the first one I got too—a little dove. We also both have Simon and Garfunkel lyrics: "Life, I love you / All is groovy." That's our song, "The 59th Street Bridge Song (Feelin' Groovy)." And she's got one on her face.
Your mom has a tattoo on her face? Yup, my mom has a star tattoo on her face.
Is she in a gang? [Laughs] No. It's freckle-colored and near her eye. You hardly even notice it's there, but when you get close you can see it.
Wow. And what's the story with your tattoos? A lot of them don't have much significance. My entire arm I have just because I like the artwork and bright colors.
You kind of look like you took a dip in a bag of M&Ms. Uh, thank you? I've also gotten "the inside of a burrito." People say the darnedest things. [Laughs]
More from Hilary
"I grew up in Syracuse going to hardcore shows and a lot of alternative rock."
You might also like
See more New York stories from the sidewalk
See photos of New York street style
See more in Things to Do