Heads up! We're working hard to be accurate – but these are unusual times, so please always check before heading out.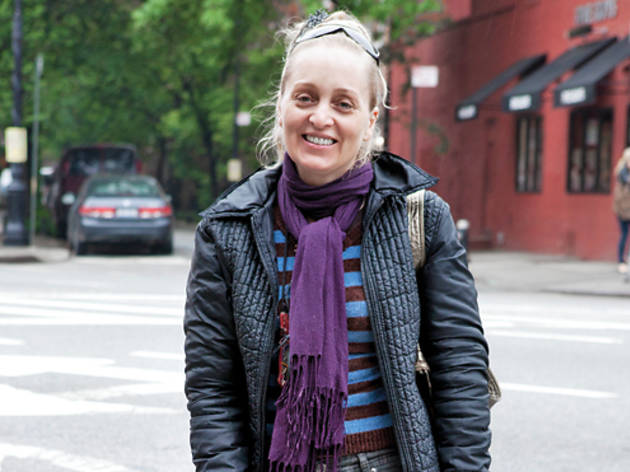 Public eye: Ilse "Boogie" Rumes, 47
New York street interviews: Stories from the sidewalk as told by real New Yorkers about their lives in the city that never sleeps.
Barrow St and Seventh Ave South
Do you have some kind of embarrassing nose-picking habit? [Laughs] Oh God, no. There's nothing to it. I really should come up with a good story for why that's my name.
What do you do? The part I get paid for is as a union lighting technician in the film business. It's a heavy, physical job.
But you never need to go to the gym. That's true. A month ago, I was cleaning up cables in Central Park at 5am, and all the exercise people started arriving at 6am. I was like, "You suckers, you don't even get paid to do that."
So what's the part you don't get paid for? I have a public-access show called Hybrid Lounge about music as a powerful way to get to know other cultures. But I've also just written a script about queers and artists and the blooming sex-worker community in New York.
What kind of sex workers? It ranges from strippers to dominatrixes to escort services. They are fun, creative and unapologetic. Most of them are artists. As an artist in New York, you either have to be a trust-fund kid or you have to find a job that gives you a lot of leeway and a lot of cash in a short amount of time.
Some people choose bartending and others choose sex. [Laughs] A lot of them are like, "We really like what we're doing, this is fun." Which is amazing.
Have you ever considered doing it yourself? I'm too old. Though there is a wide range—men, transgender people, black, white, old and young.
So about that script. It's a TV show. It's fiction inspired by these people.
Is America ready for it, you think? I think it's time. Take The L Word. It took a while before they made it, and look what happened—it was a huge success.
Though, of course, that's not exactly a representative sample of queer women. Ha, yeah, everyone looks like a model. But that's always the case. I guess my sex workers are going to look fabulous too.
You might also like
See more New York stories from the sidewalk
See photos of New York street style
See more in Things to Do