Heads up! We're working hard to be accurate – but these are unusual times, so please always check before heading out.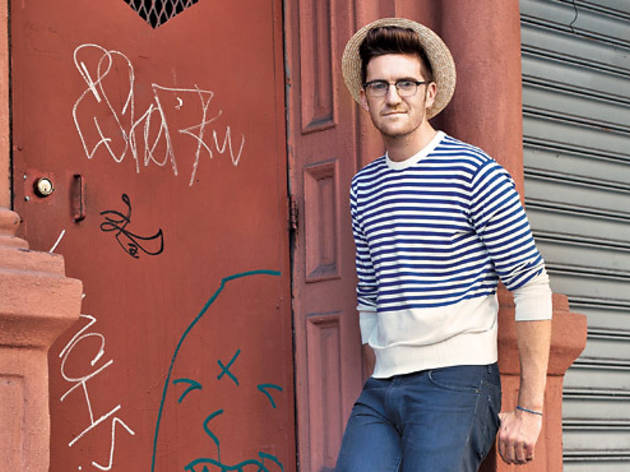 Public eye: James Nord, 28
New York street interviews: Stories from the sidewalk as told by real New Yorkers about their lives in the city that never sleeps.
Rivington St at Allen St
That hat gives you quite the Baby Jesus halo. [Laughs] That's exactly what I'm going for—I try to remind everyone I meet of our Lord and Savior.
Hold up two fingers, and the look would be complete. It's funny, I stole this hat from a groomsman at my friend's 1920s-themed wedding, and decided to make it my thing this Fashion Week.
What's your involvement in Fashion Week? I was shooting Oscar de la Renta's fittings. The last three days before a show, Oscar makes drastic changes to the pieces. He'll be like, "Nah, take off the bottom half of that dress," and then he'll sketch something, and the next day there will be a totally different dress in its place. It's a cool process that not many people get to see, so they let me shoot it. And if they're trying to sell someone a $25,000 dress, showing the story behind it can add value.
Are you a full-time photographer? Yeah, it's a funny story. The first time I got paid to take a photo was a year ago. I was working in branding, and the blog I was doing on the side got so popular that someone from Tumblr got in touch and connected me with someone from the Oscar de la Renta team. I shot something for them, then worked a little more and a little more, and now, in the past year, I've done work for GQ and Lucky, I've gone to Abu Dhabi and Brazil with Puma, I've shot for Penguin… My life has totally changed, all thanks to this little blog I started four years ago to keep my parents up to date on what I was doing so I didn't have to call them every day. [Laughs] I'm also working on a new start-up, and I race bikes.
As in, you're a cyclist? Yeah. I probably ride 250 to 300 miles a week.
No doping necessary? [Laughs] No, though even in our silly little races, there has been some doping. Which, you know, to dope in order to win a little local Saturday morning bike race with a $23 prize is insane.
That's New York City for you. Right? Everyone is so aggro.
Meanwhile, you must have some quads on you. My skinny jeans don't fit like they did a couple years ago, that's for sure.
More from James

"I would call this hair a pompadour."