Public eye: Jason Shure, 43, and Colette Shure, 5
New York street interviews: Stories from the sidewalk as told by real New Yorkers about their lives in the city that never sleeps.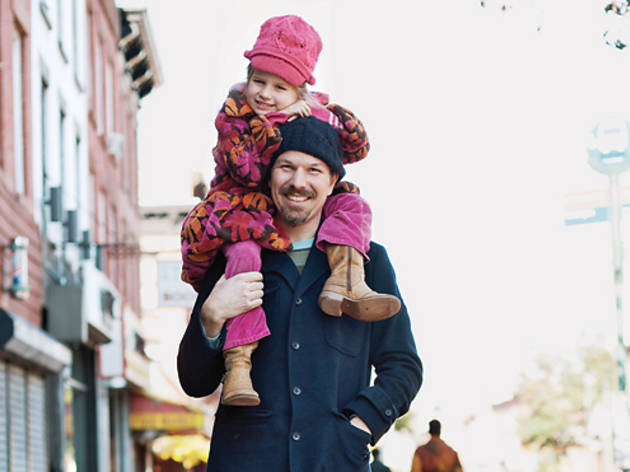 Vanderbilt Ave between Prospect and St. Marks Pls, Prospect Heights, Brooklyn
Colette, is this your preferred way to travel?
Colette: Mhmm. Up here I feel taller than my brother, and he's nine years old!
Wowee. Let me guess. One of you likes pink?
Colette: Me! But actually, a type of pink. Fuchsia.
Jason: [Laughs] I thought you were going to say India pink, sweetie. That's what she usually says.
That is one stylish girl you've got there. Did she get it from her dad?
Jason: [Laughs] You know, I just grew this beard so I could be Colonel Sanders for Halloween and I'm about to shave it off, but my wife hates it. So it's hilarious that I'm going to be in print with this thing.
Colette: I told him to be a billy goat.
How'd you learn to be a good dad, Jason?
Jason: Hm. Well, there's one easy thing; my kids want to be let in on stuff in the adult world. Like, I've explained to Colette the whole economics of magazines: There are some magazines that get their money from ads....
What did a five-year-old make of that?
Jason: Five-year-olds are very used to being advertised to, you know? And New York kids kinda get the hustle, I think. Like, my nine-year-old son is literally packing up an eBay order right now because he just sold some Pokemon cards.
What do you love about being Colette's dad?
Jason: Colette is a crazy awesome shooting star of a kid. I'd have to say that one of my greatest pleasures is watching her draw.
What do you draw, Colette?
Colette: Everything. Last night I made a really, really ugly person. He had big fat ears and he was very hairy and wrinkly. I wrote him in a Sharpie.
What's your favorite thing about your dad?
Colette: Oh, I don't know. He's good in different ways. Did you know that if you only eat carrots and water for two years that you will be able to see through walls? I love carrots because my name starts with a C.
More from Jason and Colette
Jason: "My wife and I have been together for 20 years. The romantic till-death-do-you-part thing is working just fine."
You might also like
See more New York stories from the sidewalk
See photos of New York street style
See more in Things to Do