Heads up! We're working hard to be accurate – but these are unusual times, so please always check before heading out.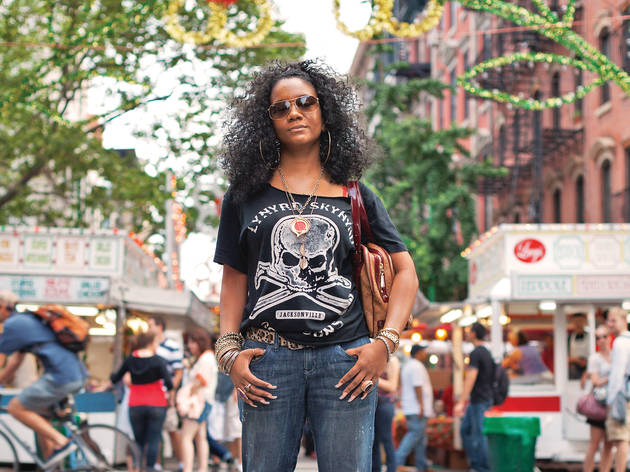 Public eye: Jennifer-Rose Johnson, 34
New York street interviews: Stories from the sidewalk as told by real New Yorkers about their lives in the city that never sleeps.
Spring St at Mulberry St
What are you up to? I'm on my way to work. I'm a stylist and makeup artist at Bellissimo on Mott Street.
Is it going to be a busy day? Oh, yes. It's prom season.
I cannot believe the lengths people go to for prom. Did you go as a high schooler? Good God, yes. We didn't even buy our dresses. We had our dresses made, because the idea that someone else could be wearing the same dress was death itself.
What is this, the Oscars? It's a big deal. In L.A., where I grew up, they have these prom parties where your whole family comes over and they decorate the house in the colors that you and your escort are dressed in.
No pressure to have a date or anything. [Laughs] I actually wasn't going to go to prom until two days beforehand, when my sister was like, "You know you're going to regret this for the rest of your life, right?"
Why were you boycotting? Because I couldn't take my girlfriend. Catholic school was no joke. In the end one of my friends brought her as his date, and then we swapped.
Way to undermine the system. Exactly. I live for that.
Aside from your prom story, what else should we know about you? I absolutely love my job. I get to make women feel beautiful. Most of my clients are in publishing or are actresses or exotic dancers. I don't have subtle clients. Anything we can do that's hyperfeminine, we do. We like to call ourselves drag queens.
High-maintenance, huh? No, no, here's the thing. High-maintenance is actually low-maintenance. Other women spend a lot of time getting ready, but these ladies are always ready. If a guy calls or someone wants to take a picture of them, they don't ever have to scramble.
And do you subscribe to this M.O.? Absolutely. I am never not done. I go to the mailbox done.
You can take the girl out of L.A.… You know, sometimes I think I'm more New Jersey than New York. The higher the hair the closer to God, you know?
You might also like
See more New York stories from the sidewalk
See photos of New York street style
See more in Things to Do