Public eye: Jordan L. Aiello-Schmidt, 29
New York street interviews: Stories from the sidewalk as told by real New Yorkers about their lives in the city that never sleeps.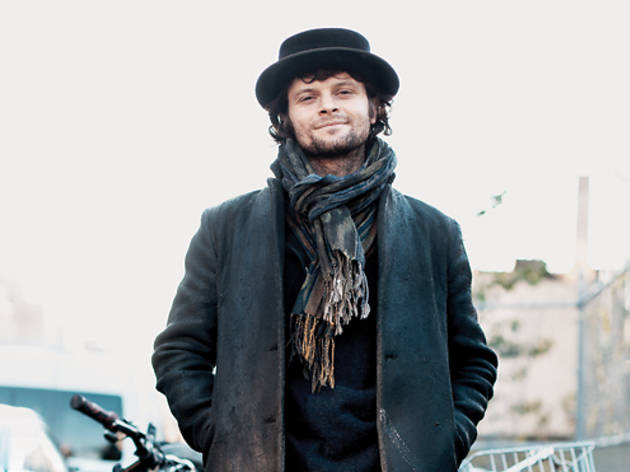 Broadway between Berry St and Wythe Ave, Williamsburg, Brooklyn
What are you up to? Just taking a break from the studio, getting some coffee.
Working on a Sunday? Yeah. I'm working on a series of functional lighting pieces made of clay. They're going to be featured in a store up the street called Beautiful Dreamers, in February.
Sounds lovely. Yeah, the lamps are an old idea I've been working on. I'll be selling a whole bunch of vessels there—jars, porcelain shades...
Crafty, more than arty? I come from a crafts family—my father is a carpenter and a builder. I've worked for a lot of artists where we make their art for them.
As a nameless laborer? Yeah, but that's okay. There's a time in artists' lives when they can't physically produce what's in demand. It's an interesting experience. You see the guts of the art world, and it's exactly how guts are: disgusting.
How so? It's a business. It detaches a lot of artists from their work because the richer you get, the more you spend. You have to pay people to make your work, so you can pay for your lifestyle. You see it engulf people in this weird way.
How well are your clay lamps supporting your high-rolling lifestyle? [Laughs] They supplement it for sure. I'm not making millions; it's just a passion I have. Clay is pretty special: It's just earth, and you can form it, heat it up and freeze it to make a timeless thing that'll be found in the ground 10 million years from now.
What are you gonna put in your time capsule? Hmm. That's a real Miss America question. I would put a note for people to love, take care of and respect each other, and don't get corrupted by false idols.
You would at least add a bag of weed to that, wouldn't you? You're going to put that in my interview?
I said it, not you. I mean, I'm sure I'd leave them something important. Some seeds or something.
So wholesome: love and seeds. [Laughs] Well, yeah.
More from Jordan
"Energy is a huge thing we have to think about right now. I recommend reading all you can on Nikola Tesla."
You might also like
See more New York stories from the sidewalk
See photos of New York street style
See more in Things to Do