Public eye: Kate Longyear, 23
New York street interviews: Stories from the sidewalk as told by real New Yorkers about their lives in the city that never sleeps.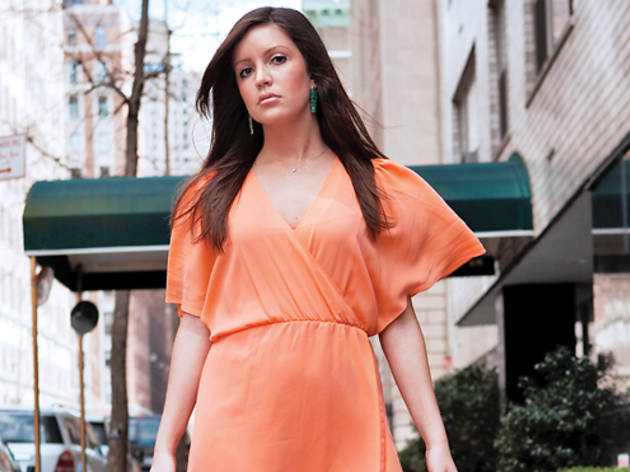 E 84th St at Madison Ave
What are you up to? I'm just coming from my nephew's baptism. I'm visiting from San Francisco.
Did he cry? He was great. He loves bath time, so I think he thought he was getting a mini bath.
Were you raised Christian too? I was. I went to Catholic school. I loved it.
In New York, the girls get really creative with their uniforms. Oh, definitely. That was the most fun. They'd have a random day when the teachers had to measure the skirt to your knee. Our rule was three inches.
What do you do? I work for a fashion styling company. We do everything from wardrobe consultations to shopping for an event.
Wouldn't it be fun if every stylist went on strike for a week and we got to see how celebrities dress themselves without help? [Laughs] I know. Every celebrity has a team behind them. They don't wake up looking like they do on the red carpet.
So you're hanging out with family this week? Yeah. My brother lives in Brooklyn. I have another brother who lives about three blocks from me in San Francisco.
Two older brothers? Yeah. When I was little it was sometimes hard because they ganged up on me. But I knew they had my back. It's always funny introducing them to someone new that I'm dating. They're always looking out for me.
And are you dating anyone? I'm not, I'm single. I live with another single girl. We enjoy socializing.
Guys your age are stereotypically kind of hard-headed about remaining single. Yeah. I live in a neighborhood—the Marina—that has a reputation for having a lot of smart, good-looking girls, so I think the boys can get a little jaded. They have too many options.
Welcome to dating in New York City. I'm sure. When we meet someone and they actually call instead of just texting, we get really excited.
I can't believe it's come to that. I have met some really quality guys. I just hope that they'll start to see that we really respond to good manners and chivalry.
You might also like
See more New York stories from the sidewalk
See photos of New York street style
See more in Things to Do
Sponsored listing
Empire Steak House – East
For the classic New York steakhouse experience, look no further than Empire Steak House. Start with an hors d'oeuvre like jumbo shrimp cocktail ($21.95), a Maryland crab cake ($18.95) and French onion soup ($8.95). Carnivores might have a hard time deciding on a main course, though—choices include a Kobe burger ($28.95), dry-aged emperor's steak for two ($129.95) or a twelve-ounce Wagyu ribeye ($275). Chilean sea bass ($35.95) and spaghetti with lobster ($36.95) might tempt seafood lovers, too. There are plenty of steakhouse sides to go with your meat, like truffled mac and cheese ($15.95), creamed spinach ($10.95) and a jumbo baked potato ($6.95). If you somehow still have room for sweets, the dessert menu is also quite extensive, with treats like apple strudel a la mode ($13.95), chocolate lava cake ($10.95) and creme brulee ($9.95).
Venue says: "Host your private event in our upstairs mezzanine with a full bar or downstairs in our private wine room."