Heads up! We're working hard to be accurate – but these are unusual times, so please always check before heading out.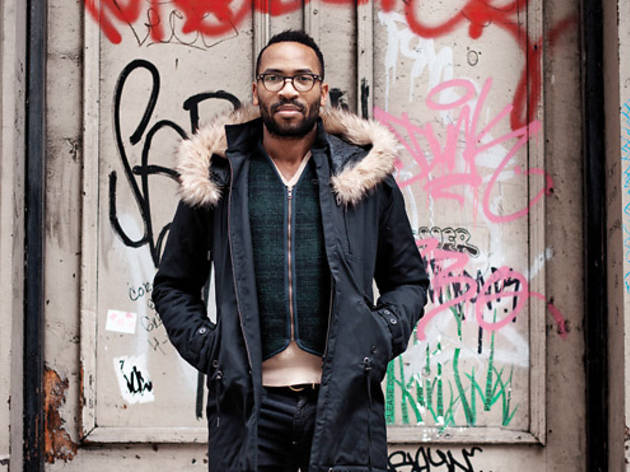 Public eye: Kelechi Odu, 33
New York street interviews: Stories from the sidewalk as told by real New Yorkers about their lives in the city that never sleeps.
E 17th St between Fifth Ave and Broadway
What are you up to? Just helping a friend update his wardrobe...at my suggestion.
You're like a one-man What Not to Wear. Are you a professional? [Laughs] I design encasements—so buildings, clothing, all that.
Encasements! That's an interesting specialization. I'm not fond of interior design and I'm not a psychologist, so...
You're all about the facade. Does that mean you have no soul? [Laughs] No, it just means I have faith in what effect the facade has on the soul.
I see. So you're a clothing designer as well as an architect? Essentially. I have a clothing line called Kelechi Odu and I also have one called Children of Victoria, which was my way of coming to terms with being a product of colonization: Culturally I'm quite British, but I'm Nigerian.
Isn't it strange how the word colonial still gets used in positive ways—like calling a restaurant Le Colonial? It's kind of a dirty word. Yeah. I've gone through all the phases: denial, anger, all that. You can get really belligerent about colonization, but we're in the midst of a period marked by it, so all of our culture is the product of it.
How did you end up in New York? I got a job with an architecture company here that works in Nigeria.
I'm trying to think of other encasements you might get into—I've done a bit of packaging design.
I was thinking of vodka-bottle cozies. Or condoms... I would love to do that sort of thing.
A foray into the lowbrow? Well, I don't know if it's even lowbrow. Condoms are sort of elitist.
Good point. So are you the same person in Nigeria as you are here? Um, it's a good question. Well, for one thing, there's the anonymity here in New York, which isn't as true in Lagos.
No anonymity in the most populous city in Africa? Are you famous? No, no, not famous. But a few more people know me, I guess. Here, I like being able to just walk down the street unnoticed.
More from Kelechi
"Nigeria is so promising and exciting now. It's been a democracy for the longest period since our independence."
You might also like
See more New York stories from the sidewalk
See photos of New York street style
See more in Things to Do