Heads up! We're working hard to be accurate – but these are unusual times, so please always check before heading out.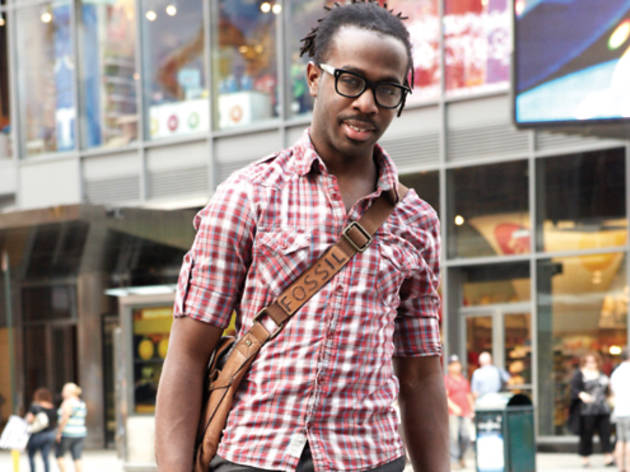 Public eye: Kevon Cooper, 28
New York street interviews: Stories from the sidewalk as told by real New Yorkers about their lives in the city that never sleeps.
W 48th St and Broadway
What are you up to? I'm coming from class. I'm in school for massage therapy.
Bet that makes you popular. You would think, but… Well, yeah, it actually does.
How do you feel about touching strangers?strong [Laughs] I try to live without fear. My primary intent now is to figure out the best way to pay for med school. I also do personal training part-time and nightlife event hosting and promotions.
Weird combination! Yeah. I do two things very, very well: I understand the human body well, and I party very well.
So far this sounds like a great dating profile. One would think, but as soon as women hear "party promoter" they assume I'm sleeping with all the girls I hang out with.
Within party promoting, is there the equivalent of used-car salesmen? Party promoting is like selling cars, actually. You have your used-car salesman, luxury-car salesman, dealerships…
Where do you fit in? I sell used and luxury cars.
What does a luxury party look like? Beautiful girls—mostly tall models—plus good-looking men, and guys who have no problem putting down $10,000 or $15,000 on bottle service.
So basically, if you're poor and ugly, you have no chance. That's your statement, not mine.
Right. How do you feel about promoting these kinds of things? I'm from Trinidad and Tobago, and I've been partying since I was 17. Now, I look at it as a business. I don't treat people as commodities. You hear about promoters sleeping around with most of their girls and they're always drunk, and they're womanizers. That's not me.
What brought you to New York? I was set up with a decent job as a policeman. I had a mother who would rather I live at home, and she had extra land for me to build my house on, marry, have kids and die. That didn't settle with me. It felt lazy. I prefer having an anxious pit in my stomach. You know, that feeling that something is going to go wrong.
Congratulations on moving to the perfect city for that. Hmm. Thank you, I guess?
More from Kevon
"In Trinidad, there's no cutoff in terms of how long you can serve alcohol. It goes all day and all night."
You might also like
See more New York stories from the sidewalk
See photos of New York street style
See more in Things to Do