Heads up! We're working hard to be accurate – but these are unusual times, so please always check before heading out.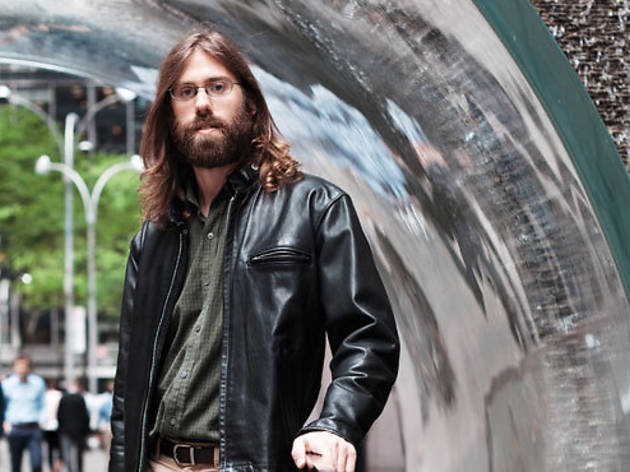 Public eye: Mark Basso, 27
New York street interviews: Stories from the sidewalk as told by real New Yorkers about their lives in the city that never sleeps.
Public plaza between Sixth and Seventh Aves, and 48th and 49th StsLunch break?
Yep. I'm just enjoying this waterfall and the sunlight.


What do you do?
I'm a project manager.


Where?
I forget the name.


That's shady—is your job a secret or something?
It's top secret, unfortunately. Undiscussable.


Don't you know there's no such thing as secrets anymore?
[
Laughs
] I don't know if the NSA even knows what I do, but you could ask them and get back to me.


Is it some kind of super-awesome dream job you have?
Absolutely, yeah.


I'm starting to think you're an accountant and just don't want to talk about it.
[
Laughs
] That could be, but you'll never know, will you?


Are you an X-Man?
Uh, I wish. Only on my lunch break. If you had caught me on another day I might have been playing ukulele. It's a great spot because you can't really hear it over the sound of the waterfall, so you can be hidden in plain sight.


Is the ukulele making a comeback?
Yeah; I started playing seven or eight years ago, back when there would only be, like, one ukulele in any given music shop. Now, everywhere I go people are playing them, and if you go to a music shop, there are, like, 50 to choose from. I'm happy to see it getting more prominent.


Shall we credit the—
Basically, I started it. No one had played it since the '60s till I picked it up . It's my waterfall performances. [
Laughs
]

Right. And you're a committed Marvel fan.
Yes, this is the sixth book, so it's not just a casual read. X-Men are the ultimate outsiders—they have to hide their existence from a humanity that fears and, perhaps, hates them even though they're generally trying to do good. There's a lot of metaphor there and interesting stories that come out of that.

If you could have any superpower, what would it be?
Flying is awesome; you can soar above everything and get another point of view of the world that you live in. Oh, and Wolverine can heal from any wound; that would be pretty key.
More from Mark
"Music Row on 48th Street was where all the famous music stores used to be. There's only one left now."