Public eye: Maureen "Mo" Langan Sweeney, 77
New York street interviews: Stories from the sidewalk as told by real New Yorkers about their lives in the city that never sleeps.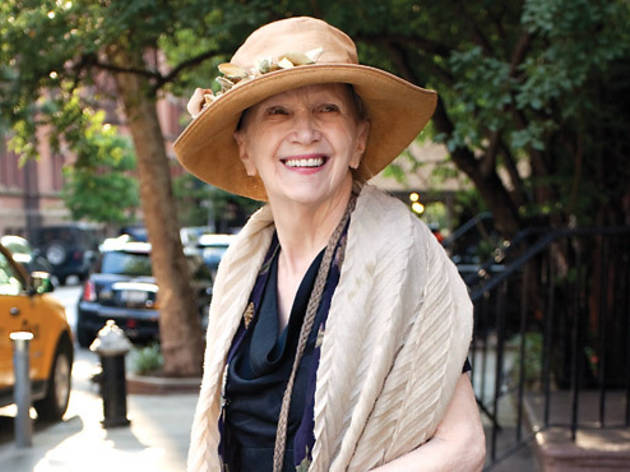 21st St at Ninth Ave
Sorry to take you away from that table full of handsome men. Oh, that's okay.
I was just chatting with some boys from the neighborhood, and they told me to sit down at their table.
Do you always spend Sunday schmoozing with the neighbors? Well, I have lots of friends in the neighborhood. We have parties at my house. And then there's my family: I have two sons, two daughters-in-law and four grandchildren. I call them my treasures, because that's what they are. By the way, I wasn't sure what name to give you, because I'm called Mom, Nana Mo, Maur, Mosey…
That's a lot of names to keep track of. Different people christened me with them. The special man in my life—I've known him 15 years now—calls me his Wild Irish Rose. Oh, and the children I used to work with when I was a governess called me Momo.
A governess? Yes, I've always worked with children—as a tutor, in childcare, and I also worked with deaf children. I love children.
Most of us find 'em to be little stinkers. [Laughs] I've had my stinkers, too, but just one or two.
Where are you from? Here. I grew up on Bank Street. My parents grew up in the Village too.
Those are some roots. Yep. My grandparents came from Ireland and Wales. Boy, I loved my grandparents. They lived on 12th Street. And then my father's mother lived in a town house on Bank Street right next door.
Hope you held onto that property. [Laughs] No, my father sold it in 1983.
Too bad. What was the Village like when you were growing up? Oh, it was lovely. Very patriotic. It was wartime, so there were always soldiers around. And nurses from St. Vincent's. I went off to an all-girls boarding school, though, upstate.
Was that hard? I always came back to New York every chance I got. There was a group of other girls from New York. Everyone wanted to be friends with the New York girls and come stay with us.
Can you blame 'em? Nope!
More from Maureen

"You know what I named my cane? Sugar."
You might also like
See more New York stories from the sidewalk
See photos of New York street style
See more in Things to Do