Heads up! We're working hard to be accurate – but these are unusual times, so please always check before heading out.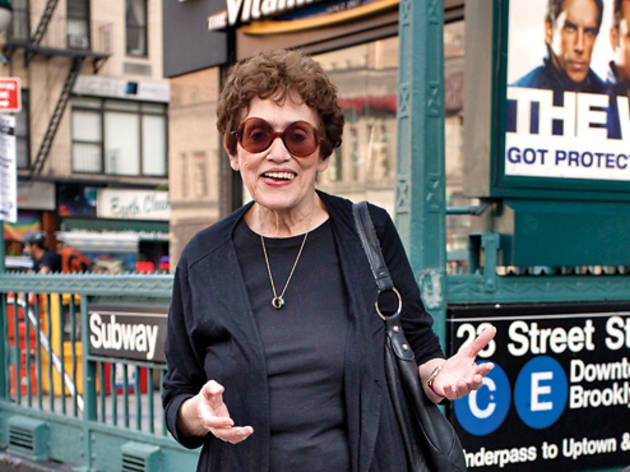 Public eye: May Del Rio, 84
New York street interviews: Stories from the sidewalk as told by real New Yorkers about their lives in the city that never sleeps.
23rd St between Eighth and Ninth Ave
You have such a movie-star name. Are you a movie star? Oh, no. I was a vice president for Planned Parenthood of New York City.
Ah, a rock star, then. [Laughs] I was in Albany when the very first legal abortion law was passed, and then again when it was rescinded and Rockefeller saved it.
So this was pre–Roe v. Wade? Oh yes. We like to say that Roe v. Wade was based on our New York State abortion law. Though we don't really know that.
What got you involved in reproductive rights? Well, I came from a Puerto Rican family in which my father's mother had 18 children. And of all the grandchildren, I was the only one who got divorced back then. It was a very, very shameful time. I had two sons and became one of the first single parents.
Sounds rough. It was difficult, but it forced me into the world when NOW was coming up; I actually met Gloria Steinem and Bella Abzug. People like to remember the '60s as all about smoking pot, but we were high on politics.
How does it feel to watch these clowns try to revoke the rights you worked so hard for? I focus on the young women who are marching today. People might call me silly, but I think Obama is going to win this one.
Let's hope that's not silly. Did you grow up here? Yes, in the tenements on Ludlow and Orchard Streets. My parents came from Puerto Rico just before I was born. We were adopted by Grandma Siegal, who lived on the first floor of our apartment building.
Adopted? Well, she fell in love with my mother and taught her to cook like an American.
As in matzo-ball soup? Yes! And chopped liver. My mother thought to be American was to understand Yiddish. So before I went to school, I spoke only Spanish and Yiddish.
Awesome. Have you seen what's become of the Lower East Side lately? My goodness, my son lives on Hester Street and I will not tell you what his rent is, because I remember that ours was $9 a month. Nine! Can you believe that?
More from May
"I was the first person in my family to go to high school, and then college."
You might also like
See more New York stories from the sidewalk
See photos of New York street style
See more in Things to Do