Public eye: Michele Burnett, 49
New York street interviews: Stories from the sidewalk as told by real New Yorkers about their lives in the city that never sleeps.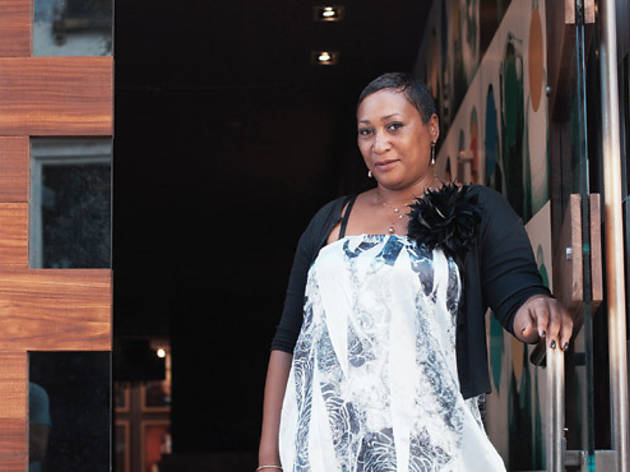 Rivington St between Essex and Ludlow Sts
So will you be celebrating year 50 soon? Yeah, next summer. I'm going to London, Paris and Barbados to celebrate. I've already got it planned.
How did you choose those spots? Well, I was born in London. I went to Paris when I was young and always wanted to go back. And I was raised in Barbados, so I'm going home for Carnival.
How do you survive New York having grown up in paradise? Well, I'm an island girl, so I'm full of energy—outgoing, a free spirit. My island energy comes in handy in New York. People are always like, "Where you from?"
Because you're so relaxed? Yeah, and warm and inviting. There are a lot of nice reviews about me on TripAdvisor.
TripAdvisor? I work for Co-Op, the restaurant at the Rivington Hotel. I'm breakfast manager. I'm also the lady who created the Reggae Brunch.
Is that like brunch for people who don't want to have to talk to each other? [Laughs] Well, we have a DJ. But people talk. And after a few rum punches, they get up and dance.
A Reggae Brunch should feature joints, too, no? The rum punch, girl—it's all you need.
So how did New York look to an island girl? Too big. So overwhelming. My father used to work for the BBC and got transferred to the U.S., so the whole family moved here when I was 12.
That explains why you sound like an East Coaster. Except when I'm around my family. We first moved to the Bronx and then to Rockland County, which is beautiful. I graduated from culinary school and worked at the Waldorf, the Plaza, Tavern on the Green, the Rainbow Room, E.F. Hutton…I've done it all. I was even a model in Belgium for a year. Now I also plan parties for people and have just started to make scarves, which I'm going to sell.
That's a lot. What's up next? I'm going to have my own boutique–catering company called Michele's Knickknacks. I'll sell everything I love in one place—food, clothes, teacups, wineglasses, china, perfume…
Rum punch? Oh, yes.
More from Michele

"The biggest mistake when you're throwing a party? Not planning ahead."