Public eye: Michelle Nuri, 40
New York street interviews: Stories from the sidewalk as told by real New Yorkers about their lives in the city that never sleeps.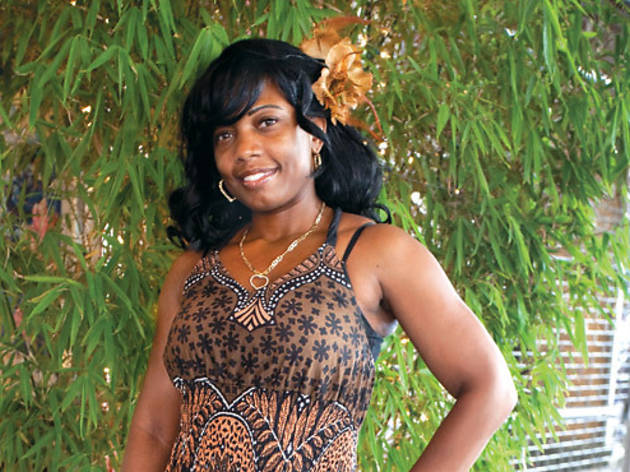 23rd St between Seventh and Eighth Aves
Those are some trendsetting booties you're wearing. I wish these weren't in the shot! I had bunion surgery on both my feet. I wish I would have at least blinged them out.
As in, BeDazzled them? Yes, exactly. I used to do that all the time, but now—I dunno if it's the older age or what—I don't do it as much anymore. [Laughs]
Was the surgery in the name of having sexy feet? Oh, no. I had pain in my big toes. And the recovery took four months instead of two months. I just went back to work yesterday.
Where do you work? I work for the state. Let's leave it at that.
So mysterious. Are you undercover? [Laughs] No, no, nothing like that.
What are you up to? I just had lunch with my dad and my sister.
Do you get along with your sister? Oh yes, we're great. I'm about seven years older than her, but she looks like the older sister.
We'll make sure to publish that. Ohhh, she's gonna kill me. It's just that I tend to look really young.
You do look really young. Secrets? I don't do anything special. I guess it's just in the genes. And I try not to stress over things—that ages you. Just let it go, or pray on it. I'm like, "Lord, it's in your hands."
How nice to have someone to hand things over to. And he pulls through most of the time? Definitely. My faith is very strong. I got married when I was young, and my husband passed away when he was 27 from blood clots. My youngest daughter was only four and was a difficult child. I was like, "Lord, I don't know how I'm going to do this." But God got me through.
You sure it wasn't you who got you through it? No, it was God. I couldn't have done it without him. That was the first thing. And then my car got stolen. People were like, "You're never getting that back!" But two months later I got it back almost untouched.
God did that for you, too? Yup. He just always pulls through. If you have faith the size of a mustard seed, you can move a mountain.
More from Michelle

"I'm a grandmother—my 22-year-old daughter has a 20-month-old baby."
You might also like
See more New York stories from the sidewalk
See photos of New York street style
See more in Things to Do