Public eye: Miguel Castro, 36
New York street interviews: Stories from the sidewalk as told by real New Yorkers about their lives in the city that never sleeps.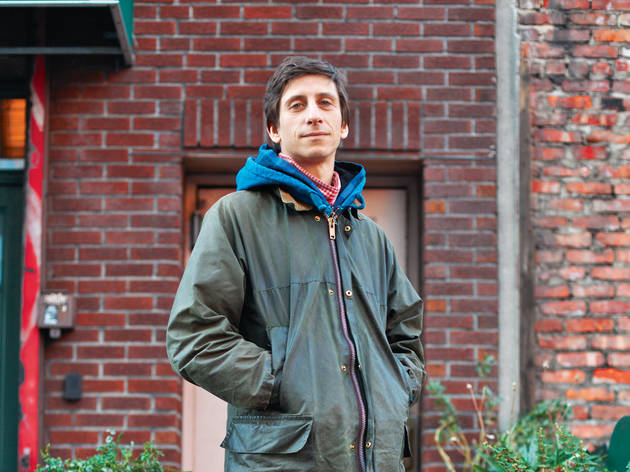 Broadway between Berry St and Wythe Ave, Williamsburg, Brooklyn
Where are you from? I'm visiting from Argentina. My brother lives here. He makes vegan cheese.
An oxymoron, by some estimations. [Laughs] Yeah. It's called Dr. Cow.
Is your brother Dr. Cow himself? Yes, and his wife.
Dr. and Mrs. Cow. Yes, and now there's a little cow, who is called Swy Swy.
"Swy swy"? It's a little bird from Peru.
Two cows and a little bird. A perfect symbiosis. [Laughs]
It must be rough being vegan in Argentina. It is uncommon—there is a lot of meat and pizza there. I'm not 100 percent vegan, but I eat a lot of raw foods and no meat.
So why don't you follow Dr. Cow to New York? Well, because I'm always stuck in Buenos Aires with my band.
What's your band? Bueno, I used to have a band called Victoria Mil. We were kind of famous.
I didn't know I was dealing with a rock star here. No, no, not so much. But we disbanded and I'm on a new project called Un.
You strike me as a bass player. Oh? No, I'm a singer.
Yet you seem so laid-back. I enjoy being part of the group. I am not the kind of guy that wants all the attention.
Then what's the point of being a rock star? Well, our music has a lot of other things inside it. It's a kind of postpsychedelia, no? We just went to record in a really nice place in Uruguay called La Tahona. It's a post-high-tech-hippie community.
Hm. It's a really crazy place. Back when the earth was all one piece of land…
Pangaea? Yeah. When it got separated, the same kinds of rocks are in this place as in Africa. They're really old, and you feel it. We had acid drops…
And that's reflected in your music. Yes. One of the biggest publishing companies went and recorded everything we were doing there. We recorded in this ancient octagonal adobe made with all ancestral techniques. It sounded really amazing.
You sure it wasn't just the acid? No, it wasn't just the acid. Really, it wasn't.
More from Miguel

"The album is going to be called Las Cuerdas de Mi Sombrero—'The strings of my hat.' "
You might also like
See more New York stories from the sidewalk
See photos of New York street style
See more in Things to Do
Sponsored listing
Ristorante DeGrezia
Diners looking for upscale Italian in Midtown East will want to look into DeGrezia. Before you even think about dinner, you'll have to peruse the restaurant's expansive list of more than 450 wines. As for food, everything is made in house, from the pasta to the bread. To start, try the grilled octopus with haricots verts and roasted red potatoes ($19) or sweetbreads pan-seared with mushrooms and marsala wine ($16). Go for some of that homemade pasta with the pappardelle with wild boar and rosemary ($24) or the spinach gnocchi with gorgonzola cream sauce ($23). For your second course, perhaps the boneless quail stuffed with sweet Italian sausages and wrapped in pancetta will tempt you ($34), or maybe you'll go for a lighter dish of roasted pork tenderloin, cannellini beans and broccoli rabe ($29). If you make reservations for a party of eight or more, you can also opt to order off the family-style prix fixe menu (starts at $75).
Venue says: "Celebrating authentic Italian cuisine, fine wines, and exceptional service since 1986!"