Heads up! We're working hard to be accurate – but these are unusual times, so please always check before heading out.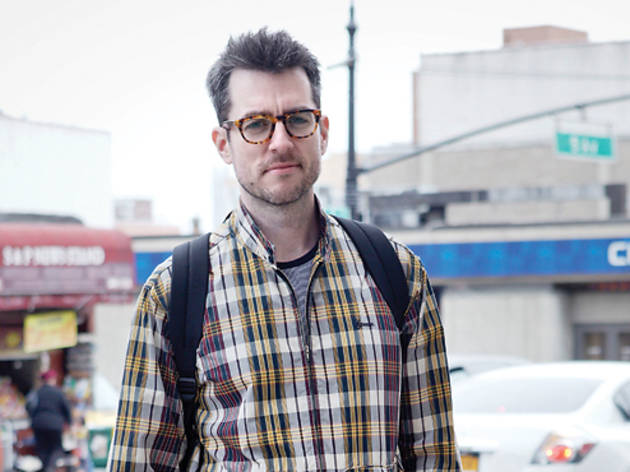 Public eye: Nat Thomson, 31
New York street interviews: Stories from the sidewalk as told by real New Yorkers about their lives in the city that never sleeps.
Fifth Ave between 9th and 10th Sts, Park Slope, Brooklyn
What do you do? I got laid off recently.
Well this interview is off to a great start. [Laughs] It hasn't been too bad. I worked in marketing and communications, so it's part of the ups and downs of the industry.
What are you doing with your time? I'm freelancing and getting back to writing.
What kind of writing? I used to write a lot of music, fashion and culture stuff—for The Fader and Complex, that kinda thing. I started a blog in the early 2000s that I still do, called asilentflute.com.
Is there any part of you that wants to reinvent yourself? I am reevaluating the things I've wanted to do but haven't ever done. So I did an open mike stand-up thing. My palms are sweating just imagining it. It went well, though I flubbed one of my punch lines. I said Han Solo instead of Luke Skywalker.
That must have been a nerdy joke. I realized that Star Wars is so prevalent that every guy can relate to it.
And every girlfriend gets forced to watch it. [Laughs] I've never forced a girlfriend to watch it. You can't even get the unruined version these days.
Tragic. What was the joke? It was born out of my experience working in advertising. Someone asked us to do some multicultural marketing with a Star Wars cartoon series aimed at Latinos. Such a condescending request. My favorite part of the joke is when they're like, "Okay! Tell us about all the great Latino characters." And we're like, "Oh no, no, it's just aliens and white guys."
Ha! Is that the punchline? Well, it's a longer story. The kicker is when I start naming some of our ideas. Darth Vader piñata got a lot of laughs, surprisingly.
You know what people say about public speaking. That it's scarier than death?
Right. And stand-up is worse, because you have to make people laugh. Exactly. Though for work I have to present to clients; you have to get a laugh then, too, or you're screwed. That's less nerve-wracking, but there's more money on the line.
As opposed to just your image. Okay, yeah. And your self-respect. [Laughs]
More from Nat
"Yeah, no p in Thomson. There's an awful old family joke that we're dehydrated."
You might also like
See more New York stories from the sidewalk
See photos of New York street style
See more in Things to Do