Heads up! We're working hard to be accurate – but these are unusual times, so please always check before heading out.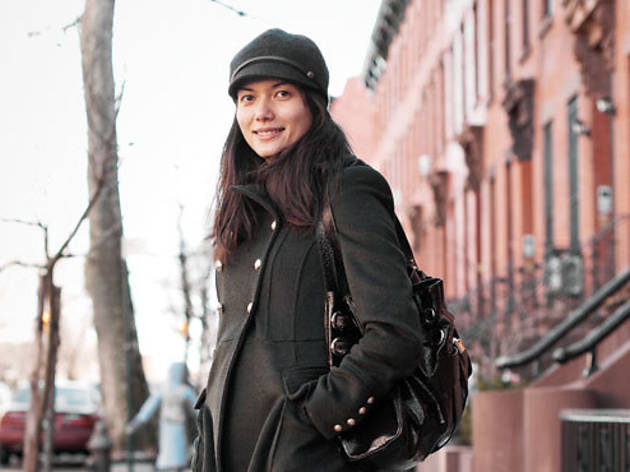 Public eye: Nicole Convery, 32
New York street interviews: Stories from the sidewalk as told by real New Yorkers about their lives in the city that never sleeps.
Cumberland St between Greene St and Lafayette Ave, Fort Greene, Brooklyn
What do you do? I was in financial consulting for infrastructure projects, but recently I ran away with the circus. [Laughs]
Seriously? Yeah. I was in consulting for six years, and after a while I decided I didn't want to be my boss, or my boss's boss. So I decided to take a year off, and I've been training as an aerial acrobat.
That must make for a great pickup line. I generally try not to bring it up, because it can invite some unwanted attention. [Laughs]
Why an aerial acrobat? It was kind of a personal challenge. I'm the kind of person who has never had any upper-body strength whatsoever. So I'm focusing mainly on the static trapeze—which is slightly more gymnastic than the flying trapeze, because you don't have the momentum to bring you up over the bar—and also the aerial hoop, which is a giant metal hoop that spins in the air, and you get up on it and do contortiony things.
How's that upper-body strength working out for you now? Not so bad—I did my first performance last October. So now I'm thinking about what I might want to do with my career.
Like, maybe grow a beard? [Laughs] Right? Or look into getting shot out of a cannon. That would be fun. No, but actually I'm thinking about maybe going back to school for traditional Chinese medicine. I grew up in Hong Kong, and that's something that's always interested me.
Is this an early midlife crisis? I think so. A lot of my friends are going through the same thing. In fact, in my immediate circle, more people are in this situation than in a regular job: A lawyer has become a florist, another lawyer wants to start a food business, a friend in finance is starting a furniture company.…
You make this reinvention thing sound so easy. Where's the hair-tearing? The hair-tearing was when I was still in my job and unhappy, as opposed to after I decided to break free. Though of course I still do have moments when I wake up and I'm like, What the hell am I doing? But there's something about it that feels so right to me.
More from Nicole
"My mom really digs the circus thing."