Heads up! We're working hard to be accurate – but these are unusual times, so please always check before heading out.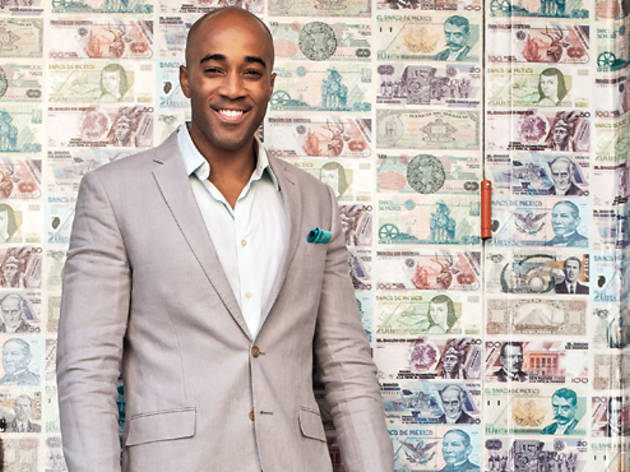 Public eye: Quron "Que" Booker, 36
New York street interviews: Stories from the sidewalk as told by real New Yorkers about their lives in the city that never sleeps.
Rivington St between Essex and Ludlow Sts

You're named after a pretty well-known book, huh? Pretty much. My father studied the Koran and named me after it. What's crazy is that I grew up Christian and I didn't know what my name even meant until I was 17.

That's a lot of years of oblivion. I know! One day I was in a cab coming from an event and the cabdriver was Muslim. I told him my name and he was like, "Whoooooooa," and stopped the car. He thought I was a prophet. I was like, "Whoa whoa, I'm not even Muslim. I'm just trying to get home right now." [Laughs]

So have you read much of the Koran now? I've read some of it. To be honest, I thought about renaming myself to Josh, or Michael. [Laughs]

Why? The Bible and the Koran are parallel—they both have one god. But people are so divided about religion. When I was sending my résumé out I would think, like, Wow, are people not hiring me because my name is Quron?

What do you do? I'm an event manager at the Rivington Hotel.

So you deal with divas professionally? [Laughs] Yeah. We just had an event for Flo Rida. And Jay-Z recently came to another of my parties.

How did you end up doing events? Through modeling, actually. I was raised in Fort Greene, Brooklyn, which is nice now, but man, it was rough when I was growing up. You always had to worry about someone taking your bookbag or your sneakers. I had some angels looking after me or I would never have gotten out of the inner city.

Angels? There was this guy in my neighborhood named Zoi. He was a gay man, a very nice guy who would always tell me I should try modeling. I started doing shows and meeting people from London and South Africa and France. It was thanks to him that I realized that there was a much bigger picture, you know.

Like going on some crazy diet in order to fit into model clothes? [Laughs] No. No diets. Luckily, because I love me some chocolate chip cookies.
More from Quron
"When Zoi passed away I stopped modeling."