Public eye: Robert L. White, 52
New York street interviews: Stories from the sidewalk as told by real New Yorkers about their lives in the city that never sleeps.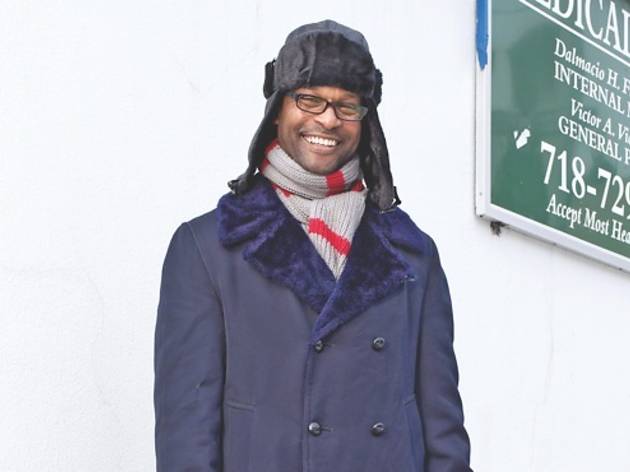 21st St and 45th Rd, Long Island City, Queens
You're not really 52. I am! I feel every second of it sometimes. My secret is gin and no children. [Laughs]
You feel it in terms of the creaky joints or excess wisdom? Both, but more the wisdom I've acquired. Though when I turned 50, my entire body rebelled. I used to bartend, and I couldn't physically do that anymore, and I couldn't put up with the people sitting at the bar. I was seeing the worst in people. I wanted to be out in the sunshine giving people wonderful things instead, so I became a tour guide.
From depraved to wholesome in one fell swoop. Yes! I worked for CitySights. It was really wonderful leading tourists—me, a tall black guy whom they'd probably scoot over a few inches from if they saw me on the subway.
I think I might prefer drunk people to tourists. [Laughs] They come here and stay in Times Square and get on the double-decker bus so they can look at the natives from a distance as though they're on safari. The bus wasn't doing it for me, so I quit and started my own company. It's called A Proper Tour. It started with just my friends: If they had family coming to town, they'd bitch—like we all do—about taking them around. So I said I'd do it.
You're a babysitter! Exactly. I bring them back nice and exhausted so they'll go down at night. [Laughs]
Ever miss the bar? I miss getting hit on. I got lots of attention as a bartender.
How's your gaydar? My gaydar is very good. It's harder to tell these days, though. When I was in my twenties, it was the uniform of the 501s and the handkerchief in your back pocket. These days gay boys and straight boys dress the same way.
And the identity lines seem blurred. Yes, absolutely—there's a beautiful fluidity there. The struggle is still on, though.
When will we have a gay man in the White House? Wow! We may have had one already. Who knows? Talk about First Lady—that'll be a real First Lady. [Laughs]
More from Robert
"If I could, I'd be a recluse. I sometimes see if I can make it through the day speaking less than 20 words."
You might also like
See more New York stories from the sidewalk
See photos of New York street style
See more in Things to Do
Sponsored listing
M Noodle Shop
M Noodle Shop seems perfectly suited to the late-night crowd in Williamsburg. Pick a seat at the counter and order from the long menu of Chinese favorites: think scallion pancakes ($6), boiled shrimp dumplings (six for $6) and lo mein with your choice of protein ($8.50). Then there are the more unusual options, like sauteed squid with basil and sweet chili sauce ($14) and "dragon fly," a combination of ground pork, black beans, diced peppers and chives ($12). Veg heads will also be thrilled to hear the restaurant has plenty of vegetarian offerings, like the sesame pancake with pickled vegetables ($7), fried or steamed vegetable buns (two for $5), spicy den-den mein ($8.50) and a variety of tofu and seitan stir-frys ($9.50–$11). Best of all, the shop is open late—until 6am most nights—so it's always possible to get your egg drop soup fix.
Venue says: "It is that time of the year where a bowl of hot noodle soup can sooth your soul."