Public eye: Ron Buchter, 53
New York street interviews: Stories from the sidewalk as told by real New Yorkers about their lives in the city that never sleeps.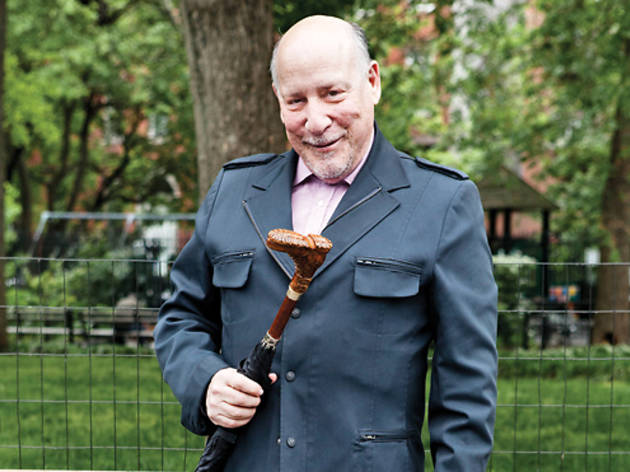 Washington Square Park
You look a little menacing with that umbrella. [Laughs] Do I? I bought this at a tobacco shop on Exchange Place. You know, there's an unwritten rule in New York that if you find an umbrella, it's yours—umbrellas don't belong to you, they belong to the universe.
It's like an umbrella-exchange program. Yep! But, this umbrella has been with me for ten years. I lost it twice and it was returned to me. And about that tobacco shop: After smoking since I was 15, I gave up cigarettes. Next week is my one-year anniversary.
Congrats! Did Big Brother Bloomberg have something to do with this? He did. I had to smoke outside in 20 degree weather. I was spending about $300 on cigarettes a month. I would recommend quitting to anyone.
Who were you as an addicted 15-year-old? I was living in Bayside, Queens. But I was born in Brooklyn, between Sheepshead Bay and Manhattan Beach. I spent my early days going to the beach and walking across the footbridge to watch the fishing fleets come in.
Sounds like an Annie Proulx novel. It was idyllic for a young boy. It felt like a fishing village.
So where's the accent? It disappeared, I guess. I used my voice as a kid, singing professionally in some local rock groups from the time I was 15 till 19 or so.
No wonder you smoked: occupational hazard. Yeah. I was in recording studios as a session performer, and I toured with a few groups and made some money. Then I gave it up and went to school and wound up on Wall Street in the '80s.
Once and for all: Are investors actually better than monkeys at investing? [Laughs] Well, a human can be more careful. Then again, there's the dart theory: If you put the Wall Street Journal against the wall and throw darts at it to pick five stocks and see how they perform against a top analyst's, they're about the same.
More from Ron
"I used to live a block from here for a number of years. Then I got divorced and moved to the Upper East Side."
You might also like
See more New York stories from the sidewalk
See photos of New York street style
See more in Things to Do