Heads up! We're working hard to be accurate – but these are unusual times, so please always check before heading out.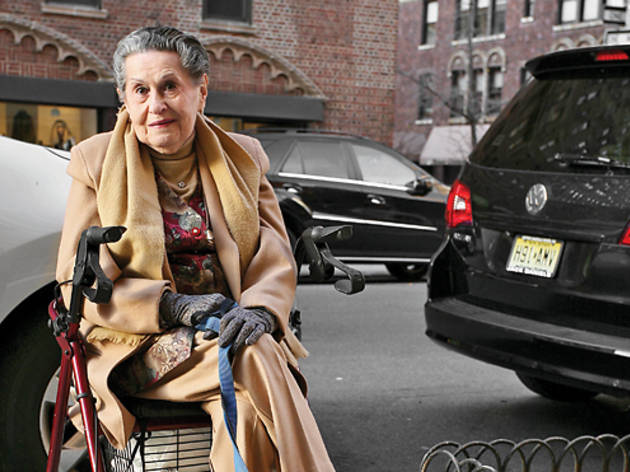 Public eye: Ruth Greenberg, 93
New York street interviews: Stories from the sidewalk as told by real New Yorkers about their lives in the city that never sleeps.
University Pl between 9th and 10th Sts
I think you might be the oldest person to be interviewed for Public Eye yet. What an honor.
Yet you seem more together than plenty of our younger subjects. What's your secret? My secret? Lots of salad. I was brought up on salad. [Laughs]
Your parents must have been ahead of their time. You mean because we weren't potato eaters? They were European-born—from Romania—and came here as young children, but they brought over their foods and customs.
Where did you grow up? Lower Manhattan, on 1st Street.
Did you live in a tiny tenement? Oh, I dunno. It was an apartment, we lived in it, it was perfectly fine. Today everything is tenements, tenements, tenements. There's a gentleman in my building who calls it a tenement. I resent that; it's degrading.
Understood! Who are these cuties? These are my sons, Sammy and Boy Capel.
Boy Capel? He was one of Coco Chanel's lovers. I was reading that when my daughter brought him to me.
So you have a daughter in addition to these sons, then. Oh yes. I have great-grandchildren. They live in Wisconsin.
Wisconsin! Yes, I'd never live there, but it's beautiful. I'm a Manhattanite, born and bred. I'd live no other place. I've lived in this neighborhood for nearly 52 years.
Are you retired? Ha! Yes. I worked for the induction board during the war. My husband and I had a factory on 27th Street. We made insignias for military uniforms. That's a mighty long time ago. My husband is gone now.
How did you two meet? Oh, we were introduced by a relative.
Like, you were set up? More or less.
Was it love at first sight? More or less.
You sound so enthusiastic. [Laughs] He was a very handsome man. I was married 51 years, you know. You have to live day to day.
What do you do day to day? Not much, just enjoy myself. I do this—sit on the sidewalk and watch the people go by—weather permitting. It's like a parade.
More from Ruth
"My boys are pugs. Sammy is 12 and Boy is 14 and a half. I do hate that they're getting older."
You might also like
See more New York stories from the sidewalk
See photos of New York street style
See more in Things to Do