Heads up! We're working hard to be accurate – but these are unusual times, so please always check before heading out.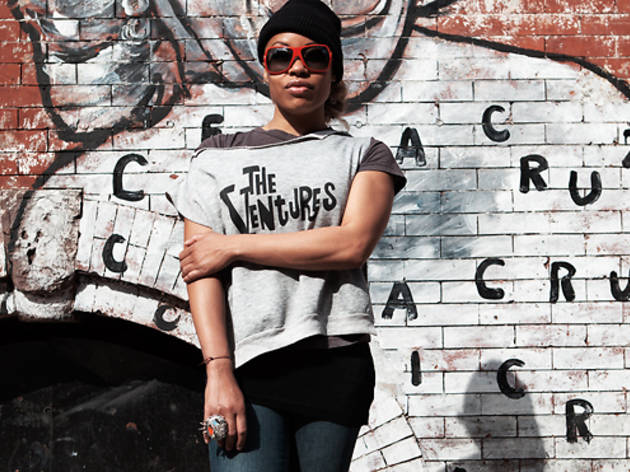 Public eye: Tamikko Beasty
New York street interviews: Stories from the sidewalk as told by real New Yorkers about their lives in the city that never sleeps.
103rd St between Lexington and Third Aves
Are you a dancer? How did you know?
You're standing in first position. [Laughs] Oh! Yeah, I've been dancing for a really long time. Mostly hip-hop.
How old are you? Not a baby and not an old lady. I'm in the entertainment industry, so I keep it ambiguous.
Where do you dance? Everywhere: New York, Australia, Japan. It used to be that if Puffy or someone had a huge party, I would book all the girls. That's how I got known in New York. But I'm on a hiatus now—I'm taking a year off to develop my brand. I'm getting known for my artwork, like this ring I'm wearing.
Is the whole sex-object thing unavoidable as a hip-hop dancer? Omigod, definitely in hip-hop you're sexified. But it's like any business—if you don't have a smart head on your shoulders, you're going to get sucked into whatever pitfalls there are. No one believes me, but I've been celibate for a year because I need to concentrate.
Have you enjoyed that? Omigod, it's so enlightening. I suggest every woman in their lifetime take at least a month off from sex. It's like meditating for a really long time.
In that it's really boring? [Laughs] No, not at all! My life is so hectic I had to cut it out. I was about to have a heart attack. But now it's all I think about. It's like people who have eating disorders and think about food all day.
Think it fuels your art? Uhhh, maybe.
Your name sounds Japanese. It is. I was named after my cousin, who is Japanese and Filipino. My mom is Filipino, Hawaiian and Spanish, and my dad is black and Native American.
Do you identify with one of those ethnicities more than the others? No, not at all. In the beginning, all my friends were white—I came from a really small town. So when I moved away, I surrounded myself with all black people to see what that was like. Then my high school friends were all Mexican or Spanish. So I don't really identify with anyone. Mostly just artists. I think they're a species of their own.
More from Tamikko
"Beasty is my working name. I do things that make people go, 'She's beasting' or 'She's a beast.'"
You might also like
See more New York stories from the sidewalk
See photos of New York street style
See more in Things to Do