Heads up! We're working hard to be accurate – but these are unusual times, so please always check before heading out.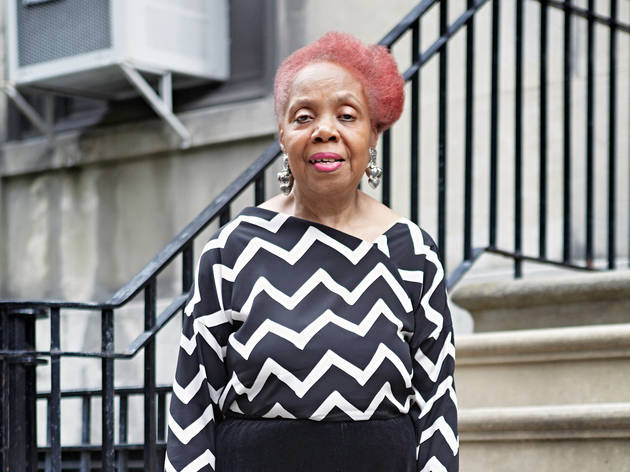 Public eye: Vera Lilly, 76
New York street interviews: Stories from the sidewalk as told by real New Yorkers about their lives in the city that never sleeps.
E 35th St between Madison and Park Aves
What are you up to? Oh, just coming out of a film my church was screening. I belong to two churches—the Community Church of New York and the Marble Collegiate Church.
That's a lot of God. Well, it's not so much about praying as it is about the activities. I love a lot of activity. Both my churches are diverse and liberal.
That's nice to hear in this day and age of religious conservatism. Exactly. These two are the opposite of that: Open to people of different faiths, incomes, races.
Where are you from? I was born in New Jersey, but I grew up in Manhattan.
Whereabouts? At 163rd and Edgecombe Avenue, in Washington Heights. You could look right out across the river at the Bronx. It's not quite as beautiful there now. Anyway, I am definitely a New York gal.
What did you do for a living? For years I had my heart set on being a professional singer, but life got in the way. I worked clerical jobs, and then when computerization happened, I got into telemarketing. I did that for a year. It wasn't my favorite kind of work.
You have such a great voice, I bet people didn't want to hang up on you. That's true, I'm very blessed. The average phone survery ran from 20 to 30 minutes, and holding onto someone for that length of time was tricky. But I had very few call terminations.
Did you ever consider acting? I never studied acting, but for a short time I belonged to an amateur drama group in Harlem. I still would like to use my singing ability. I don't anticipate becoming a superstar, but I would enjoy being a professional.
For one thing, you could stake your claim on being the original pre-Rihanna redhead. I could! I always thought maybe in a previous life I was a redhead. I feel so comfortable in it.
What would your ideal music gig be? Well, I love the great jazz standards—Gershwin, Cole Porter, that kind of thing. And at the Carlyle would be nice.
We'll see you there, then? Don't be surprised if you do!
More from Vera
"I made this blouse for myself about 40 years ago."
You might also like
See more New York stories from the sidewalk
See photos of New York street style
See more in Things to Do