Relax,​ ​Dammit:​ ​a​ ​Pop-Up​ ​Travel​ ​Agency
Take a break from the holidays at this Blue Point Brewing Company pop-up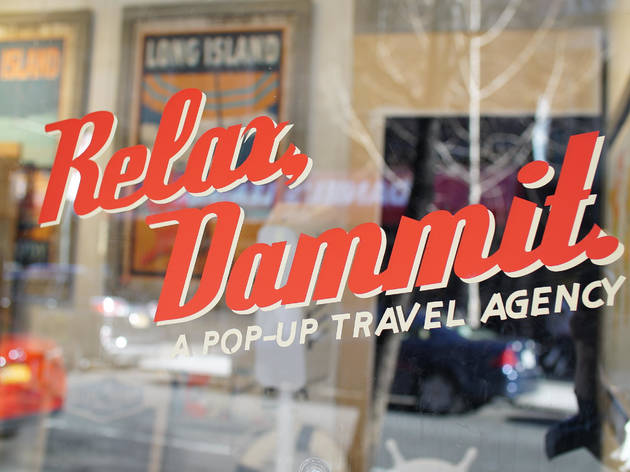 Don't let the holidays wear you down, give yourself a little break with help from Blue Point Brewing Company. The Long Island Brewery is opening a pop-up travel agency on the Lower East Side for four days only.
Keep your eyes peeled at 156 Orchard Street for a man outside wearing a terrible brown suit and you-ve found the right place. Head into the space for an instant vacation and the chance to escape from the crowds, carolers and influx of tourists taking over the city. Take a break with special tastings of Blue Point Beers, an underwater lounge and interactive music experience, a mobile oyster shucker, live music, art and giveaways.
The pop-up is open December 6–9 from 4–10pm daily, so don't sleep on your chance to check it out and escape from the holidays.
Sponsored listing
Giulietta's Cantina Club
This restaurant in the West Village amps up the romance of Italian cuisine with a menu focused on food meant to be shared. Start with a customizable cheese charcuterie board with porchetta, asiago, sopressata, gorgonzola or a whole host of other goodies (one for $7, three for $18 or five for $25). Follow that up with some burrata with grilled tomatoes and pesto ($15), ricotta-stuffed zucchini flowers ($4 per piece) or savory lobster cannoli ($6 per piece). For the pasta course, you might order osso bucco ravioli ($16), risotto with pancetta and peas ($18) or spaghetti pomodoro ($16). There's even a section of the menu dedicated to "aphrodisiacs," like roasted oysters or grilled asparagus topped with quail eggs and slivers of black truffle ($16 each). To add to the romantic mood, Giulietta's also brings in live jazz musicians every Wednesday and hosts a blues brunch every Saturday.
Venue says: "Outdoor seating is OPEN! ☀️Make sure to check out our Bottomless LIVE Blues Brunch on Saturdays! 🥂🍳🎷"