Scandalous New York museum stories you won't believe
Get the scoop on scandalous museum stories, from offensive paintings to racy underwear ads staged in a museum.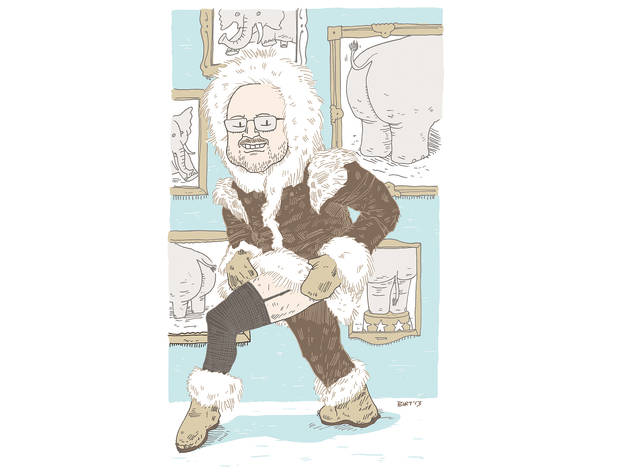 New York museums may be somewhat staid institutions, but they have plenty of scandalous secrets. Learn about six unforgettable museum-world scandals, including the time that Diesel staged an underwear ad in the New York Transit Museum, and the mayoral candidate who tried to censor an art exhibit at the Brooklyn Museum.
RECOMMENDED: Museums in New York
1897: Eskimos at the American Museum of Natural History
Kenn Harper's 1986 book, Give Me My Father's Body, tells the story of Minik Wallace: In 1897, explorer Robert Peary delivered six Greenland Eskimos to the American Museum of Natural History. Four died of illness, a fifth reputedly returned home, and one child—Wallace—survived and stayed behind. The dead men's bones were kept at the museum, although not displayed to the public, until 1992.

1913: The Armory Show
In February 1913, the 69th Regiment Armory hosted a landmark cross-continental exhibit that highlighted work by Picasso, Matisse, Van Gogh and Gauguin, among other luminaries. But relative newcomer Marcel Duchamp, just 26 at the time, stole the show with Nude Descending a Staircase, No. 2. The piece offended artists and casual visitors alike (not to mention former President Theodore Roosevelt, who declared his Navajo rug to be more of an artistic statement) by attempting to capture naked motion via oil on canvas. Nude, and Duchamp, even became fodder for satirical cartoonists.

1969: "Harlem on My Mind" at the Met
To coincide with his historical photo-and-text book of the same name, author and curator Allon Schoener presided over the Metropolitan Museum of Art's well-intentioned—but wildly divisive—1969 exhibit, "Harlem on My Mind." The central point of contention? Schoener—who is white and Jewish—not only excluded contributions by new black artists from Harlem, but also included a high-schooler's anti-Semitic sentiments in the catalog.

1999: "Sensation" at the Brooklyn Museum
Before this showcase of young British artists even opened in October 1999, it lived up to its title. Deputy Mayor Joseph J. Lhota (now a Republican mayoral candidate) declared war on Chris Ofili's painting The Holy Virgin Mary, which incorporated elephant poop into a portrait of the iconic matron. Catholics were given even more reason to cry foul in 2011, when the museum debuted "Hide/Seek"; it featured the late David Wojnarowicz's video A Fire in My Belly, which included imagery of a crucified Jesus being scavenged by ants.

2009: "Skin Fruit" at the New Museum
In September 2009, the New Museum of Contemporary Art announced plans for "Skin Fruit," which included works from Greek industrialist Dakis Joannou's personal collection. Problem was, Joannou is a New Museum trustee, raising ethical flags—the museum has a policy of "not exhibiting work from a trustee if they are intending to sell." He wasn't involved in selecting the pieces in the exhibit (though he and its actual curator, Jeff Koons, are apparently old friends); even still, the museum had to assure critics that it, and not Joanou, had underwritten the show.

2010: Diesel underwear at the Transit Museum
In 2010, Diesel shot a racy ad campaign, featuring models cavorting in their skivvies, on vintage subway cars at the New York Transit Museum. The shoot caused much less of a dustup than a similar setup for the same campaign at the Brooklyn Law School, although Adweek wondered publicly whether the institution had been sullied. We've seen much worse on our daily commute, so we're going with no.