Heads up! We're working hard to be accurate – but these are unusual times, so please always check before heading out.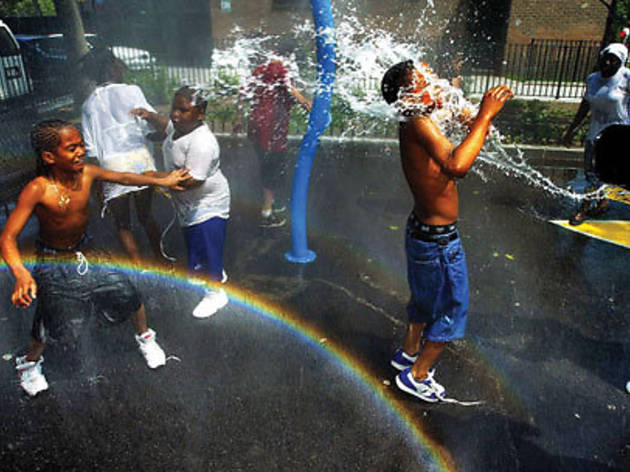 Music tends to fill the streets of Spanish Harlem: the blare of mariachi trumpets playing at a quinceaera, the clack of a salsa band's clave animating Saturday dance parties at La Marqueta, and the beats of drummers, dressed in white, offering praise to the orishas at street-corner celebrations. With its rich mix of immigrants from different Latin American and Caribbean cultures, and the remaining traces of the vibrant Italian community that once called this part of Manhattan home, Spanish Harlem is a picture of an older, grittier New York, where mom-and-pop shops outnumber chain retailers, children play stickball on the sidewalks and community life spills out into the streets.
Ernesto Quionez, author, Bodega Dreams; assistant professor of English, Cornell University
"People who are still here in Spanish Harlem think it is a place worth taking care of. It stands for what New York City is all about: It's not a homogeneous pint of milk, but a beautiful, multiethnic swirl of peoples and cultures."
"Only in Spanish Harlem can you be surrounded by the sounds of salsa, timbales, congas, listening to people talk in the sometimes harsh but always beautiful cadences of the Nuyorican dialect."
"Women do the cooking and serve the food at La Fonda Boricua. Sometimes there's no menu, so you walk in and feel like you are getting a real home-cooked meal, literally. Their rice and beans and codfish remind me of my mom's, too."
La Fonda Boricua, 169 E 106th St between Lexington and Third Aves (212-410-7292, fondaboricua.com)
"To me, the streets of Spanish Harlem provide a way to retrace home—where I began, where I started. People belittle the area's history, or talk about the crime and the drug dealers that were so much a part of the community in the past, but there have always been vibrant pockets of Nuyorican culture in the neighborhood. Many are still there, providing a strong connection to the past. For Nuyoricans, it's our Bethlehem: the place where our parents landed, where it all began."
"Nothing beats the pineapple cake from Valencia Bakery. Growing up, they'd say that you would know you'd made it if you could buy one for your wedding. It was a status symbol, the ultimate splurge. One bite, and you'll know why."
Valencia Bakery Inc., 162 E 104th St between Lexington and Third Aves (212-996-1191)
"The neighborhood is strategically located. Unlike the Heights or other immigrant communities people might want to compare it to, Spanish Harlem has the whole city within arm's reach—the museums, Central Park, Harlem. It's right on the northern tip of Museum Mile, so growing up there, I could walk to museums with the most stunning art in the world."
Orlando Plaza, managing owner, Camaradas
"People of this community defend their right to be here. It's full of activists and cultural organizations that have started and want to maintain their own museums, galleries and cultural centers. From El Museo del Barrio to Julia De Burgos Latino Cultural Center, Nuyoricans have built institutions to celebrate their culture. As more and more Mexicans have moved into the neighborhood, the institutions, especially El Museo del Barrio, have expanded to include other groups and to enrich the community with their culture."
Taller Boricua and Julia De Burgos Latino Cultural Center, 1680 Lexington Ave between 105th and 106th Sts (212-831-4333, tallerboricua.org) * El Museo del Barrio, 1230 Fifth Ave between 104th and 105th Sts (212-831-7272, elmuseo.org)
"This is one of a few neighborhoods in New York where you can still get something that feels like an authentic cultural experience. It's not full of pseudo hipsters or the bridge-and-tunnel crowd."
"There is a master cigar roller who owns a shop on First Avenue. He imports all his tobacco from the Dominican Republic. You can bring booze or a cup of coffee and sit in his shop all afternoon and talk politics. If I'm not in the mood for debate, I'll take a cigar over to Thomas Jefferson Park and sit on a bench, relax and read the paper by one of the sculptures or the flower garden. It transports you out of the city."
Raices Dominicana Cigars, 2250 First Ave between 115th and 116th Sts (212-410-6824) * Thomas Jefferson Park, First Ave to FDR Drive between 111th and 114th Sts (212-408-0100, nyc.gov/parks)
"In this neighborhood, there's a history of collaboration between cultures. Musically, you had collaboration between the African-American and Latin communities that resulted in new and different combinations of sounds and rhythms—new things are being born here all the time."
"The new Target is my guilty pleasure. [It's] one-stop shopping to get what I need. But most of the people who go there won't patronize the neighborhood. They are missing out."
Target, FDR Dr at 116th St (212-835-0860, target.com)
"It's a hole-in-the-wall, but the Green Apple BBQ has some of the best food around. The guys there know BBQ and their hush puppies are light and fluffy—a guilty pleasure."
Green Apple BBQ, 362 E 112th St between First and Second Aves (212-410-6915, greenapplebbq.com)
Lisa Astacio, private dance instructor
"You can dance every day and almost anywhere in Spanish Harlem. There are salsa clubs, parties in the streets, and La Marqueta on Saturdays, where you can bring a chair and some food and listen to good, good live music. But me, I come here to dance—and to feel young."
La Marqueta, 1607 Park Ave between 112th and 115th Sts (212-534-4900)
"The food at Cuchifritos is so good, when someone in the house says they are going, everyone wants to come. If someone were on their deathbed and heard it, they would sit up and say, 'I'm coming too'—the food is that good. It's fried and fattening, but so delicious you can never say no."
Cuchifritos, 168 E 116th St between Lexington and Third Aves (212-876-4846)
Vicente Barreiro, owner, Casa Latina Music Shop
"People used to come to La Marqueta from all over to get tropical products. It was a special place, unlike anything else in the city. You'd get people from all over Latin America and the Caribbean sharing their food, their music, their cultures and having a great time. Now it's mostly closed, but on Saturdays people go there to dance. There is usually a different live band every weekend, and everyone—the older people from the neighborhood, their kids and grandkids—shows up to dance and have a good time. It helps keep some of the old spirit of the neighborhood alive."
"When he would come back in town after playing shows in Europe or some other part of the world, Tito Puente would always come to my shop first—here or Cuchifritos, across the street, they were always his first two stops. He'd come in here to fill his ears and there to fill his stomach and reconnect with the neighborhood."
Jennifer Mascia, reporter, The New York Times
"I have never been the victim of a crime here—knock on wood—maybe because, after ten years, my neighbors recognize me. The sidewalks and buildings have ears in East Harlem, and memories are long. An example: I took up running in 2001, and ran up and down the east side faithfully for four years, until injury sidelined me. But to this day, the young guys in the neighborhood ask me as I pass, 'Goin' running, blanquita?' An old man I didn't know stood next to me at the deli counter on 103rd Street and Second Avenue last year and asked the cashier, "Is this the one whose mother died?" My mother hadn't lived with me before succumbing to cancer in 2006, but she stayed with me when she had treatment at Sinai. And this man knew my business. People here observe their surroundings with a keen eye, and instead of invoking fear, the scrutiny is like a reassuring neighborhood watch."
"Many of the neighborhood's residents are transient—Mexican immigrants from Puebla begin here and ascend to Washington Heights. Few newly emigrated residents set down roots here, except for the Yemeni population, many of whom are drawn by the proximity of the ornate mosque on 96th Street. The only permanent population, it seems, are the blacks, Puerto Ricans and Dominicans who have been here since the Italians left; many of them benefit from the low rents accepted by the plethora of Section 8 buildings that dominate the area. This in-between feeling, coupled with the staggering lack of retail—though I'm overjoyed at the opening of East River Plaza—makes for a drive-through neighborhood rather than a destination. But hopefully that will change. Of course, that's what everyone says when they first move in: 'It's the last neighborhood to gentrify, it's only a matter of time.'?"
"The neighborhood has gotten quieter; there are fewer 3am shouting matches outside my door. When I moved here in 2000, I was one of the only white faces in a neighborhood of blacks and Hispanics; now I see many more white people, as well as Asians, Yemenis, devout Muslims, and, interestingly, Brazilians seem to have carved out a niche for themselves on First and Second Avenues in the low hundreds. Many times walking home I've overheard the romantic singsong of Portuguese."