Heads up! We're working hard to be accurate – but these are unusual times, so please always check before heading out.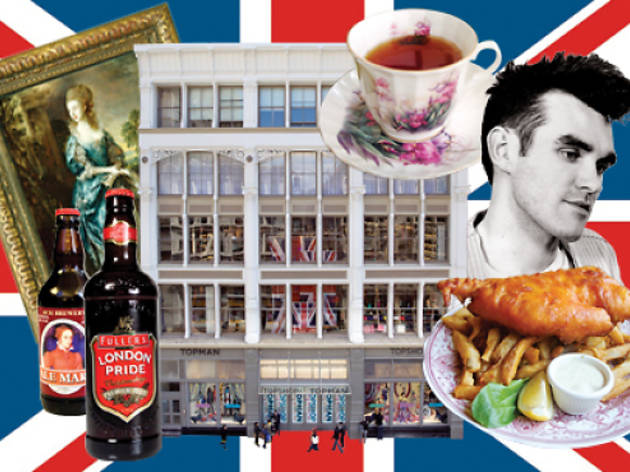 Anglophile in New York? Here's your essential guide
Check out NYC's very best British pubs, restaurants, teashops and stores
It's fitting that Brits tend to fly under the radar in New York—after all, waving the flag of St. George from balconies or pushing esoteric tea-drinking ceremonies (milk, two sugars) on the Starbucks-swilling masses wouldn't be very...well, English, would it? But NYC is full of expats and Anglophiles alike—music fans with their iTunes set to British pop talents Ed Sheeran and FKA Twigs, foodies seeking the best British & Irish food and places to drink, tea fans looking for, well, tea. So it's only proper that we offer you our guide to the city's top Britain-related revelry. Fill yer boots at our favorite bastions of Englishness around the city.
Best British tea time in NYC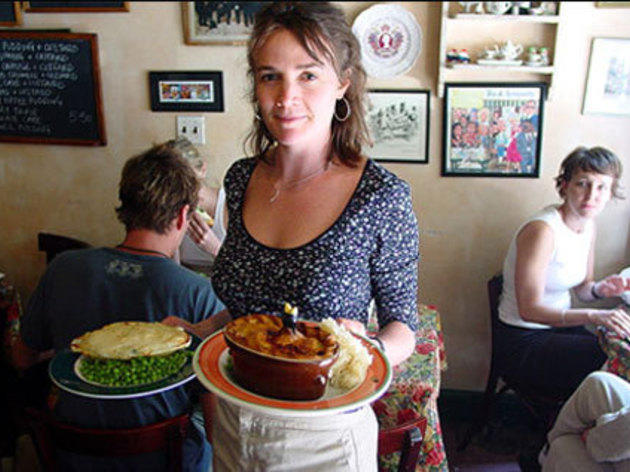 Pop in to Tea & Sympathy
if you
are
English, or just want a proper cup of char. There's always a devoted community of Brits and wanna-bes at this cramped but homey space, where, over the clinking of china, you can strike up a conversation with the diner sitting right next to you. Order the afternoon tea ($35 for one, $65 for two), which comes with assorted finger sandwiches, scones and a selection of cakes—plus a steaming pot of the only beverage more sacred to the English than beer. "It's the actual tea-drinking that we do so well. When I first came here, I couldn't believe it—I'd go to other places and the tea was just revolting," says Nicky Perry, a former Londoner who opened Tea & Sympathy in 1990. "I'm very, sort of, 'This is it, this is how it is.' You walk in the doors, and you're in my living room. But our tea is very popular, made fresh to order. And I always tell people to come hungry!" You can never go wrong with the classic English breakfast or Earl Grey, but Tea & Sympathy has 41 other varieties to choose from, including Yorkshire Gold and rose petal.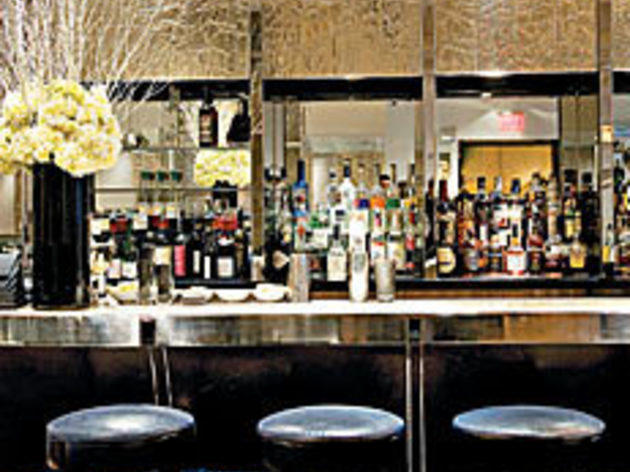 Etiquette demands you educate yourself with a posh afternoon tea ($38 per person) at the London Bar, Gordon Ramsay's sleek fine-dining space tucked within the cosmopolitan
London NYC Hotel
. Offered daily from 3 to 5pm, the service features a selection of tea sandwiches, raisin scones and other pastries, and your choice of char—go with the Darjeeling, if you're feeling bold.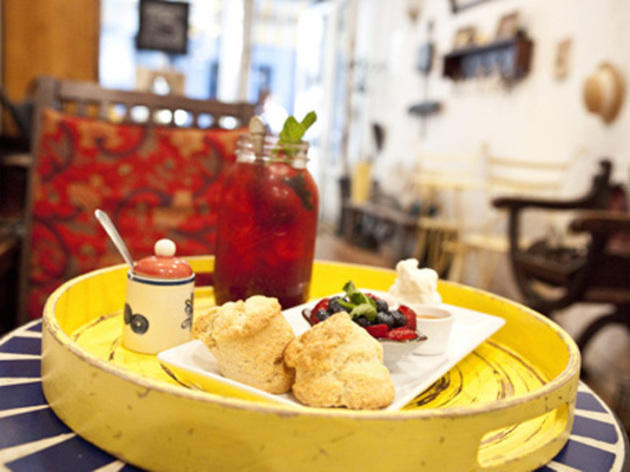 Podunk owner Elspeth Treadwell is Scandanavian, not British, but this miniature East Village teahouse is one of the most charming spots in New York City to relax with a mug and the latest edition of the Currant Bun (the proper Cockney way to refer to daily tabloid The Sun). The mismatched vintage chairs, shelves of books and cozy knickknacks are a delight, but the teas and accompanying sandwiches or treat trays are even more so: Try the Tittle-Tattle tray ($12), which comes with some dainty cupcakes and cookies, along with a pot of tea. However, we suggest you ask to substitute coconut-flavored tea for the Lady Black; royal labels are unnecessary if you can trade them for tea leaves that taste like liquid ambrosia.
Best British food spots in NYC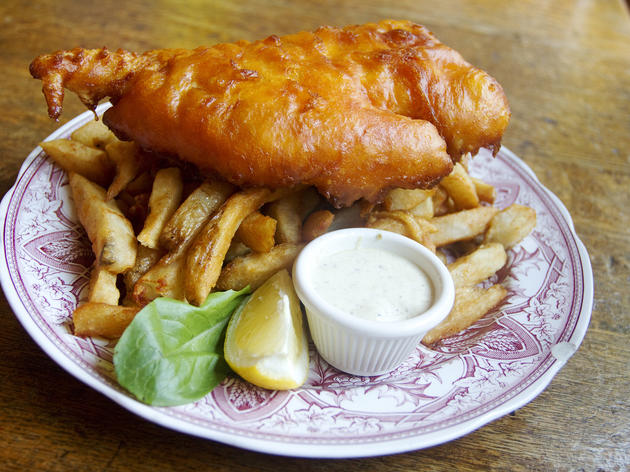 England may not be famous for its cuisine, but one culinary technique the Brits excel at is frying just about any foodstuff until it tastes good. The Brooklyn chainlet Chip Shop
showcases this skill with a full slate of golden-crusted goodies, including Mars bars, mac and cheese, bangers and, of course, fish—choose from cod, haddock or plaice, cooked to perfection beneath a thick layer of malty batter ($12–$12.75). The small hangout is also a great place to quaff British beers (like Old Speckled Hen) and hard-to-find soft drinks like Lilt ($3) and the blackcurrant-flavored Fizzy Ribena ($3).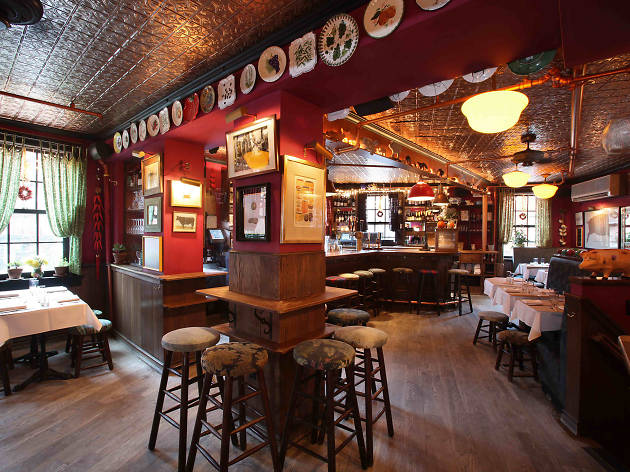 Trendy gastropubs like
the Spotted Pig
do a valiant job of giving British-style cooking some sex appeal, and April Bloomfield, the Birmingham-born toque behind both ventures, deserves every bit of praise she receives. But while foodies have been frothing at the mouth for decadent dishes like fried pig feet and breaded scrumpets (sort of like a fish stick made out of lamb), a better-kept secret at the Breslin is the bang-up breakfast menu. Stop by when most of the hipper-than-thou clientele is still asleep for one of the city's best full English brekkies ($23), featuring English bacon, homemade sausage, garlic-laden mushrooms, slow-roasted tomatoes and organic sunny-side up eggs.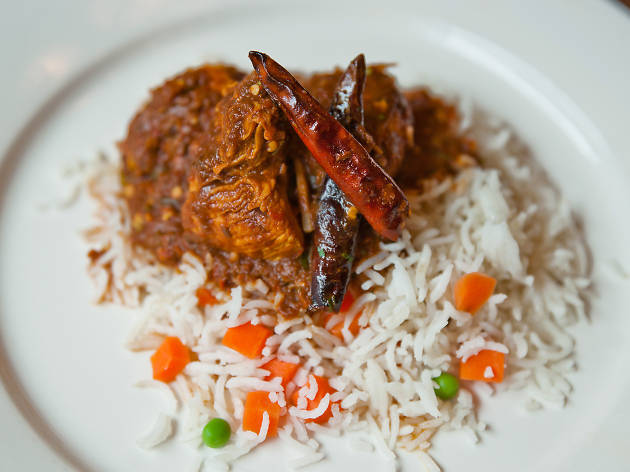 Fish and chips may seem as English as it gets, but any Brit fanatic worth his weight in sterling knows that curry is the country's national dish (at least according to former Foreign Secretary Robin Cook, who proclaimed it as such).
Brick Lane Curry House
takes its name from an East London street famous for Bengali-style Indian food, and it specializes in the dangerously spicy phaal ($14–$21) that's popular along the 'hood's restaurant row. The menu wisely warns that the curry, which is made from 10 different chilis, is "more pain and sweat than flavor"—those who demonstrate a stiff upper lip and make it through the agony get a beer of their choice (such as Kingfisher, Taj Mahal or Stella).
Best British stores and sites in NYC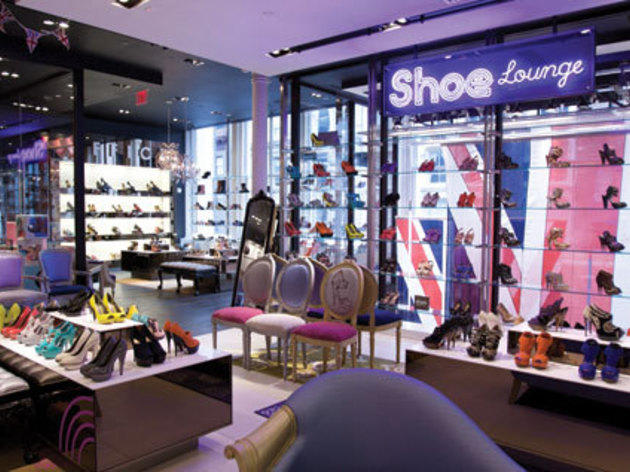 If it's good enough for Kate Moss, it's good enough for the populace: The Topshop in Oxford Circus, London, has long been the mecca for high-street British style for girls and guys. That flagship store across the pond is absolutely dangerous—it has an extensive candy counter, a DJ booth, personal shoppers for hip, young folk with pounds to burn and about 300 new styles added each week. The champion of English fast-fashion opened its first U.S. branch in Soho in 2009, and while the store's selection can't hold a candle to that of its English counterpart, it still carries three floors worth of the same absurdly trendy, try-but-look-like-you-don't-have-to-try cache, via a mix of clothes, accessories, makeup and a special TopMan section for the lads.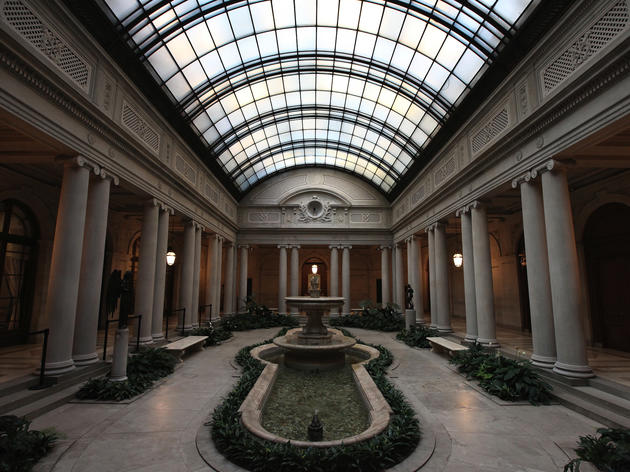 The Frick Collection is extremely English: Mr. Henry Frick favored satirical painter William Hogarth and Flemish court painter Sir Anthony van Dyck, and the Dining Room is dominated by Suffolk-born Thomas Gainsborough's 18th-century portraits—there are more paintings by him in this room than in any New York City museum. (We love his oil of The Hon. Frances Duncombe, a serene and elegant lady whose husband was thrown into debtor's prison, despite her wealth.) Frick also cheekily hung portraits of frenemies Thomas Cromwell and Sir Thomas More on opposite ends of a fireplace, and there are decorative art objects and furniture from the London house of financier J.P. Morgan scattered about the residence. Each year from the time he turned 30, Frick traveled to the U.K., and he and his wife, Adelaide Childs Frick, even booked passage on the Titanic. They did reschedule, to their advantage, after Adelaide turned her ankle.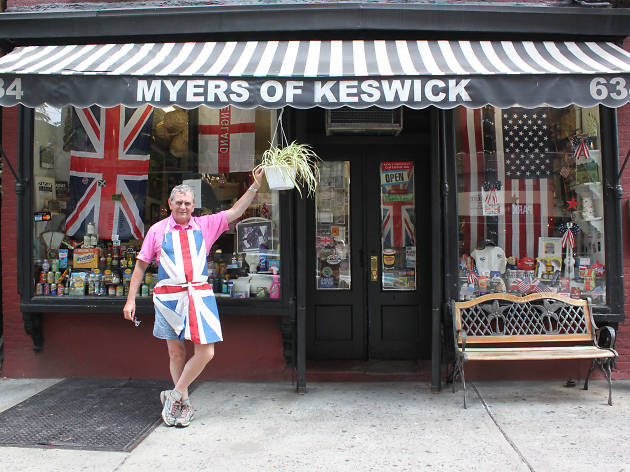 Gale calls Myers of Keswick an essential first-stop source for authentic British groceries. The shop, owned by the daughter, Jennifer, of Peter Meyers of Keswick (in the Lake District), has some distinct best-sellers—Heinz baked beans ($2.25) are number one, followed by Branston Pickles chutney ($5.50) and HP steak sauce ($4.50–7.50). Crammed to the gills with British goods, the shop also carries plenty of varieties of the classic, wildly popular McVitties chocolate biscuits ($5.75), which are practically required snacking; they're to tea as Oreos are to milk in the U.S. Plus, you can stock up on boxes of addictive, pyramid-shaped PG Tips tea ($5.50–$24.95)—some say it's superior to loose-leaf. Take thrice daily to help cure you of the disease of Americanness.