The best new Brooklyn spots: Where to find cool new venues in Brooklyn
Check out five of our favorite new Brooklyn venues, including a Bushwick bookstore, a vintage shop in Bed-Stuy and more.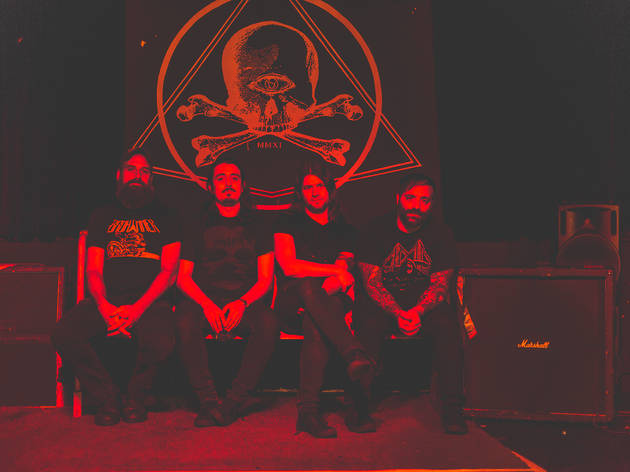 Theater, Off-Off Broadway
RECOMMENDED: What's new and what's best in Brooklyn
What it is: Experimental theater troupe Hoi Polloi set up shop in a converted Clinton Hill garage earlier this year. According to artistic director Alec Duffy, who lives in neighboring Prospect Heights, the area is ready for a cultural center. "Over the last five years, we've seen the neighborhood kind of explode with bars and restaurants, but no real increase in any kind of cultural activity or spaces," he says. "We saw an opening for the kind of work we were doing. And it's exciting to us as an opportunity to potentially bridge [the gap between] audiences."
What to expect: Duffy sees the venue as more than just a place for theater performances. "I really wanted a space that asks the question, can we create a space that has experimental art in its center, but also one that serves the community at the same time?" To that end, the group will engage with its surrounding area by offering classes for adults, as well as a writing-and-performance program for teenagers called the Jack Teen Arts Council.
What's happening: Hoi Polloi staged its first production at Jack, Bertolt Brecht's Baal, over the summer. The group is still locking in details for its next show, but until then, the venue will host music performances, film nights and other events. 505½ Waverly Ave between Atlantic Ave and Fulton St, Clinton Hill, Brooklyn (jackny.org)—Amy Plitt
RECOMMENDED: What's new and what's best in Brooklyn
What it is: This heavy-metal haven is easy to miss; there's no sign on the exterior, and nary a light from the bar is visible from the street. Upside-down crosses, red candles, a stained-glass representation of Jesus on the cross and a 150-year-old Bible are just a few of the touches signaling that you're in headbanger country. "Basically, all that shit was in my room," says Arthur Shepherd, who co-owns Saint Vitus with Justin Scurti and George Souleidis. The back of the 2,500-square-foot year-old space is a full-fledged (and completely black) live music venue.
What to expect: You'll see plenty of metalheads, obviously, but the bar's vibe is refreshingly friendly and democratic for a place that caters to genre aficionados. "We get people here who aren't wearing the uniform—all-black tight pants, black vest, long hair, tattoos—but they're here and having a great time," notes Shepherd. Part of the draw lies in the venue's strong draft selection—New York faves like Sixpoint, Captain Lawrence and Ommegang ($6) are regularly on tap—and fun beer-and-a-shot specials like the Pope (a Coors tall boy, a shot of Tullamore Dew and a Brooklyn Brine pickleback; $9).
What's happening: Since opening in May of last year, the venue has already become a mainstay for NYC metal fans. It now hosts four or five shows a week, featuring increasingly bigger acts, such as Cali punk vets the Descendents and the bar's namesake, L.A. doom-metal band Saint Vitus. 1120 Manhattan Ave between Box and Clay Sts, Greenpoint, Brooklyn (saintvitusbar.com)—Tim Lowery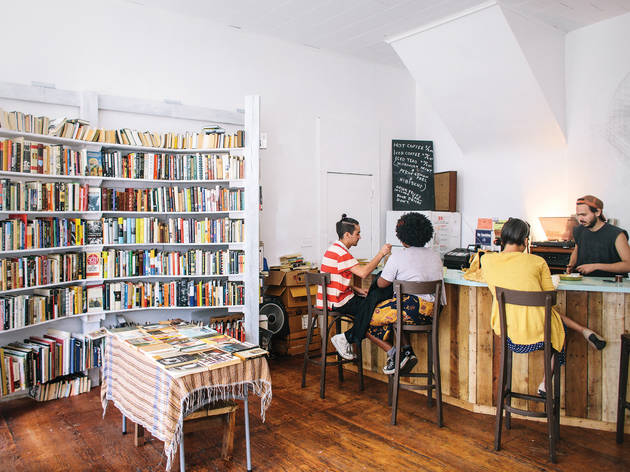 Photograph: Lizz Kuehl
Bushwick indie bookseller Molasses Books
RECOMMENDED: What's new and what's best in Brooklyn
What it is: Located in the middle of a residential block in Bushwick, this used-book store, which opened in July, is "50 percent retail space and 50 percent social space," according to owner Matthew Winn. Disenchanted by coffeeshops he frequented, Winn came up with the idea for Molasses while selling used books on the streets of Park Slope. "Now, whenever you go to a café, it's just like a sea of laptops," he says. "There's no longer this communal feeling." Molasses, on the other hand, has the air of a comfy neighborhood café, with locals sipping coffee along the bar while leafing through the shop's latest gets.
What to expect: Most books are between $5 and $20, although the store stocks a few pricier finds. Molasses is also a place where artists from the 'hood (most recently a videographer and a sculptor) occasionally show their work.
What's happening: Winn expects to serve beer and wine (and to expand his hours) come early October, once the space gets its alcohol license. "There's a relationship between liquor and literature that makes sense to me," he says. Soon enough, you can nurse a cold one while reading books by Carson McCullers, James Joyce and other scribes notorious for exploring that very relationship. 770 Hart St between Knickerbocker and Wilson Aves, Bushwick, Brooklyn (facebook.com/molassesbooks)—TL
RECOMMENDED: What's new and what's best in Brooklyn
What it is: This bespoke drinkery completely revamps its food and drink menus every year, giving those who make their way to the window-walled establishment something new to look forward to come springtime. (It's open from April through shortly after Labor Day.)
What to expect: Daniel Preston founded Botanica in 2008, soon after selling his aerospace-engineering firm. This past season, he brought in Michelin-starred chef Saul Bolton (Saul Restaurant, the Vanderbilt) to create the menu, which featured affordable small plates, as well as cocktails like the Antilles straight (Ron Cubaney anejo, blackstrap molasses, house-made cola syrup and lime). Even though the bar recently shuttered for fall and winter, a trip to its Conover Street space is warranted: Preston also owns and operates the neighboring Cacao Prieto, an organic-chocolate factory and liquor distillery that uses ingredients sourced from a family farm in the Dominican Republic.
What's happening: Stop by on October 19, when Preston will reopen for the day to host an outdoor block party that doubles as the launch of Cacao Prieto's Widow Jane bourbon. "All of the water used to make it comes from the Widow Jane limestone mine upstate," he explains. 220 Conover St at Coffey St, Red Hook, Brooklyn (347-225-0148)—Leah Faye Cooper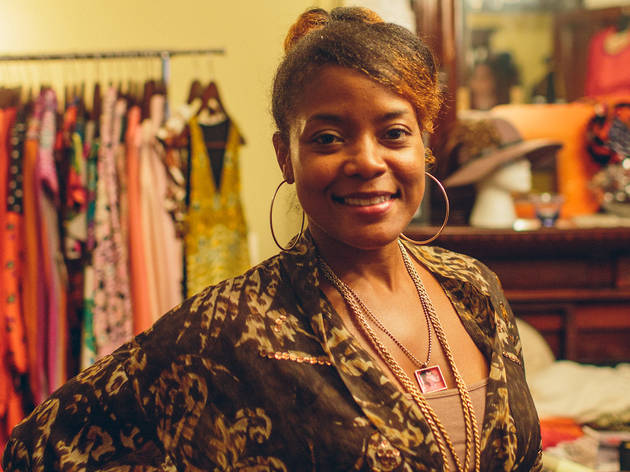 Photograph: Lizz Kuehl
Bedford-Stuyvesant vintage shop TracyChambers Vintage
RECOMMENDED: What's new and what's best in Brooklyn
What it is: Owner Helen Williams Nurse stocks her Bed-Stuy shop, which debuted this past March, with a treasure trove of ethereal dresses, bold baubles and Easter-ready hats. "I've been collecting vintage since I was 13," says Nurse, a Queens native, who named the store after the ambitious designer played by Diana Ross in the 1975 film Mahogany. She was inspired to open it by the noticeable lack of vintage retailers in the neighborhood.
What to expect: Nurse explains that the store "appeals to the woman who has a nine-to-five, but maybe it's a funky nine-to-five, or a job in fashion or the arts." She scours estate sales, thrift stores and even local closets to stock the shop. "Just a few weeks ago, a neighbor saw me outside and came out of his house with all these fabulous shoes and coats that his mother owned," she says.
What's happening: In addition to hosting Sip 'n Shop, in which customers are invited to enjoy wine while perusing new merchandise, Nurse envisions the store playing a major role in her most recent project, the Bed-Stuy(le) Vintage Collective. Aimed at celebrating Bed-Stuy's history, the venture will include an annual fashion event, and a coffee-table book reflecting on neighborhood culture and style, tentatively titled Bed-Stuy(lish). 216 Jefferson Ave between Marcy and Nostrand Aves, Bedford-Stuyvesant, Brooklyn (917-699-8502, tracychambersvintage.com)—LFC