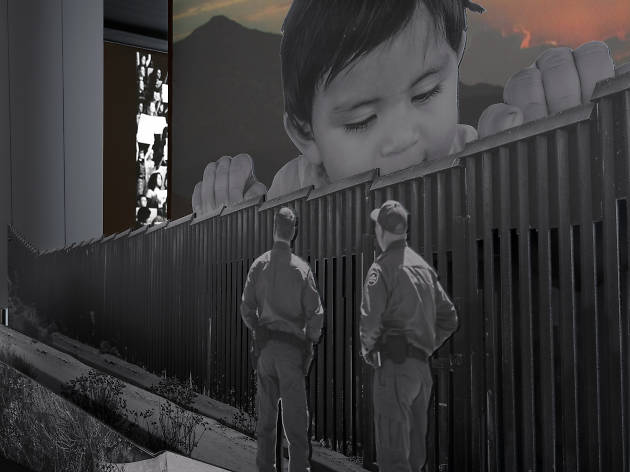 The Brooklyn Museum's JR: Chronicles is the iconic street artist's biggest solo exhibition ever
Running until May 2020, the show spotlights JR's most essential projects of the last 15 years—plus a brand new NYC-centric mural featuring 1,000 photographs and interviews
First there was Banksy; then, there was JR. Like the iconic English street artist, the mysterious French photographer (he calls himself a photograffeur), has never revealed or confirmed his identity. But since the turn of the century, his instantly-recognizable multimedia works have appeared across the globe from Paris and Berlin to Abu Dhabi and Hong Kong.
JR's work is largely ephemeral, often comprising black-and-white images that've been reprinted en masse and fly-posted in public spaces. In the various interviews granted throughout the years—in which he dons his signature fedora and sunglasses—JR has discussed the social and community-driven purpose of his incisive work. Some of his most powerful pieces have been installed in locations of geo-political significance, like perched on the US-Mexico border wall and hidden inside a looted Tunisian police station during the Arab Spring.
Now, for the first time ever, there's a major exhibition of JR's works in the United States—and, as New Yorkers, we're proud to report: it's the largest solo museum exhibition ever of his art. On exhibit until May 3rd in the Great Hall of the Brooklyn Museum, JR: Chronicles features the activist-artist's most iconic projects from the last 15 years, showcasing his use of art to connect communities around the globe. The 20,000 square-foot exhibition was curated by Sharon Matt Atkins, director of exhibitions along with Drew Sawyer, Phillip Leonian, and Edith Rosenbaum Leonian.
"Over the past two decades, JR has emerged as one of the most powerful storytellers of our time," explains curator Drew Sayer. "Working at the intersections of photography, social engagement, and street art, his collaborative public projects have allowed participants to choose how they would like to be represented in both their communities and the global media."
A key element of the Brooklyn exhibition is the debut of a monumental mural, The Chronicles of New York City (2019) which features interviews and photographs of more than 1,000 people who were in New York City during the summer of 2018. Here, JR embarks on one of his most ambitious quests to-date: to tell the story of the entire city through a colorful tapestry of individual narratives. To make it happen, the artist and his team traversed all five boroughs in a trailer—speaking to anyone who would agree to appear in the project.
To understand how JR's 20-year journey led him to such a project, visitors to the exhibit will first be treated to a comprehensive evolution of his career. The first section of the show focuses on his early photographic works, such as Expo 2 Rue (2001-4), in which he documented his own community of graffiti artists. By the mid-2000s, the artist took his civic-minded agenda to the global stage, traveling to the Middle East to create Face 2 Face (2007), which comprises giant portrait diptychs of Israelis and Palestinians pasted on either side of the separation wall. More recent works include The Gun Chronicles: A Story of America (2018)—a timely video mural that examines our country's vastly differing views on firearms.
To call JR a street artist would belie the borderless, transnational significance of his work. As a visionary who uses his creative output to tackle the toughest, most sensitive issues of our generation, he offers us an artistic mirror through which to reflect our own societies, cultures, and problems. And that's something everyone could use a little more of.
JR: The Chronicles will be on exhibit at The Brooklyn Museum's Great Hall until May 3, 2020. Get tickets here.