Heads up! We're working hard to be accurate – but these are unusual times, so please always check before heading out.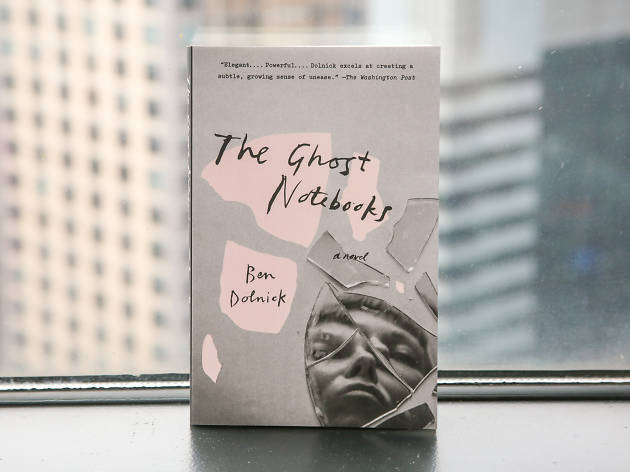 The real-life Brooklyn haunted house that inspired The Ghost Notebooks
Ben Dolnick talks with us about the actual Kings County historical landmark that inspired the novel—Time Out Book Club's July pick.
There's a palpable sense of unease that's present throughout Ben Dolnick's spooky novel The Ghost Notebooks which starts with a relationship on the rocks and ratchets up the tension from there. The couple in question, a pair of young New Yorkers, soon make an iffy decision to move out of the city and into a historic home upstate. A historic home that—wait for it—may or may not have ghosts. Needless to say, things don't amazing.
We got on the phone with Dolnick to talk more about the inspiration behind his chilling novel and the real-life NYC house that partially inspired it. This month's book-inspired cocktail is from the similarly frightful East Village bar, Beetle House, and is called the "Ghost Story."
"I enjoyed creating a cocktail inspired by this book, because I am originally from New York, just outside of the city," says Gia Farrell, mixologist at Beetle House. "When I think of New York and a flavor profile, I'm reminded of the apple picking I did when I was younger. I chose my favorite apple that is grown in New York (Honeycrisp) and added Bootlegger 21 vodka, which is made in New York, to keep with the theme. Cinnamon and caramel compliment the apple, and some activated charcoal creates a smoky overall look to the cocktail. Top it off with some champagne, and you're ready to gather round and read an adult ghost story."


Photograph: Courtesy Beetle House
Next month's Time Out Book Club is Fleishman Is In Trouble by Taffy Brodesser-Akner! Read along and send us your questions by August 28 and we will get them answered! As always, you can buy a copy from our independent bookstore partner, Books Are Magic, for 20% off using the code "TimeOutBC" or just mention the Time Out Book Club in person at the store to get the discount.
Check out this month's drink recipe below and read on for our interview with Ben Dolnick!
"Ghost Story" Cocktail Recipe
Muddle half of a Honeycrisp apple with 1/2 tsp of agave syrup

In a shaker add:
2 1/2 oz Bootlegger 21 New York vodka
Dash of ground cinnamon
Dash of activated charcoal

Combine, add ice and shake

Rim your martini glass with caramel and sugar double strain into chilled martini glass

Top it off with your favorite dry champagne

Garnish with an apple slice and a cinnamon stick
What was the main reason you wanted to tell a ghost story?
That's a good question. For a long time, I've had a vaguely guilty interest in thrillers—not just supernatural thrillers—but murder and mayhem and crime of all sorts, and so I thought it would be fun to see if I could fold the elements of a thriller into the kind of book that I love, and had been trying to write, which for the most part is about families and relationships. So I wanted to merge those two things and also, for whatever reason, was super interested in old houses. I thought there was something really funny and interesting about the world of historic houses.
Was the Edmund Wright Historic House based on a specific house?
Yeah, it was. Definitely physically. During the writing of the book, I went to Lefferts Historic House which is in Prospect Park. It's a really old, rickety, wooden, white house. And I would go in and absorb the smell and what the signs looked like and vibe. Just soak in the setting. Content wise, no; The Lefferts House has a totally different history—You know, it's very much about a family and fabrics and cooking and all sorts of things whereas the house in the book is about an eccentric guy. So that's totally different. But as an atmosphere, it is very much Lefferts House dropped in the middle of a creepier setting.
How did you see the correlation between ghosts and mental illness in the book?
I've always been super interested in mental illness. I don't really know why, except that it seems like an especially scary or extreme version of what we all go through to some extent of not being in control of our minds and suffering for reasons we don't fully understand. So I think it's a really interesting subject. As far as pairing it with ghosts, I knew that I liked books with unreliable narrators, so I wanted to write one with a truly unreliable narrator. It seemed like the way to put a filter on the lens that would allow for multiple interpretations of the same incident, the same story.
Another theme in the book is this idea of commitment itself as being a really scary thing. That's a more unexpected thing to pair with a ghost story.
Yeah, for sure. I liked the idea of there being something that is kind of too horrifying to look at, and the readers sort of wondering what could possibly be this vision that is so horrifying. And then to have it turn out to be something very mundane. Sometimes, when I wake up in the middle of the night or super early in the morning and I'm just kind of lying there anxious for no good reason, my mind can see things from an angle where just totally ordinary human stuff—like that I'm going to live thousands and thousands of days and eat thousands and thousands of meals—can just stop my heart and seem so terrifying. So I wanted to bottle that five minute terror flavor, and see if I really could make it more. What if that wasn't just a flash in the middle of the night, what if it really wrecked your life with an intensity?
It seems like everything gets really out of control once they move, but I was curious how you would set up a similar story and leave it set in the city.
That's an interesting question. I think you probably could tell a version of it in which what changed isn't necessarily their location but maybe just that they actually did get married or maybe they unexpectedly had a kid. I think there are certain experiences that couples go through that act kind of like a kiln on a piece of pottery. They're either going to be set by it, and become stronger than ever, or they're going to blow up if there's any crack whatsoever in the thing when it goes into the oven. And so moving was just the intense kiln experience I settled on for this book.
Writing this, you must have been thinking a lot about spaces and the idea of haunted spaces. I'm curious if there are places in the city or just outside of the city where you've been that you felt like they could've been haunted.
Well, I mean, I really do think the Lefferts House is as good a candidate as any. I have spent a ton of time there because my wife used to work there and you see visitors walk in all the time and just turn around immediately because they feel something. And that is very much not something that I am prone to. But as far as hauntedness, I do think of that house. There's something about a room that has existed in that form for just hundreds and hundreds of years. You can feel creepiness just oozing out of the walls. I love the place; It's totally beautiful. But if you were to ask me to spend the night there alone, that would be a very, very hard night.
Our favorite bookstores in New York
Find the best bookstore NYC has to offer from our favorite picks including specialty and used bookstores