Tiny Kitchen Recipes: Chocolate brownies from the Mast brothers
These decadent treats, from the Brooklyn chocolate makers' first cookbook, will satisfy even the biggest sweet tooth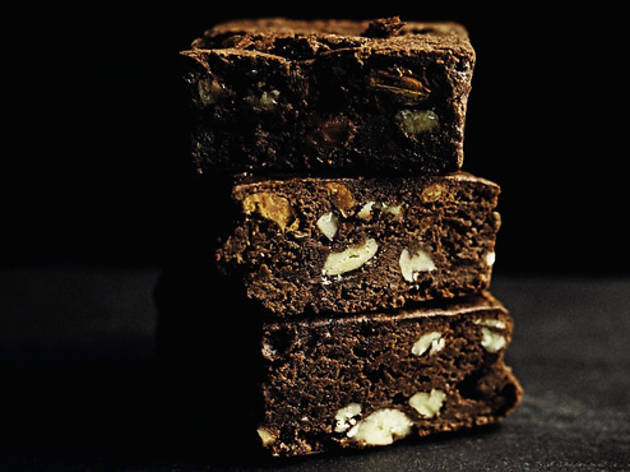 Welcome to Tiny Kitchen Recipes, a feature in which we ask chefs, writers, and food bloggers in New York City and beyond to share a recipe with us. Always wallet-friendly, these creations are feasible whether you live to cook or recently stopped using your oven for shoe storage.
RECOMMENDED: All recipes from us
Michael and Rick Mast, the bearded siblings who founded Brooklyn's Mast Brothers Chocolate, have spearheaded the bean-to-bar craft-chocolate movement in NYC. Their resourceful new cookbook—beautifully covered in wrapping paper similar to the one enveloping their confections—uses the sweet ingredient in both traditional desserts and more surprising creations, such as a cacao-nib salad. But we like one of the tome's simpler recipes: classic, crowd-pleasing brownies.
Classic chocolate brownies from Mast Brothers Chocolate: A Family Cookbook by Rick and Michael Mast
Ingredients:
- 12 ozs dark chocolate, chopped
- 3/4 cup unsalted butter (1 1/2 sticks)
- 1 3/4 cups brown sugar
- 2 tsp vanilla
- 5 eggs
- 3/4 cup all-purpose flour
- 1 tsp baking powder
- 1 tsp sea salt
- 1/2 cup almonds
- 1/2 cup chopped hazelnuts
- 1/2 cup chopped pecans
1. Preheat oven to 325 degrees Fahrenheit. Butter a 9-inch square baking pan.
2. Melt chocolate, butter and brown sugar in a saucepan over low heat.
3. Add vanilla to mixture.
4. Add eggs and combine until smooth.
5. Add flour, baking powder, salt and chopped nuts.
6. Mix until batter is well blended.
7. Pour into baking pan.
8. Bake for 30 minutes. Let cool, and cut into 2-inch squares.
Makes 16
Reprinted with permission from Mast Brothers Chocolate by Rick and Michael Mast, copyright © 2013. Published by Little, Brown and Company, a division of Hachette Book Group.
Sponsored listing
Alachi Masala
Whether you're looking for takeout or a casual dinner on the Upper West Side, Alachi Masala has you covered. Not only is this restaurant BYOB, but it also doesn't charge any corkage fees. Whether you're dining in or taking your dinner to go, you have a long menu of Indian favorites to choose from. Go the traditional route with vegetable samosas (two for $4.95) or vegetable pakora ($6.95) to start. You'll find classics like chicken tikka masala ($15.95) and saag paneer ($13.95) alongside specialty dishes like emlyka murg, boneless chicken cooked in peppercorns, tamarind and garam masala ($14.95). Of course you'll want some naan—what Indian feast would be complete without it? Try it flavored with garlic ($3.95), stuffed with spiced potatoes ($3.95) or studded with cherries, raisins and coconut ($4.95). Hungry for something sweet? Sample some of the traditional Indian desserts on offer, like the cardamom- and rose-scented pudding called kheer ($4.95) or ice cream flavored with saffron ($4.95).
Venue says: "New York's Best B.Y.O.B. Indian Restaurant famous for the Chicken Tikka Masala and other gluten free and vegan options available!"