Heads up! We're working hard to be accurate – but these are unusual times, so please always check before heading out.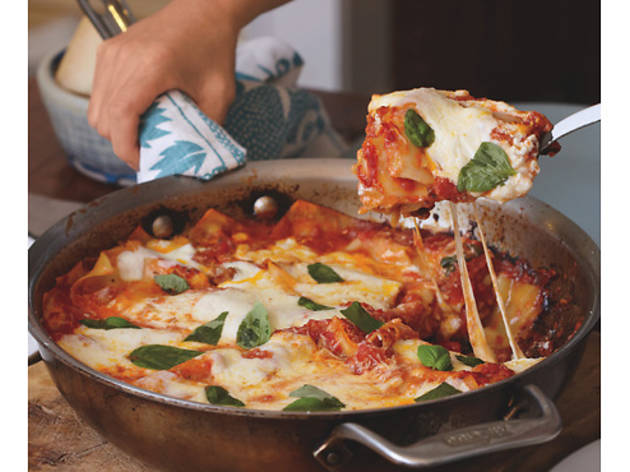 1/2
Photograph: Christopher Testani
Skillet lasagna from Keepers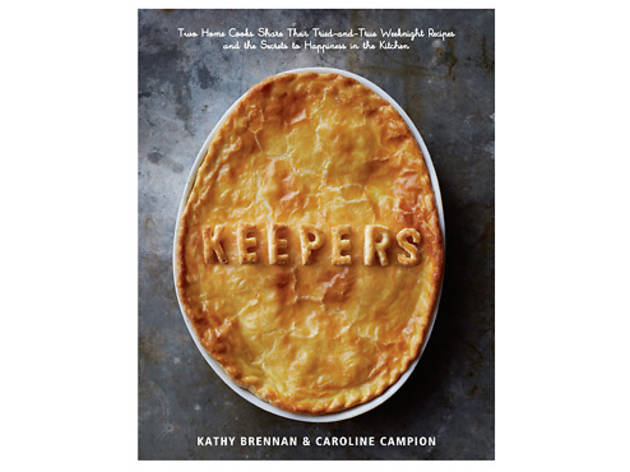 2/2
Keepers by Kathy Brennan and Caroline Campion
Tiny Kitchen Recipes: Skillet lasagna by two former Saveur editors
Put down the delivery menu and add this one-dish recipe to your weeknight supply of casual, satisfying meals
Welcome to Tiny Kitchen Recipes, a feature in which we ask chefs, writers, and food bloggers in New York City and beyond to share a recipe with us. Always wallet-friendly, these creations are feasible whether you live to cook or recently stopped using your oven for shoe storage.
RECOMMENDED: All recipes from us
Every cook should have at least one single-pan, weeknight-friendly recipe in his or her arsenal. Keepers, a cookbook by Kathy Brennan and Caroline Campion—two food writers who met working at Saveur—is an entire collection of those no-fuss dishes. Our favorite is this crowd-pleasing skillet lasagna, which turns the usually complicated and time-consuming pasta classic into a simple achievement that could easily become your noodle go-to.
Skillet lasagna from Keepers by Kathy Brennan and Caroline Campion
Ingredients:
- 2 tbsp olive oil
- 1 lb sweet or hot Italian sausages, casings removed
- 1 small yellow onion, finely chopped
- 4 garlic cloves, minced
- Large pinch of hot red-pepper flakes
- 1 tsp dried oregano
- 2 28-oz cans whole, peeled tomatoes
- 1 sprig basil, plus a handful of basil leaves
- Salt and pepper
- 1 9-oz package no-boil lasagna noodles
- 4 oz mascarpone cheese or cream cheese (1/2 cup)
- 1/2 lb fresh mozzarella, thinly sliced and patted dry
In a large high-sided sauté pan with a 3-quart capacity and a lid, heat the oil over high heat until it simmers. Add the sausages and cook, stirring often and breaking up the meat, until browned, about 4 minutes. Leaving as much oil in the pan as possible, transfer the sausage to a medium bowl and set aside.
Reduce the heat to medium-low, add the onions, garlic and pepper flakes to the pan, and cook, stirring occasionally, until the onions are softened, about 7 minutes. Add the oregano, the tomatoes and their juices, crushing the tomatoes with your hands or a potato masher, the sprig of basil, and the cooked sausage and any juices. Season with salt and pepper, then gently simmer for 5 minutes, stirring occasionally. Check the seasonings (it should be a little salty) and discard the basil sprig.
Break half of the lasagna noodles in half crosswise (it's fine if smaller pieces break off) and as you do so, push each piece into the sauce under the sausage, distributing them evenly throughout the pan. Break the remaining half of the noodles in half and distribute them evenly over the sauce, then push down on them with the back of a spoon to submerge them. Cover the pan and gently simmer (raising the heat a little, if needed) until the noodles are tender and the sauce has thickened slightly, about 12 minutes.
Dollop the mascarpone over the lasagna and swirl it into the sauce. Top with the mozzarella and gently simmer, covered, until the cheese is melted, about 2 minutes. Off the heat, top with the basil leaves, tearing any large ones. Let the lasagna rest, uncovered, for about 10 minutes, then serve.
Serves 6
Reprinted from Keepers by Kathy Brennan and Caroline Campion. Copyright (c) 2013 by Kathy Brennan and Caroline Campion. By permission of Rodale Books. Available wherever books are sold.